A Yucatan Week

I'm going to be home for the holidays. Two reasons: my plan to visit Libya is stymied by the lack of a tourist visa (they aren't issuing any), and I'm through with paying peak-season airfares. As a very minor consolation, I have grabbed another supercheap fare to Cancun for early December.

I already know that Cancun is horrid, so I head straight to Playa Carmen on the "Mayan Riviera." It's where the self-styled "experienced" travelers go, e.g., tourists from Iowa and Missouri who want to avoid the package tourism scene but still speak English. What they get is another Cancun, only on a smaller scale. It is still Gringolandia: Burger King, MacDonald's, and Hagen Daaz near the beach, with Wal-Mart, Sam's Club, and Office Depot a couple of blocks inland. It's ridiculously expensive, I think, but then I reconsider: for a conventional beach resort it's comparatively cheap. My $45/night room is well-located and quite acceptable. (Although the rate will double in two weeks.)

I recently read an article about how uncommon beauty was historically ? a peasant might only rarely glimpse a beautiful person or even a representation of one. Nowadays we are saturated by print and moving images of preternaturally perfect faces and bodies. It's sure ruined me ? it's a jolt to stroll down the beach and see how unattractive real people look. Cover up, please!

The second day I hop on a bus for the two hour ride to the Mayan ruins at Coba. It's very much like a small-scale Tikal (in Guatemala), with an architectural style not found elsewhere in Mexico. Initially, I am dismayed at the crowds ? I arrive at the same time as all the tour buses ? but solve that problem by renting a bicycle. The main sites are about a mile apart, and the groups walk slowly between them. I peddle to the furthest one first and work my way back, allowing me an uncrowded visit.

The place is not in the best of shape. I guess that's why they call them ruins. The stele and soft-stone scultures are mostly completed eroded. The explanatory signs are in Spanish, English, and Mayan. For whose benefit is the latter, Mel Gibson? At least there is a pyramid to climb.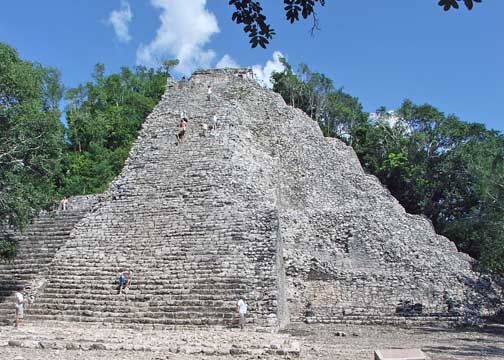 With my two-wheeled assistant I am finished in two hours. Rather than wait two and a half hours for the next bus, I cheat and take a cab to Tulum, the always-mobbed Mayan ruins on the coast. The groups tend to visit there in the morning, so by mid-afternoon it is not too bad.

A disappointment. I knew that the site was small. What I didn't know is that all the buildings and ruins are roped off and that visitors have to stay in the plaza area. It takes about twenty minutes to walk through, and then you are done. You have all seen the tourists ads showing the
chacmool
? the reclining deity altar ? amidst a temple in front of a tropical beach. Well, fugeddahboudit --no
chacmool
, no temple, no access. The shots you see are ones you are not allowed to take.
It's time to move on. I catch the express bus to Chetumal (5 hrs), then another one to Belize City (many stops, 4 hrs). Once we cross the border, as we go further south Spanish becomes more sparse and English more prevelant.

Belize, f/k/a British Hondouras, is an Anglophone island in a Spanish sea. The swamp-ridden coast was a haven to pirates, who were followed by settlers. Aside from language, it differs from its neighbors in that it is largely black ? the Spanish didn't grow sugar so didn't import slaves from Africa. Protected by the Royal Navy, the settlement grew into a colony.

I had heard that Belize City is a crime-ridden overpriced shantytown. It's not quite that bad, and if you squint you can sort of see a hint of charm. The wooden colonial-era buildings are ramshackle. The cathedral, built of brick brought as ballast from England, is unprepossessing. (Not even worth a photograph.) The center of town is bisected by a creek, over which is the last hand-cranked swing bridge in the Americas, built in Liverpool. Adjacent to the cruiseship terminal is a "tourism village": handicraft and T-shirt stalls. Not far away is the Embassy of the Republic of China (Taiwan), an almost extinct species. A hour-long walking tour is sufficient to see everything. I can't bitch about prices, though: my hotel is $20 and a delicious grilled snapper dinner costs $8.
Overall, the city has a distinct African feel: the mercantile sector is entirely run by Lebanese, Indians, and Chinese. The women are bustling about while the men are mostly killing time. Those with vehicles hang near them, importuning every (rare) white passerby: "Taxi?"

After a morning stroll I gether my belongings and board the water taxi for the islands. The backpackers all get off at Caye Caulker; I continue on to the more upscale Ambergris Caye, where we dock at San Pedro. I walk 50 yards down the beach from the pier to Ruby's Hotel, where I snag a seafront room for $32.

This place is small. There are three streets, which used to be called Front, Middle, and Back until renamed by the tourism board. The main form of vehicular transport is golf carts. Sounds good, but the problem is that they rent them to tourists who then clog up the three streets crusing up and down. On Friday and Saturday night they have to close Front Street to "traffic."
But there is a quite a bit here: many hotels (mostly expensive), restaurants (all price ranges), and shops. All pastels and palms, it has the look of a Caribbean island, which it is, except prices are reasonable and they don't hate you. Belizeans of all types are notably friendly. That said, Mexicans do all the work. (They are not waiting for their 40 acres and a mule.) If you want a place to hang out, do nothing, eat well, and not spend a lot, this is the place. (There's lots of diving, snorkeling, and watersports, but that's not me.) From the number of real estate offices, there appears to be a thriving market in condos and second-home (at US-sized prices). Never mind that the whole island is about one foot above sea-level and after one hurricane everything will be gone, and that there's no taxpayer-subsidized insurance available.

I had been wondering whether and how to cram three distant Mexican cities in to the remainder of this one-week trip. The problem is solved by a screw-up on my part. After racing to make the 8 AM boat back to the mainland, soon after we leave the dock I remember that I left my passport at the hotel. So I get off at Caye Caulker take the next boat back to Ambergris Caye. However, this one is an open boat, and it's raining. I had to endure the 25 minute run to San Pedro; no way am I gonna ride it all the way back to Belize City. So I decide to leave San Cristobal and Palenque for another trip and spend another day on the island. I can work on the 850 page biography of The Beatles that I have been lugging around.

On Sunday I go back to Belize City and catch a bus to the Belize Zoo. It was started by a fellow New College alum when the movie crew she was with finished production and abandoned the animals it was using. Since then she has built it into what is often called the best zoo in the Americas south of Texas and the best small zoo in the world. And I agree; it's very good. It contains only animals native to Belize. Its main purpose is to teach the kids to appreciate and protect their wildlife, so it has lots of clever and didactic signs. (Plug: they get no government funding, so send your money to belizezoo.org.)


If I had planned properly, I would have visited the zoo first and taken a boat from San Pedro to the Mexican border (very close). Instead, it's another 4 hours until I reach Chetumal, at which point I have had enough bouncing around on boats and buses for one day. I splash out on a deluxe hotel room ($22) and have a fresh-seafood dinner in an upscale restaurant ($10).

At the bus station in the morning I do not want to wait five hours for the next bus to Campeche, so I get on one for Merida leaving now. After a quick lunch in Merida I board a bus to Campeche; with all the stops this second bus makes, it turns out that I don't save much time. By the time I reach my hotel, it's getting dark. (The solstice is next week.)

I found this place in the guidebook ? a 200 year old building turned into a very funky hotel. The ceiling in my room is ~18 ft high and made with rough-hewn logs brightly painted. Colored tile is everywhere, none of it matching. The furniture is 1920's modern. I'd like this place even if it weren't $13/night!

If I weren't such a sound sleeper, I would be kept up all night by the constant explosions from fireworks (though it sounds more like gunfire) marking the eve of the Day of the Guadeloupe, Mexico's patron saint. All along the highway yesterday we passed bicycle processions and runners carrying torches with support vehicles all bedecked with the national colors and images of the Virgin. Makeshift shrines adorn houses, yards, and even the bus stations. All very opaque, and very Mexican.

In a word, the story of Campeche is pirates. A principal port for the Spanish, it was raided so often that a defensive wall and outlying fortifications were constructed. For the next 200 years, not much happened, which is why the walled city is a world heritage site. Much of the wall still stands, and the forts are now museums. Muy colonial, very pretty, but not much to do. I get an early start, wrap things up by noon, and catch the noon bus out.

It's a second-class bus, which I rather prefer. There's no toilet, but it's comfortable enough and has no video, i.e., no audio, which means that I don't have to suffer through some insipid movie. We take the long and winding road through villages and hamlets, locals getting on and off all the way. At 3:30 we reach Uxmal, where all the gringos debus. (If "deplane" is a word, why not "debus"?) As is so often the case, the Mayans were considerate in constructing their ruins right next to the road.

Uxmal is one of the biggies. Outstanding. The next onward bus is conveniently timed two and a half hours later, which is the right amount of time to see everything, have a snack, watch the video, and get back to the bus stop. By this time the tour groups have all gone, leaving the site almost empty. It's also the golden hour, best for photography. After a week of rain, this is the first clear day. (It's supposed to be the dry season.)

I get back to Merida at 7 PM. I check into a hotel and grab an early morning bus back to Cancun and the airport and home to put up my stocking and get my lump of coal. Bah humbug to all, and to all a good night.

Trip date: December 2006