[Not my images]
Most people return to Hanoi by the overnight train. I stay on another night with a different plan.
The morning brings blue skies and clear weather until the fog returns around 10 AM. At noon I return to Lao Cai but instead of going to the train station I get dropped off at the border. Lao Cai is one of two major border crossings into China.
I like entering a country on foot. You clear the departure area, walk across a bridge or no man's land, then present yourself at the other side. The white man's privilege lets me skip the lengthy queues of locals; I am probably the only big-nose they have seen all day if not all week. With a smile they wave me through and I step out onto the streets of Hekou, Yunnan Province, China.
The bus station is just a couple a blocks away. There is a direct bus to Kunming, the provincial capital, but I've already been and it's exactly the wrong direction from that I need to be heading. The next bus to Nanning, in the right direction, isn't until the following day so I board a bus to Mengzi (pronounced "Mun-zoo") two hours up the new Kunming highway. The road is an impressive feat of engineering, a series of aerials spans and tunnels over and through the once almost impenetrable mountains of southern Yunnan.
In Mengzi I grab a sleeper bus to Nanning. Chinese sleeper buses have actual horizontal berths and I am sure are quite comfortable if you are 4'10" or under. I have survived them twice and manage to do so once more. Twelve hours later, at eight AM, we arrive in Nanning. It's a medium-sized city by Chinese standards, six million, but I already know there nothing really to see and it cold and raining so I decide to keep moving. But first I need some more money. To my surprise, the ATM in the bus station rejects my card. So do the next seventeen or so I try. I have to hike a considerable distance to find an ATM that accepts foreign cards. Serendipitously, along the route I encounter a railway ticket office and am able to purchase, using my perfect, non-existent Chinese, a soft-sleeper berth for the direct Guilin to Shenzhen train two days hence. So Guilin is where I am heading.
Back to the bus station. Departures to Guilin are every ten minutes; the ride is five hours.
Guilin is the starting point for cruises down the Li River through a forest of karsts, a landbound version of Ha Long bay. Last time in these parts I skipped Guilin and stayed in Yangshuo, the village that is the terminus for the riverboat trips. During that visit weather failed to cooperate, and most of the scenery stayed obscured by the haze and mist. Tomorrow's forecast is for sunny skies.
[Not my images]
The riverboat trade is a government monopoly, so the only way to do it to book a tour and pay extortionate rates (the day trip is about the same cost as the two day Ha Long trip that includes a private cabin on a deluxe boat). Foreign tourists are piled in to a triple-decker, the largest type of boat, for the four-hour ride to Yangshuo. Conditions are good, but not perfect: although clear, there is the urban haze that characterizes modern China. Also, it's cold, so I spend much of the time inside, darting out now and then for photos.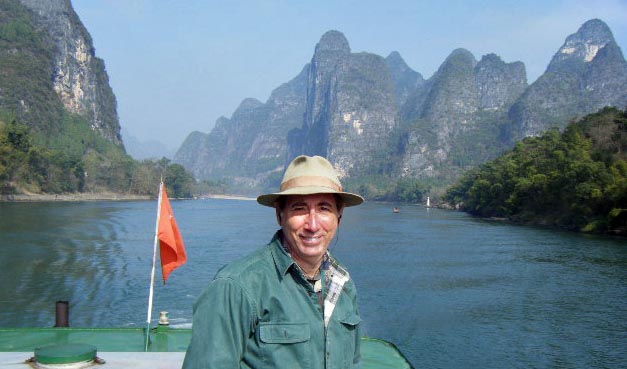 As one would expect in a culture bereft of cable TV, the Chinese managed to see all sorts of fanciful imagery in these peaks and named them accordingly: e.g.The Wakening Frog, Nine Dragons Playing With Water, Frog Crossing the River, Miller At Work, Tortoise Climbing Up The Hill, Lion Watching the Nine Horses, Camel Crossing the River, etc.
In Yangshuo I am astonished at the changes ten years have wrought. Last time there were only backpacker guesthouses and cafes. Boat passengers would disembark, walk past a few souvenir shops, then board their buses back to Guilin. Now, Yangshuo receives fifteen million visitors year, and has grown to match. The street from the river is now pedestrianzed and completely given over to tourism. There are zillions of hotels, large and small, countless restaurants (including McDonalds), and major thoroughfares lined with stores of every sort. The surrounding scenery is still very nice, though.
I am dropped off about 6:30 PM and walk a few yards to buy some breakfast pastry. On the way back, I feel a slight tug on my shoulder bag. I reach down to grab it, and it is empty! No one is nearby or fleeing. A master pickpocket has sidled up to me, taken the two items I had just placed inside at the top of the bag, scooped out the camera nestled in the bottom (with dangling shoulder strap), and disappeared unnoticed. All on an uncrowded sidewalk within twenty yards of my hotel!
That's why I don't carry an expensive camera. But it held my photos. Fortunately, I had switched memory cards after Sumatra, so it is Vietnam and today's pictures that are lost (except for a few taken with my pocket camera). I take minor consolation that there is little I could have done to prevent the crime short of soldering the camera to my chest. Well, I've been pretty lucky in life thus far; I hope this doesn't signal a permanent reversal.
I still have a day to kill. Most lists of "things to see/do in Guilin begin with the Li River cruise and rapidly fade from there. The city is surrounded by karsts. One smack in the middle is called Solitary Beauty Peak. China classifies tourism sights from A to AAAAA and prices admission accordingly. This one is rated AAAA and costs a whopping ten bucks to enter. Even accounting for grade inflation, it's overrated. You can climb to the top, where there is a temple and viewing platform. They make a big deal that prior to liberation, i.e.,pre-commie days, ordinary people weren't allowed in or up. I think if the bad old rulers had realized they could get ten bucks a pop, they would have reconsidered.
| | |
| --- | --- |
| | |
The sleeper train to Shenzhen is a sleek, plush tourist special, which explains why the ticket was so pricey ($67). We pull into a very modern train station that, after immigration control (Chinese need permits to visit Hong Kong and foreign visitors coming from Hong Kong need visas to enter China proper) connects to the Hong Kong metro system. The city — just farmland a few years — is the showpiece of modern China: wide streets, tall, shiny buildings, clean efficient subway, and shopping, shopping, and more shopping (and no political dissent). For Chinese holidaymakers unable to visit Hong Kong Disneyland, there are several large theme parks. I am here solely for transit, but do get a kick out of the design of my hotel room: the shower is a clear glass cylinder smack in the middle of the room.
My plan was to take the ferry that goes straight from Shenzen to Hong Kong airport, located on Lantau Island just opposite Shenzhen. The ferry ride only takes thirty minutes, but I learn that the dock is an hour drive from my hotel. Instead, I opt for a limo ride (actually a plush SUV) direct from my hotel to the airport. Just before the bridge to Hong Kong, we transfer to a similar vehicle with right-hand drive as Hong Kong apparently doesn't allow Chinese vehicles (left-hand drive) to enter. At the transfer station one can check luggage and get a boarding pass, but Delta is not one of the participating airlines. We also enjoy executive treatment at customs and immigration — we don't even have to leave the vehicle or haul out our luggage.
Hong Kong airport is one of the world's best, and the fourteen-hour non-stop flight to Detroit in a 777 about as tolerable as it gets in coach. Three flights later (remember, I'm still working on mileage-building) and I am home.
Trip date: December 2010