Scotland in A Week

An inauspicious start. The first leg is to Atlanta. No problems. Next segment is to Gatwick (to earn the 25,000 mile Delta FF bonus). It is scheduled for 4:45, then delayed to 6:00, then 10:00, then moved up to 9:00. The second Delta flight scheduled for 5:35 has been delayed until 8:45. It's chaos at the service desk as everyone tries to get on to the BA flight leaving at 6:30. We can get rerouted but it is unlikely that our checked baggage will be on the same flights, so I stick it out. The consolation prize is $10 dinner vouchers, which buys two combo plates at Mandarin Express and two double scoops at Ben & Jerry's.
If your destination is London it's no big deal to arrive at 10 AM instead of 6 AM. It's quite another situation when one has a connection to make. We are rebooked on a later flight to Edinburgh. At Gatwick, the BA agent took the baggage claim numbers and said they would be retagged.

When we arrive in Edinburgh the terminal is eerily deserted. Everyone, passengers and workers alike, are clustered in front of a giant TV watching the World Cup, which apparently is some sort of soccer festival celebrated in sports-deprived countries. At the baggage claim, no luggage. BA locates our bags at Gatwick and says that they will arrive at 5:30 PM and be delivered to our hotel.

This is a short trip, and I had planned for maximum efficiency. I had figured on arriving in Edinburgh at 10 AM and finishing it up the same day. My plans are going awry: we are four hours behind schedule. Then there is the weather: cold and rainy. About the only thing that goes right is that the rental car is ready, it is cheap, and my driving on the wrong side of the road skills are undiminished.

Which isn't quite enough in this case. In addition to left hand driving, added to the mix is Edinburgh's medieval maze of streets (all one-way in the wrong direction), a prohibition on right turns, and Friday afternoon traffic. Plus the rain. I find the hotel directly, but locating the "adjacent" garage consumes another half an hour.

No time for lollygagging, gotta get going. First stop is Holyrood House Palace, where the Queen resides for three weeks each June and July. The state apartments are open for visitors when HM is not there. Opulent and impressive, it's one of the two "must see" attractions in Edinburgh. An unexpected bonus: the Royal Archers are out in full regalia practicing for a meet. Watching them try to hit a distant target with longbows is a good lesson on why bullets replaced arrows.
A walk back along the Royal Mile, which connects the palace with Edinburgh Castle. Lots of tourist shops. There are numerous places where a complete dress outfit can be purchased for a mere $1000. If that exceeds your budget you can buy just the the skirt (oops, I mean kilt) for one-quarter that. Plenty of woolen shops and stuff with "your" clan's tartan. Bagpipes Galore -- that's the actual name of the shop. Also, Thistle Do Nicely.



Stationed along the road are the local form of buskers: bagpipers in full getup playing to the video-toting tourists.

Another way to tell you are in Scotland: chip shops with a sign in the window advising of the availability of battered (deep fried) Mars bars.

Also, hamburgers cooked in the same manner.



Have I mentioned the prices? Astronomical!

Pounds (exchange rate 1£=$1.45; purchasing power 1£=50-75¢) are like pesos here.

Does everyone have a personal oil well?

They must think I do.

Back to the hotel. Still no luggage. They have given me a phone number for baggage service. Sort of 900 number which costs $3.75/minute to listen to music on hold. (That's from the hotel phone; the rate from regular phones is slightly less extravagant.) And they still don't answer. Ever. British Airways has achieved a new plateau in customer contempt. The hotel front desk feels sorry for me and lets me use their phone, where I wait another 30 minutes on hold before giving up. I try the reservation line, but that one is not open after 9 PM.

Saturday. Sunrise is at 4:20. At 7 AM I am off to the airport in search of our luggage. There they are at baggage office, just sitting there, tagged and ready to go.

We are showered and changed in time for opening time at Edinburgh Castle, the other "must see." Home to the Honours of Scotland: the crown, state sword, and scepter of the Scottish kings. Also The Stone of Scone, a/k/a The Stone of Destiny. (More on that later.) Overall evaluation: OK. Had the castle been crowded I would give it a negative rating. On the way out, there are LONG lines of people at the ticket booth.


That's it for Edinburgh. Everything else in the book looks either too minor or too tacky for me. I am eager to retrieve the car before the 24 hour meter ticks over at the parking garage, so we bid a less than fond farewell to the city.
Our next destination is Stirling, another tourist magnet about 40 miles north. Its a walled town with an imposing castle, significant as a military stronghold in the wars with the English and as the home of the Stuart queens. Before getting there I had expected to be castled out, but this one is pretty good. There is not that much else to do or see in Stirling, where we spend the night.

Sunday morning it's pouring rain. Visibility near zero. The rains lessens after breakfast, so we depart. Intended destination is Loch Lomond and then on to the highlands
Loch Lomond is the largest lake in Scotland and popularized by the song of the same name. It's OK, but nothing special. Maybe it looks better when it's not raining.
The distances aren't all that great, but neither are the roads. Good thing there's not much traffic.

I deliberately waited until Sunday before heading into the highlands, and my bet pays off. The route south carries a steady stream of returning weekenders, while northbound is mercifully uncongested.

We make pretty good time because there is not much point stopping in the rain.

Once in the highlands, the scenery improves dramatically.

Castles and hills with names.

Tooling about in my Ford Ka (yup, that's the name) is fun, until I stop at the petrol station.

The good news is that I am getting 38 mpg; the bad news is that gas is over $4/gallon.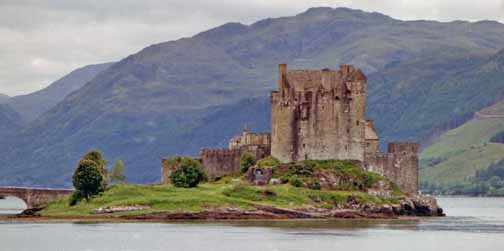 A word about the highlands--they are EMPTY. Out west one expects expanses of uninhabited desert, but here it's all green and lush and unpopulated.


After 200 miles, I call it a day at Kyle of Lochalsh, across the narrow channel from the Isle of Skye. The accommodations office is closed and the B&Bs in Kyle seem booked up, so it's back down the road a few miles for the night. Dinner is at a tiny seaside town called Plockton, a place which appears on a disproportionate share of postcards and in photo books. Driving there is my introduction to the single lane road common in these parts. It widens at intervals to permit one to pull over to let oncoming traffic pass. Good thing people here are polite and willing to cede the right of way.
Around 9 PM the skies clear for the first time all day. I wish I could go to bed hopeful, but the forecast is for several days of more rain.
Fortunately, they are wrong. On Monday I am awakened at 4:30 by the sun streaming through a cloudless sky directly into my eyes, though by the time comes to really get up it is overcast again. At least it's not raining.
Kyle is the railway terminus to the Hebrides, but lost much of its importance when rail traffic declined when the car ferry came into use. There is now a (very short) bridge with a cost of £5.70 in each direction. (Another tourist rip-off: locals buy ticket books for one-quarter that price.)
Skye is the largest of the Hebrides. It has a few tiny towns, a couple of castles, a chocolate shop named Vanilla Skye, plenty of sheep, and not much else. The scenery is the draw -- 80% of the income in the area comes from tourism. We spend the day on the grand tour. Surprisingly little traffic; the tour buses, of which there are plenty, stick to the main, i.e., two lane, roads.

The sun plays peek-a-boo all day, and there are occasional patches of blue with hardly a drop of precipitation.

Which all makes, I hope, for more dramatic photographs. A 200 mile circuit takes all day, so we spend another night in Kyle.

Evening (9 PM) brings a rainbow visible the full arc across the channel.

As I write this, I am hoping the film backs up my story. (Digital photographers have no such concerns.)
Tuesday brings another cloudless sunrise which dissolves into rain by breakfast. Today's destination: Inverness. It takes about 90 minutes direct, but we are taking the scenic, i.e., slow, route. We follow the rail route. Railway buffs say the Inverness-Kyle line is one of the two best trips in Britain. (Don't ask me what the other one is.) Lots of hills and dales and coastal views from the winding one lane road.
Eventually I turn south towards Loch Ness, where we face another of life's choices: do we visit the Official Loch Ness Monster Exhibition or the Original Loch Ness Monster Exhibition? Yeah, they are both tourist rip-offs, but I came all this way so I can't NOT go. It's official. I select The Official One. A series of walk-through displays with movies and special effects. It was revamped recently and is surprisingly scientific. Although they continue to promote Nessie as a mystery, it is hard to see how one can emerge a true believer.

And, having come all this way, I have to buy a souvenir: a ceramic Nessie. They come in all sizes. In the shop I overhear an amusing exchange. An American woman buying stuff with "her" clan's tartan want to know why the colors differ from the junk she has at home. The clerk authoritatively assures her that she is now purchasing the authentic ancient pattern/color and that her other apparel must be one of the Victorian pretensions that arrived with the invention of chemical dyes. HAH! I take back my comment on Nessie skepticism: THIS is the place for the credulous. The only reason they don't offer a "Clan Bergwerk" tartan for is low demand.
The Loch itself? Just a long skinny lake. I eschew a "monster-hunting" cruise on a boat equipped with advanced detection equipment. If fifty years of concerted scientific effort hasn't found anything, I don't think the tourist boat is gonna do any better. Staying on shore means that I forego my photo of Urquhart Castle from the water, and I am too cheap to pay £5 to visit the ruins. I settle for a picture from above. Then we head north.
Inverness bills itself as the capital of the highlands. The guidebook warns that it offers little to see. They are overstating the case. Edinburgh was prosperous and bustling. Inverness is decayed and at the same time expensive. Downtown is dead -- empty storefronts, deserted streets. Revitalization programs have produced pedestrianized streets without shoppers and a half-vacant downtown mall that looks like it was designed inside and out by an architect whose specialty is prisons. Amazingly, both projects are expanding. The silver lining is that the traffic is very light (even though there still is no place to park).
An hour in Inverness would be plenty, but we need a place to stay. One redeeming feature: lots of big Victorian houses make for plentiful of B&B's. It's the cheapest place yet (but still overpriced).
Wednesday morning. Same pattern. Bright sunrise, overcast by breakfast. Departure at 9:00. The streets are absolutely deserted. England is playing Nigeria in the World Cup and everyone is inside watching. People have gathered in pubs, are staying home, or have arrived at work at early to watch. I'll spare you the suspense: England won, 0-0.
It's our last day in Scotland, and we need to be back in Edinburgh for a 6PM flight. I was thinking about doing Cawdor Castle nearby but nix it when it means waiting an hour for it to open. Even though there is almost 20 hours of daylight, nothing opens until 10:00.
Instead, the morning attraction is Blair Castle some 80 miles south. Although it goes back 300 years, it is more a stately home than a castle. It is still occupied by the 11th Duke of Atholl, and the visitor gets a get look at the family behind the title. What I find interesting is that to maintain the continuity of the title succession has gone up and down and sideways across the branches of the family tree. As fertility declines, it gets harder to find a male heir. The castle is on the tour bus route, but the place is big enough to keep from feeling crowded.
On to Perth and Scone Palace, another stately home. These guys are only earls, and the line is more recent. The result is that the family is more contemporary and more real, though not quite just plain folks. The palace is built on the ancient coronation site of Scottish royalty. I leave convinced that the rock on display in Edinburgh is a 700 hundred year old fake.


Then it's back to the airport, where BA does me right by reimbursing me for the last fiasco and this time has the baggage waiting on the carousel when we arrive. Also, they manage to serve a hot, palatable meal on a one hour flight. (US domestic airlines, take note). It's too late to go into London, so it's overnight at a country hotel near Gatwick and then a morning flight back.
Postscript: Dept. of Homeland Security, stupid government forms/self-incrimination Division
Next time you are flying back to the US ask for the non-Citizen immigration card. On the back are several question in small print and dense legalese which ask:
1. Are you diseased or crazy?
2. Are you seeking entry to engage in criminal or immoral activities?
3. Are you a terrorist or a spy?
4. Are you seeking to work illegally or have you previously entered the US by fraud?
5. Are you a child kidnapper?
If "yes," please give details.
At the bottom, above the signature, is a "Waiver of Rights" in which you agree to abide by the whim of the immigration officer without contest.
Trip date: June 2002