Back to Borneo (with Brunei Bonus)
This trip was planned on the fly. I decided to take advantage of cheap fares to Singapore to get an early start on my mileage quota and go from there.
On the flight from Tokyo I get in the mood with the (Singapore) Straits Times ("since 1845"). Some items:
• A roving police unit is imposing $200 fines for smoking in public.
• A 17 year old was given nine months in a "boys home" followed by nine months probation plus 80 hours community service for piggybacking on a neighbor's wireless signal. His parents thought he was spending too much time playing video games so they cut off his internet service. He was caught sitting on the curb in front of his neighbor's house with a laptop, freeloading on their unprotected wifi. During his probation he is barred from using the internet. The article also notes that he was rude to his tutor. For his crime, he could have been sentenced to three years in prison.
• In fashion news, a designer has introduced the "burkini," a combination burkha and bikini for observant Muslim babes. It's a two-piece bathing suit that covers one from wrist to ankle and incorporates a headscarf.
Along with the immigration form I am handed a leaflet that Singapore now has a zero duty free allowance on tobacco products. The nanny state meets the no-smoking nazis.
By now I've got this drill down pat: the flight arrives after midnight, and if you don't check luggage and have a reservation at the transit hotel, you can spend the rest of the night in the airport, saving the taxi surcharge and ultra-late hotel check-in. In the morning the queues have evaporated and public transit has resumed.
I take the bus across the causeway to Johor Bahru in Malaysia, where I have booked a cheap domestic flight to Kuching. There, airport security is reasonable, not the TSA theater of the absurd. Then again, this is a Muslim country, so there's no big risk of some towelhead sneaking a tube of toothpaste aboard and crashing the plane into a mosque.
Thanks to the low-cost carrier Air Asia, the fare to Borneo is a fraction of what I paid last time. I paid $50 for a 2-hour flight on Malaysian Airlines; if I had wanted to fly at an odd hour I could have gone even cheaper.
It's humiliating to walk past business class into steerage. I am grateful for the white man's privilege which at least got me an exit seat. The in-flight magazine has an article on Antarctica, with the notation "Malaysian Airlines flies to Stockholm three times weekly. From there you can arrange local transport to Antarctica." That's one long, wet dogsled ride.
The airport at Kuching is gleaming and new with lots of helpful tourist information, including a city map that includes bus lines and schedules. A $5 taxi ride brings me to my hotel. I am not sure about its claim of 4 stars, but it's a solid 3. It is in the sweet spot: nice enough to appreciate but not so comfortable that I don't want to go out. At $35 -- it's a bargain. It's taken me 2 1/2 days of travel to get here. Even Phineas Fogg would say that's a long trip.
Kuching, capital of Sarawak state, is often described as the most pleasant city in southeast Asia. I agree. With a population of half a million, it's compact but uncrowded. This is a WHO Healthy City, which I take to mean that it's OK to drink the water.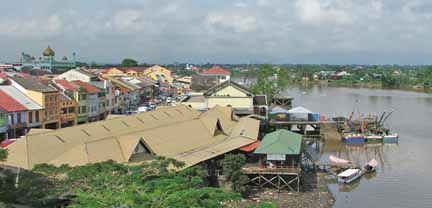 A brief history of Sarawak: In 1841 James Brooke, an English gentleman and adventurer, engaged his schooner in the service of the Sultan of Brunei against a native uprising, in return for which he was granted dominion over a portion of the northwest coast of Borneo populated mostly by headhunters, thus becoming the white Rajah of Sarawak. It's a real-life Man Who Would Be King, the only English family to sit on an oriental throne. He was succeeded by his nephew and grandson, who expanded the territory at the expense of their ostensible patron. The real-life Wendy, after whom J. M. Barrie modeled the character in Peter Pan, married the grandson and became the last white Ranee of Sarawak The party ended in 1941 when the centennial celebrations were cut short by Japanese occupation.
All over the place are signs celebrating 50 years of nationhood. Not quite. In 1957 Malaya, the peninsula on the Asian mainland south of Thailand, became independent. In 1963 it formed the Malaysian Federation with the former British North Borneo (now Sabah), Sarawak and Singapore. Brunei was supposed to join but backed out. Singapore was expelled in 1965 (and has had the last laugh).
Thursday afternoon is nothing more than a brief walkabout. On Friday, I start the day with the excellent Borneo Post, which contains all the news you need from Hollywood gossip and American Idol ratings to local and world events. A city court has sentenced a man to 9 months in prison for shoplifting a bottle shampoo. Yesterday morning, prior to my arrival, throngs gathered at the airport to greet the pilgrims returning from Mecca. In India barehanded bullfighting injuries are way down since they started administering breathalyzer tests to both contestants and the bulls. And the foreign affairs ministry has issued a booklet with tips for diplomats' wives. These include "don't gossip" and "keep your bathrooms sparkling clean." Asked whether a similar publication would be prepared for male spouses, an official responded, basically, "why?"
Malay uses the Roman alphabet. Fortunately, they didn't knock themselves out inventing new words. You can go to the tiket kounter right past the lif lobi and take a teksi, ekpses bas, or a tren to the klinik or maybe the tekstil muzium, stopping at a restoran for a tradisional snek or a kofi with krim, unless you are stopped by the polis.
Kuching is Malay for "cat." An apocryphal story has Mr. Brooke asking the name of the town and the natives thought he was inquiring about a passing feline. Cats appear on the city seal and everything else, inclusing the manhole covers. Giant cat statues are at several intersections. What better place for a Cat Museum, which houses what has to be the world's most comprehensive collection of ceramic cats, cat paraphernalia, and feline-themed displays. There are stuffed specimens of native species such as the leopard cat, the marble cat, the clouded leopard cat, various civets, and the only mounted example of the rarest cat of all, the bay cat. (It looks like a giant weasel.)
There are exhibits on the Japanese "beckoning cat" (one-arm waving), famous cat owners in history, from A. Lincoln to A. Schweitzer to A. Einstein to A. Frank, (A. Hitler was a dog owner), and cats in movies, e.g., The Cat Burglar, Cat People, Cat Ballou (I know, there's no cat), the Aristocats, etc. IMHO, the Hello Kitty exhibit is inadequate.


In one corner there are photos of the white Rajahs and company in their finest colonial plumage and appearing to be having the grandest of time, like the ultimate Shriners. picnic. In contrast, their native successors are trying to look serious and dignified but mostly end up looking silly.

Unlike most places, the colonial architecture of Kuching has been well preserved. Many buildings have a European castle theme. The Sarawak Museum was modeled it after a hotel de ville in Normandy (it was designed by the Rajah's French aide). Its many stuffed and pickled specimens look like they date from the museum's opening in 1891. The big draw for natives was a pair of elephant skulls, who considered them the ultimate headhunting trophies. Nowadays, it is noted for its ? yawn ? ethnographic collections.
Across the street is the Islamic Museum, which has nothing to do with the history or accomplishments of Muslims in Sarawak or even of their current day headhunting co-religionists elsewhere, who practice their savagery while chanting the Koran. Instead it's a general self-esteem enhancement museum, focusing on any achievement by any Muslim at anytime anywhere. Thus, there is Persian art and Ottoman armor, mathematicians and scientists who lived 1000 years ago, and photographs of mosques around the world. The dry subject matter and the absence of air conditioning make for a short visit.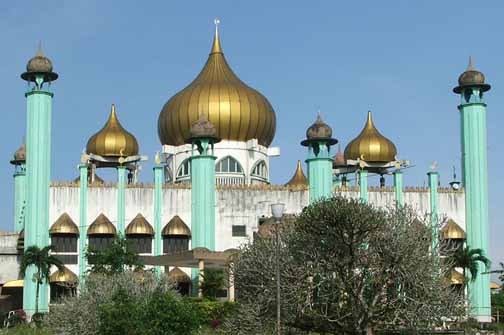 What I really want to see is a rafflesia, the world's largest flower, which measures about a yard across and smells like rotting flesh (to attract flies for pollination). The bloom is very rare and only lasts a few days. Two years ago one in Kew Gardens, London bloomed, drawing viewers from all over Europe and beyond. During my last visit to Borneo (Sabah) there were none in bloom. This time my luck is no better: one bloom finished the day before I arrived and several buds are predicted to bloom late in the week after I will have moved on.
As a poor substitute I book a day trip to Bako National Park. The park is on a peninsula separated from the mainland by mountains, so access is by water Sculpted sandstone cliff frame the beach dramatically, where we land MacArthur style.
Our guide leads us on long climb to a bare hilltop where there is an impressive collection of carnivorous pitcher plants. Back at the shoreline, a path through mangroves is supposed to yield an up close look at the resident proboscis monkeys, but they prove as elusive as their northern relatives on my trip down Sabah's River Unpronounceable. At least this time I don't have to suffer through camping in the mud in the attempt.
Our one wildlife success is the bearded pig, rare except for the denizens resident around the park headquarters. When not cadging handouts from visitors they are roto-tilling the lawns looking for worms.
Sarawak and Borneo are famed for their longhouses, contiguous huts which house an entire village. It's pretty amazing ? if you've never seen an apartment building. What amazes me is how western tourists travel for hours upriver just to visit and sleep in one. It's supposed to be a cross-cultural experience, but I consider it a total fraud. At the longhouses they don traditional costumes, dance, and pretend to be primitive. In reality, that's their livelihood: hosting tourists. And you have to pay big bucks for this ordeal.
At the Sarawak Museum I met a guide who offers take me to a longhouse on the Kalimantan (Indonesia) border. It's the biggest one he knows of, 73 families. Two or three times a month he will take one or two tourists out there; no one else visits. To ensure a friendly reception, we bring candy for the kids.
The longhouse is constructed from a combination of modern and traditional materials. There is an outer veranda, a common inner veranda, and individual family compartments. About 400 people live here. They are farmers, raising most of their own food plus cash crops of pepper and cocoa. Electricity arrived a few years ago, and there are several TVs and video players. The headman is easy to spot ? he is the one wearing a wristwatch. The men are out working in the fields, so only the women along with their amazingly well behaved kids are around. They are proud of their modern conveniences and, of course, dress in regular clothes. They are a mixture of Christian and Baha'i, having been converted by respective missionaries. The headman is pleased that I am able to identify his poster of the Baha'i shrine in Haifa, where, five years ago, missionaries took him to visit.

The next day I visit the Disney version, Sarawak Cultural Village. Its pitch is "Sarawak in half a day." Set around a pond, er um, "lagoon," are five types of longhouses (plus Malay and Chinese houses) where actors in costumes show you their native customs and invite visitors to join in or enjoy such traditional pastimes as "Borneo bamboo golf," "coconut bowling," and blow-pipe shooting. Although totally fake, it's more honest than the "real" longhouses tourists visit. (Deep in the jungle there are plenty of untouristed primitive longhouses, but they are so remote that you can't get there from here.) At the entrance booth, you are issued a "passport" which is stamped at each pavilion. I gamely comply lest they not let me out without all 7 stamps. Although every foreign tourist to Kuching comes here, a combination of a dead low season and it's pouring rain today means that I pretty much have the place to myself.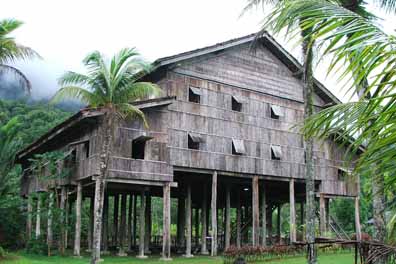 Then there's the native dance show, about what you would expect in a venue where they perform 2 times a day, 365 days a year in a place where jobs are plentiful (unlike Africa). Call me a skeptic, but I don't think they traditionally comforted the bereaved at funerals through Janet Jackson choreography with backup dancers, all in perfect sync and in day-glo costumes. And there are no more "tribes"; that word has been supplanted with the ubiquitous but meaningless "community." I can envision, back in the day, a war canoe from one community, full of goodwill ambassadors paddling to take as trophies the heads of members of neighboring communities
My overall review of Sarawak Cultural Village: I wasn't expecting much, so I am not disappointed.
One of the best things about Kuching is the food. The Chinese come for the birds nest and shark fin soup. My choice is the Topspot Food Court, a giant fish market cum restaurant scenically perched atop a six story parking garage. You select your fresh catch from multiple vendors and they cook it up on the spot as you like it. And the prices are right: snapper $1.00 per 100 grams; giant prawns, $1.50 for 100 grams. The stalls are all owned by Chinese but the serving girls are Malay. The latter are much better built, as revealed by their skin-tight clothing. It's like hot Asian babes in headscarves.
I stay in Kuching for five days, much longer than anticipated, and reluctantly move on. The days are gone of slowly chugging up the Sarawak River. Now there are express boats with airplane-like enclosed cabins. At the wharf side ticket office, the guy asks me "economy or first class?" The former cost $11, the latter $1.50 more. Not a hard choice.
To my surprise, playing on the video monitors are what are called here lewd videos. Must be for the crew, because once we get under way they put on a schlock horror flick. The 4 1/2 hours to Sibu pass quickly. When I arrive I pick the flashiest of the several hotels facing the boat terminal, rejecting the $8 room for the much nicer $11 one.
Sibu is a Chinese town settled by immigrants from Foochow. It got rich from timber exports but then declined. Fancying a comeback its symbol is a swan. It's not officially a city, but the largest town in Sarawak.
The postcard attraction of Sibu is its Chinese temple. As I entered I am waylaid by a little bald guy who starts a 45 minute lecture on yin-yang, Taoism, I-ching, numerology, symbolism, the Chinese alphabet, tai chi, fishing, Darwinism, black monkeys from Africa, white monkeys from Europe, 1000 year old predictions, and how they are all interrelated. When he is done (actually, he isn't, but it's 15 minutes past closing time) my head is spinning. He is the caretaker of the temple and is listed sin all the guidebook as an attraction in himself. I dine al fresco at the night market while admiring the posters of that famous Borneo diva Shakira.
In the morning, I fly to Miri, the second largest city in Sarawak, and on to Mulu, where about 30 years ago a huge cave system was discovered.

A national park was created and hotel and airport built.

There is no road to Mulu, three prop planes a day bring in all visitors and perishables.

(Heavy goods come in by riverboat.)
That afternoon my guide brings me to the first two "show caves." The first, Lang's Cave, is good but not unique. Right next to it is the Deer Cave, the largest cave passage in the world, with a ceiling ranging from 400-700 ft. high. Very impressive, but too dark to get a decent photo. There are 2-3 million bats which live in the cave.. After visiting the cave we wait outside until dusk when they emerge in long, sinuous ribbons of flight.

At the Royal Mulu Resort the rooms are enormous, tastefully decorated, and very comfortable. It's also about 95% vacant. I like it here.
What would a tropical resort be without a cultural dance show during dinner? I think the girls are cuter than at the last one. They don't try to force me on stage to dance, but I do succumb to a lovely maiden who beckons me to try the blowgun. On my second puff I pop the balloon. To my disappointment, my phone does not ring the entire time here.

In the morning we take a longboat to Young Lady Cave, so-called because one of the stalagmites casts a shadow that sort of looks like the Virgin Mary. Methinks the guy who named this is a cousing of the guy who found the face of Jesus in a taco.

Then, the nearby Clearwater Cave, which has a large underground river. The cave system is over 100 miles long and is, by volume, the largest in the world. There are 70 or so caves in total, but the others are considered adventure caving requiring various levels of expertise. There is also a 3 day camping trip with a difficult climb 4,000 ft. almost straight up to a viewpoint over sharp limestone pinnacles, but that's too much suffering for me.
A toe injury causes me to skip the afternoon canopy walk. That's OK ? all you see up there is leaves and bugs. Instead, I watch a choreographer drilling the hotel help in uniform in a dance routine, while catching up yesterday's newspaper.
• Back at Kuching it has been raining since Monday night, causing flooding in the city and surrounding areas.
• An armed robber was sentenced to 6 years plus a whipping.
• In South Korea condom sales are down. We are coming into the Year of the Pig, and couples want "golden pig" babies.
• In Shanghai taxis are to be fitted with cuspidors so drivers will stop spitting out the window.
• Since only nutters (like me) come to Sarawak during the rainy season, they will try marketing to Arabs who might like the experience of free water falling from the sky.
I spend two nights at the Royal Mulu, then fly back to Miri. Next goal: Brunei, a strict Muslim statelet ruled by an oriental potentate. It's less than 100 miles from its capital, Badar Seri Begawan, to Miri, but getting there is not so easy without a car. An expressway runs between the two (Miri is the weekend playground for a dry and ascetic Brunei), but there is no direct bus. Instead, I take a bus to the border, which connect to another bus which brings me to Kuala Belait. From there, another local bus to Seria, which is as far as I get today because the last bus to BSB leaves Seria at 4 PM.
Seria is an oil town, the center of Brunei's wealth. "Nodding donkeys" are scattered about town, but the big fields are offshore. The stores are full of men in Shell jumpsuits. I leave first thing in the morning, not taking the time to visit the Billionth Barrel Monument or the Oil and Gas Discovery Center. It's 2 hours on local roads for the final stretch to BSB, passing various oil facilities and giant gas flares.
Around 500 years ago the Sultan of Brunei held sway over all of Borneo, much of the Philippines, and beyond. This dominion could not withstand European naval firepower, and by the late 1800's Brunei had shrunk to less than 1% of Borneo. (The Dutch and British had the rest.) It is the smallest non-island country outside of Europe. The discovery of oil in 1929 prevented it from evaporating into insignificance.
The oil wealth of the country is the personal possession of the Sultan, whose palace is the largest in the world. It's not open to visitors, but the Royal Regalia Museum gives a glimpse of the Sultan's style.
The first thing you see if the royal chariot from the 1968 coronation along with the accompanying regalia. Whoever designed them was obviously inspired by Cleopatra's cinematic entry into Rome five years prior. By the silver jubilee in 1993, the Sultan was much richer and the pageant more grandiose, with a bigger chariot pulled by hundreds of uniformed bearers, all of which is preserved and on display. Unfortunately, no photos are allowed, lest we laugh at his vainglory. (No postcards available, either.) I suppose that's how most tribal chiefs would behave if they had the means.
There is a scale model of the main reception hall at the palace. Photos of HRH with world leaders, none of whom I recognize. Gifts from subjects and supplicants include a gold pen from Standard Chartered Bank, a sword from Honk Kong Banking Corporation that looks like it came from a Kowloon souvenir shop, and an embarrassingly modest something or other from Shell. Awards and honors from foreign governments, mostly Arab and Islamic thugocracies but quite a few from western Europe. Another set of rooms contain the paraphernalia from the coronation ceremony. Lots of gold.
The so-called Constitution Hall has some interesting historical stuff.

In 1846 the first treaty concession was signed under the watchful gaze and guns of the Royal Navy.

A photo of the palace taken in 1905 looks like a slum on stilts; later versions look like large bungalows.

There is an 1850 treaty between the United States and the Sultan of Borneo.

("Brunei" and "Borneo" were used interchangeably.)


Much of the population of BSB lives just offshore in stilt villages, forming the largest water village in southeast Asia. At waters edge is the "daddy" mosque, built by the current Sultan's father. Very impressive.
The new mosque is a bit out from the center so it can be surrounded by vast parking lots.

The two mosques are easily the most impressive buildings in BSB.

(The palace, which can only be seen from a distance.)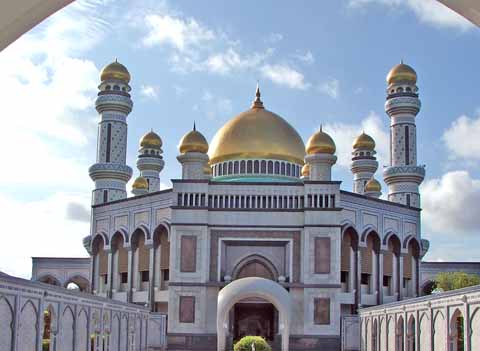 The Brunei Museum contains an entirely boring oil and gas gallery and the Sultan's personal collection of Islamic art, which is very good. Nice examples of calligraphy (pride of place goes to a page from the Koran in the hand of HRH), Turkish, Persian, and even French objects d'art. Interestingly, the descriptions are only in English.
Brunei is a one-day place, which is just fine because I need to be back in Singapore tomorrow night. I am much too cheap to pay the steep fare for a direct flight. Instead, I take the 7 AM bus back to Seria, then to Miri, fly to Johor Bahru, and end up in Singapore that night for the first of three flights to get back to Jacksonville.
Trip date: January 2007