The Accidental Patagonian
I am hoping to go to Antarctica but am unwilling to pay the $4,000/$5,000 it costs to book in advance. Instead, I am going to try my luck at last minute fares. I have scored a cheap ticket to Ushuaia, which lies at the tip of the South America and is where the boats leave from. I begin my long journey into uncertainty with a propeller plane to Miami. (Cheap and frequent service to Fort Lauderdale by Southwest Airlines has killed the Jacksonville - Miami jet routes.)
I have a layover of several hours in Miami. I can't help but notice that in Miami, all females, regardless of age, size, or shape are dedicated to looking hot, hot, hot. In the lounge the newspapers and magazines are all in Spanish.
It is an 8 1/2 hr. flight to Buenos Aires. The plane is a 777. American Airlines, the "more room in coach" folks, have a 36" pitch between rows in the back, a full 5" more than most carriers. The plane is only half full. Departure is at 11 PM and dinner and dinner served at 12:30 a.m. Breakfast comes 5 hours later.
It's a clear day as we approach Buenos Aires. Looking out the window, I see a vast, green plain covered with farms, source of the wealth that once propelled Argentina to the front ranks of world per capita income and which since has been squandered.
The customs declaration form allows $300 duty free and states that everything above that is subject to duty of 50%. All cell phones must be declared. There are long lines at customs as returning residents are thoroughly inspected. I must have the tourist look because they just direct me around the queues.
For the past 10 years the Argentinean peso was pegged at 1 peso = $1.00. That all collapsed a month ago, and three days ago the rate was allowed to float. Even though the current rate is more than 2 pesos to a dollar, inside the airport foreigners are lining up to exchange dollars at the rate of 1.6. Fools. Five yards further everyone is clamoring for greenbacks. The fare on the transfer bus to the domestic airport is 15 pesos. I give them a $20 bill and get 25 pesos as change.
We have landed at the international airport some distance from the city center. The old airport, now used for domestic service, is practically downtown. My initial impression of Buenos Aires confirms its storied elegance: broad boulevards, gracious architecture, grand monuments. There is surprisingly little traffic on the streets. Ditto for the autopista. From the air, I could hardly see any cars. The domestic airport terminal is practically deserted. What's going on? Are they celebrating Chinese New Year? I suspect that the shock of devaluation is causing everyone to stay home and not spend.
I study a map from the tourist office and am surprised to read that Argentina is almost the size of the continental United States. Then I read the fine print and see that they are including a slice of Antarctica as well as the Falkland and south Atlantic islands "temporarily" under British domain. Even excluding these dubious claims the country is 70% the size of the contiguous United States but with only 15% of the population, 40% of which is clustered around the capital. A look from the window of the plane confirms this: the farms give way to the green pampas then vast expanses of empty land.
The continent proper ends at the Straits of Magellan. Below that is Tierra del Fuego, a large island divided between Chile and Argentina. Further south is an archipelago belonging to Chile. (Cape Horn is on one of the islands.) The Straits are all in Chile and, looking at a map, all of Tierra del Fuego should logically belong to Chile, an uncomfortable geopolitical fact which has driven much of Argentine policy. Argentina did not claim its half of the island until 1884, when a penal colony was established.
Ushuaia, on the north side of the Beagle Channel, bills itself as "the southernmost city in the world." Well, it is, if you overlook Puerto William in Chile, on the south side of the Channel. I ask this impolitic question as the tourist bureau, where I am informed that Puerto William "is not a real city." Everything is "Fin del Mundo" this or "Fin del Mundo" that. When we left Buenos Aires, it was about 90É. Three and a half hours later when we disembark the temperature is 40É.
A large cruise ship is in the harbor. I inquire and learn that it is sailing for Antarctica that evening and that cabins were available, but at full price, $5,000+. No, thank you. There are four smaller ships leaving in the next three days. All are sold out. I get on the waiting lists. At the moment, all of Argentina is half-price, so my very nice hotel costs me less than $30/night.
The next morning I step outside. It is high summer, and it's SNOWING! Glad I didn't come in the winter.
I check with the travel agency to see if any space has cleared. There is one female berth on a Russian ship, but nothing else. Bad timing on my part. Earlier in the season they were taking plenty of walk-ons at half-price. I was hoping that mid-February would be late enough in the season to replicate that condition but I am too early. There are openings two weeks hence. Next time, I'll know.
Ushuaia is a combination seasonal boom town and dying factory town. In order to encourage immigration and bolster its territorial claims the central government made Tierra del Fuego a tax-free zone and encouraged the building of electronics assembly plants. The plants stayed open as long as the subsidies lasted. Now, the economy is very similar to that of the Alaskan coastal towns. The stores on the main street sell mostly T-shirts, mugs, and magnets (all imported). The price level is astronomical. Even at the current half price it is expensive. Even worse is the exchange rate. The banks are prohibited from exchanging dollars, and all over the country people are waiting in line for hours to buy dollars from cambios, which are private exchanges. Here in Ushuaia there is only one cambio, in front of which dollar-laden tourists are lined up to buy pesos at 1.7:1. The stores are in on the scam, offering 1.8. The way to beat them is to use the ATMs, which freely dispense pesos.
I visit the Museo de Fin del Mundo. Two rooms of stuffed birds, Indian artifacts and sorta old stuff. Very modest, except for the price (5 pesos admission). Ushuaia has a time line like Miami: anything 50 years old is historic. They are very nostalgic about the Indians that used to live here. (They would probably be less so if the Indians weren't all dead.) The Tierra Del Fuegan Indians lasted just long enough to be photographed and give subsequent hotel lobby and restaurant decorators a motif. I suppose were very resourceful in a harsh land, but don't seemed to have invented clothing. The early explorers all noted that the natives were naked despite the very cold environment.
In the afternoon I take a trip to a penguin rookery. The weather is still pretty crummy, but the scenery is excellent. We drive some 50 miles east to the Estancia Haberton, the homestead of the first of the original families and the only one remaining, along a road that didn't exist until 1978. We pass a number of gear-laden cyclists on the last leg of the 2,000 mile journey from Buenos Aires to Ushuaia, They gotta camp en route, cuz there's nothing in between.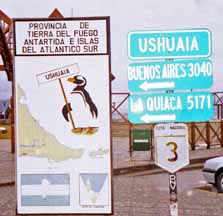 On the way we stop at a training kennel for sled dogs. Dogs are no longer needed for Antarctic exploration, so these days it's done for hobby and sport. To keep up the blood lines, they have a pen with a half-wolf, half-malamute stud.
Sheep ranching no longer pays the bills; the estancia now relies on tourism to survive. Founded in the 1840s when land was unlimited and free, the ranch is enormous. The Haberton family came from England. The house was built in England, disassembled, and shipped over. In 1962 an Ohio girl came to visit and ended up marrying the scion. That human-interest story plus a penchant for self-promotion has resulting in large books of press clippings, from the Mansfield, Ohio Gazette ("Local Girl To Wed"), to Parade Magazine, to National Geographic ("Housewife At The End Of The Earth."). The family also makes it a point to host all travel writers, so the (same) story has made the travel section of almost every newspaper and magazine in America.
From the ranch we take a Zodiac (inflatable boat) to the penguins. No need for telephoto lenses here -- we just run the Zodiac up onto the beach of the rookery amidst thousands of the unconcerned critters.



Even though it is near the vernal equinox, we are so far south that it is light outside until past 9:30 PM. At about 10 PM, a blackout plunges the whole city into darkness. The power is out for about three hours. The headline in the next morning's paper contained one word "sabotaje."
The next morning, Friday, the weather is beautiful. I take the cruise around the harbor on a big, enclosed catamaran. It holds 175 people but there are only about 25 on board, which is just fine with me. When everyone runs to the top or sides to see something, there is enough room for everybody. I take a GPS reading: we are at latitude 55É south; Jacksonville lies 6915 miles north.


I intended to take the Tren Fin del Mundo, a narrow gauge train built/used by the prisoners, in the afternoon, but get there too late. It's the usual deal for tourist locales: a half a day needs to be set aside for a one hour activity. Going to the National Park is an all-day affair. The old prison is now a museum, but I eschew it for two reasons: 1) it looks boring; 2) in protest of the newly doubled admission price (9 pesos).
That evening there the weekly protest takes place. Demonstrators march down main street to the governor's office while banging pots carrying flags and protest banners. (Mass marches by housewives banging pots and pans led to the downfall of the military regime in the 1980s.) These demonstrators seem to be a mix of unemployed, malcontents, socialists, and middle-class steamed over their frozen bank accounts. Everything very orderly, no police. Motorists seem well-practiced at detouring around the demonstrators.
Since I've given up on Antarctica I devise Plan B: a cruise up the Patagonian coast. I need to be in Puerto Natales, Chile by Monday night so, even though I have not exhausted the wonders of Ushuaia, on Saturday morning I take the early morning bus to Puente Arenas, Chile. It's an 11 hr. journey, but surprisingly comfortable. In South America, buses are the preferred mode of long distance travel, with reserved seats and competing companies.
Our route along the Beagle Channel offers dramatic scenery. Once we turn inland the terrain changes to flat, treeless, and empty. It's like Montana, only not so crowded. You want oceanfront property and no neighbors, cheap? Come to Patagonia.
After about four hours we cross the border into Chile. Formalities are minimal. A couple of hours later the bus drives aboard a ferry to cross the Straits. This is at the narrowest point, and the ride only takes 15 minutes. It is also possible to cross at Puente Arenas, but that voyage is 2 1/2 hrs long.
Puente Arenas, which also lays claim to the "southernmost city" title, is more than twice the size of Ushuaia. It's much older too. Its heyday was in the early 1900s, when wealthy sheep ranchers built large mansions in town. (Those homes are now clubs, museums and restaurants.) At the time, more than one-half the population was foreign born, mostly European. The cemetery contains many grandiose mausoleums; a large percentage of the inscriptions on the ordinary graves are in English.

A half-day is adequate to see the sights. Sunday afternoon I take a bus to Puerto Natales, three hours to the north. It's a pleasant, small town loaded with tourists but not touristy. A combination of gringo backpackers and Chilean tourists from Santiago use this as a base to visit the nearby national park. It is only 281 miles north of Ushuaia, but I've gone from dressing in five layers of clothes and still freezing to being perfectly comfortable in a T-shirt.
On Monday I take a one-day a tour of Torres del Paine National Park. On the way we stop at the Cuerva de Milodon. Explorers discovered the cave in 1895 and found bones and bits of hide from the extinct, 10 ft. tall, giant ground sloth. The discovery sparked expeditions in search of living specimens, but cavemen ate the last ones 5 or 10 thousand years ago.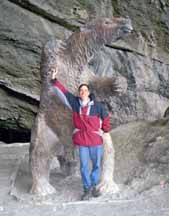 The terms of scenery, the park is a combination of Glacier, Yellowstone, and Yosemite, but without the crowds. When taking photos, I often have to wait for somebody to wander by to give some scale to the shot. The problem is that the gorgeous weather of yesterday has disappeared. It's now cloudy, windy, and cold with rain showers. Spectacular vistas, but not photogenic today.

When I get back Puerto Natales it is time to board the boat. It is more of a ferry than a cruise ship. We enter ride on a giant truck elevator like that of an aircraft carrier. The passengers board at 10:00 p.m. Trucks and vehicles are loaded all night long. The drivers have a day room and a mess, but they sleep in their trucks. I have a private cabin with bath. The backpackers are crammed into tiered amidst the pipes down in the bowels of the ship. Unlike in The Titanic, no one is singing or dancing. After seeing steerage, my only thought is "Boy, I am glad to be a rich gringo."
At the safety briefing I expect to be issued a pistol to help keep the lower classes from the lifeboats. Instead, they tell us that this isn't the Titanic, which took hours to sink. This is a roll-on roll-off vessel which would probably be beneath the waves in 10 minutes, but, not to worry, we should be rescued before freezing to death.
There's no need to speak Spanish on this vessel. The passengers are from all over, but everyone speaks English (except for a couple of Italians). Virtually no Chileans aboard; although very reasonably priced by our standards, it's too expensive for them.
We depart at dawn Tuesday morning. The channel is so narrow it can only be negotiated in daylight. The Pacific Patagonian coast is very similar in geology, scenery and climate to the Inside Passage to Alaska. Unfortunately, the weather is still lousy. I can tell the scenery is great even though I can't see it.
It's more than a ferry. We have a guide/lecturer who is a pretty knowledgeable and interesting guy. He is also a disaffected leftist who thinks Chile is the worst country in the world, and can't stand Chileans. He grew up in exile in France. His father was a leftist on Pinochet's death list. He freely talks about his anger and depression. A future Pol Pot.
Entertainment is a mixture of movies and tree-hugging, anti-capitalist videos put out by the Chilean state forestry company. (Theme: competing private enterprise is bad; put us in control of everything.)
The weather on Wednesday is lousy too.
Thursday is beautiful, clear and calm. Normally, the open sea is too rough and the ship must instead wend its way through narrow channels. The downside of the beautiful weather is that the captain orders a direct ocean route. This is primarily a vehicle transport vessel, so the purpose of this voyage is to complete it as soon as possible. Unfortunately, the direct route means there is little to see.
Thursday evening we arrive in Puerto Montt, a a charmless, commercial city with drunks, and panhandlers and a McDonald's. It is, quite literally, the end of the road, which is why there is a ferry service to points south. I get a room, and stroll to the tourist office. When I get there, I find out that that I have already seen most of the sights on the walk over. The bus to Argentina leaves at 8 AM. I reserve the last remaining seat.
By leaving so early in the morning I miss the Pope John Paul II museum which commemorates the pontiff's visit in 1984. It is another blustery, overcast day, a good day for traveling. The Andes separate Argentina from Chile. They are much higher than the Rockies -- the peaks are snowcapped year round -- but, conveniently, there happens to be a pass at the same spot where they built the road
I was under the impression that Chilean Spanish was especially clear, particularly when compared to Argentinean dialect, until I realize that I cannot understand a word spoken by my seatmate, no matter how slowly he speaks. He can understand me just fine. (I think.)
Entering Argentina is a bit slower than leaving. At the border my bag is selected and removed from the bus for a random inspection. I am called to open it. The customs gal finds my stash of pistachios and asks me what they are, apparently having never seen any. I give her one to try. She pops it into her mouth and a blissful expression crosses her face. I offer her a handful which she gratefully accepts as she indicates that I should close up my bag. Aspiring smugglers take note.
While waiting for everybody to clear immigration a guy strikes up a conversation, telling me that he lived in Miami for 12 years but never had the opportunity to learn English. Another guy pulls from his wallet a photo of General Pinochet labeled "Liberador de Chile." He kisses it and starts railing about communist propaganda. I agree with him, adding that the sainted general saved Chile from communism, at which point he exclaims loudly in English, "Thank you! Thank you!" Just call me a goodwill ambassador.
The bad weather is on the Chilean side of the mountains. It's beautiful over on the Argentinean side. The ride down yields excellent scenery. We pass lakes and resorts before arriving at San Carlos de Bariloche. We have been driving for over six hours, but have traveled less than 30 miles as the (very high-flying) crow flies.
Bariloche, situated at the base of the mountain and on a lakefront, is the capital of the Lake District. It is resort central. The guide books recommend against arriving without reservations during high season. That may be sound advice in normal economic times, but the economic crisis is keeping people at home. Bargains abound. My hotel room overlooking the lake and with all modern conveniences costs me 15 pesos/night. A three course meal in a nice restaurant, 10 pesos.
Another Friday, another provincial capital, another demonstration. I arrive in time for the weekly protest march. More drum pounding and pot banging. More demands for free money. The Argentineans have internalized the extractive theory of wealth. Wealth is either extracted from the land through mineral or agricultural resources or from the government. It is the job of government to distribute wealth. Taxes are the responsibility of other people. Despite high nominal rates, no one actually pays them. Only about 30% of the taxes imposed are collected.
They don't work much either. The hotel doesn't even begin serving breakfast until 8 AM. Go outside an hour later and you won't see anyone else or find anything open.
Bariloche is renowned as the center of the Argentine chocolate industry. Every other store on the main street is a chocolateria. Years ago I was given a box of Argentine chocolate, which I thought tasted like wax. Maybe fresher is better, so I try some samples. They all taste like wax.
It is nearing the end of the season and merchants are desperate to unload their wares. T-shirt prices are dipping into the $2 range. That's less than a fifth of the asking prices in dollar-soaked Ushuaia. I buy three.
The provincial governments don't have enough money to meet their bloated payrolls, so they issue scrip. Signs in the windows of hotels, casinos, restaurants, and luxury goods retailers welcome it, but there are no equivalent signs in supermarkets or gas stations. The scrip looks like real money, but the fine print says that it is to be redeemed at some indefinite time in the future.
On Saturday I take a lake cruise. On the transfer bus there are 9 Argies, an English guy, and a German gal. When the latter two speak Spanish, I can understand every word. Not so for the Argies, who might as well be speaking Portuguese. Also, the guys kiss each other hello. Ugh! Good thing I don't know anyone lest someone greet me! (Interesting sidenote: the English kid got to Argentina by signing on as a crew member on a sailboat from Cape Town, South Africa by way of Antarctica.)
We cruise along an arm of the largest lake right to the Chilean border. A sign with an arrow pointing upwards says "Puerto Montt 20 kilometers." We walk through a bamboo and conifer forest, an unusual combination, to a waterfall. Pretty good, but would probably be even better if there had not been a drought under way. Brilliant sunshine.
The entire region consists of sparkling blue glacial lakes set in emerald forests beneath snowcapped peaks. No wonder celebrities are buying the place up. When you read that the glitterati are buying ranches in Patagonia, they are not acquiring vast stretches of nothingness further south are but coming to the Lake District. It's like Lake Tahoe, only cheaper and less crowded.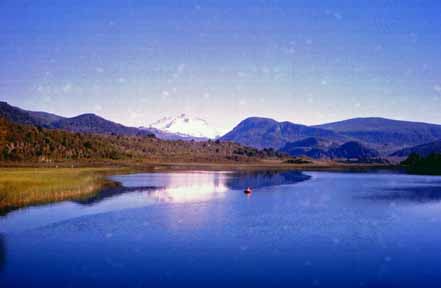 The next day, Sunday, I visit another part of the National Park. We drive around for 11 hours on gravel roads. The underpowered, under-suspended, locally made Fiat minibus makes me long for the big, comfy Ford Club Wagon they used in Chile. Lots of nice scenery. An unusual sight is the Black Glacier, which gets its color from the dirt it has picked up along the way. That's how mountains get worn down.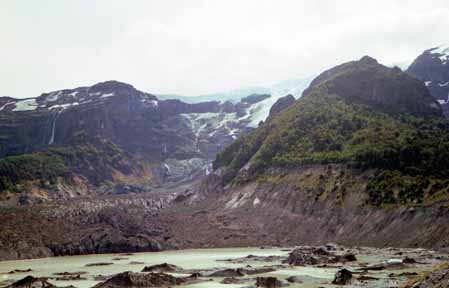 I spend three nights in Bariloche. My flight to Buenos Aires is on Monday. I was ruing not staying over another day, but it turns out I picked a good day to leave. After two months of no rain it is the storm of the century. Howling winds and driving rain whip the previously glasslike surface of the lake into white caps. On the news is a report on the long line of people who spent all weekend outside the US Embassy waiting for visa applications. Also, television ads for Miami hospitals. (So much for the appeal of socialized medicine; in Argentina healthcare is "free.")
It's a two hour flight to Buenos Aires. Airfares have just doubled, so the plane is only half full. At the domestic airport by the luggage carousel there is a kiosk touting an all-new, all-suite, apartment/hotel. I succumb to the siren pitch and negotiate a rate of 80 pesos/night including breakfast and free cab fare. A worthwhile splurge. It is located about 50 meters from the obelisk, the central landmark of the city, and smack amid the luxury hotels.
In the capital one doesn't need to wait until Friday to see a demonstration. Protests are everywhere: one marchpasses right in front of the hotel. In December some turned violent so there are plenty of police present.
The mood is grim and somber with touch of anger. There are no carefree youths with guitars on their back. Unemployment is at 22%, and the poverty rate is 45%. Retailing has a desperate air -- one in six stores has closed. Buenos Aires was formerly the most expensive city in South America with prices akin to those in Paris. Now: steak dinner 3.50 pesos; Internet cafe 1 peso an hour.
In financial district banks are only open a couple hours a day for limited withdrawals. Half the traffic seems to be armored cars. Long lines in front of the cambios. Those not in line are standing in the street chanting "cambio? cambio?" or sitting on the sidewalk begging. The government has announced that it does not enough money to pay February salaries in full.
It's all a giant Enron. The economy has been at an artificial level of prosperity for years. Every has been enjoying the good life financed by international borrowing. Now, it is clear that the books have been cooked and the lending spigot is closed. The debt is in default. Like consumer debtors on the verge of bankruptcy the government is saying to the IMF, "Lend me $15 billion today and I will reform my profligate ways next week." The IMF sees a bottomless pit. There is no willingness to sacrifice: strikes of public workers break out in protest of threatened layoffs; and people take to the streets to demand more spending.
Everybody knows but no one has courage to say aloud that things will have to get a whole lot worse before they get any better. There is a surprising interview in the Buenos Aires Herald with the Interior Minister who says that situation requires a total change in cultural values, which he doesn't see happening. Everyone is trying to achieve prosperity through legislation and special pleading. He notes that the government's concessions to pressure groups while shifting the costs into the future and to yet identified groups erodes the rule of and respect for law.
Enough of that! I am here as a tourist! After checking out the center city and principal monuments I set out on a tour of the neighborhoods.
La Boca is on all the postcards as an exceptionally colorful working class district. One street has been prettified for the tourists but is completely lined with art vendors whose vertical displays line both sides of the street and ruin any photographic possibilities. The rest of the neighborhood is pretty run down.
San Telmo is a district of faded elegance. It's where the rich people lived until yellow fever epidemics in the 1870s caused them to move north. The working class moved in, and there they remain. Judging from who is hanging around, I would say that San Telmo is the homosexual and transvestite section of town.
The northern barrios are where the rich people live now in gracious neighborhoods that look just like Paris. Deliberately. Back in the good old days Buenos Aires aspired to be second to none. That's where all the museums, parks, gardens, embassies, etc. are. I easily manage to fill Monday afternoon, Tuesday, and Wednesday sightseeing.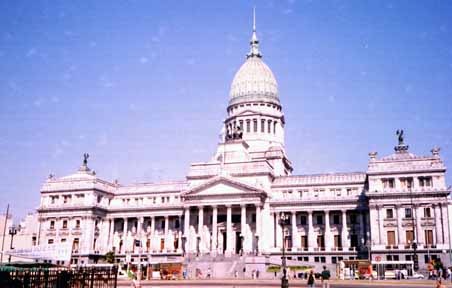 Every Thursday afternoon the Mothers of the Plaza march around the Plaza de Mayo with pictures of their missing children pinned to their coats. Rather than being hanged properly, their little darling Marxists were made to "disappear." The Mothers carry banners demanding an end to "state terrorism," which is a different sort, I guess, from the freelance variety advocated by their offspring. They sell T-shirts, books, and tapes to tourists and left-wing sympathizers. When they started they were courageous protesters bringing the conscience of the nation and the world to the abuses of the military regime. By now, they have been at it for 20 years and are getting and looking pretty old. At this point it's kind of sad. Get over it!
It's Thursday night. Time to go home. Another overnight flight. This time, the plane is practically empty and I can stretch out across four seats. I need to rest up. My next trip is in 13 days
Trip date: February 2002