There are still three countries in Central America I haven't yet visited, so it's time to complete the list. Although the distances are short, airfares on these routes are inordinately high, so it's a good use of my ever-depreciating frequent flyer miles. I'm flying into Managua and out of San Pedro Sula.
The first stop after landing, as always, is immigration. On the wall behind the officer is an advertisement for some private security outfit showing a guy with sunglasses talking into his wrist while a black helicopter hovers above – very reassuring. I already know that I don't want to stay in Managua, so I have arranged for a transfer to the city of Granada about 40 minutes on the other side of the airport. Even before I get to baggage claim a gal is standing there with my name on a placard. My bag is already on the belt (for once, those "priority" tags work) and we whisk past the inspector and through the throng of meeters, greeters and taxistas as a white van pulls up. Dunno why my outfit has inside privileges, but a very satisfying experience. I land at 9 PM and am in my room by 10.
I have reserved a room with bath at the upscale hostel for the exorbitant rate of $28. It's a converted colonial structure built around a landscaped courtyard with a pool in back. The nicer rooms are on the courtyard, the dorms further back, and the cheaper rooms in the rear. The veranda is a giant comfy sitting area with library and video collection, free coffee, and people hanging around on the bank of free computers. The wifi signal reaches my room, letting me be antisocial.
When I arrived the city was shut tight as a drum. In the morning I go exploring. Granada was founded in 1524 on the shores of Lake Nicaragua. It has retained its colonial appearance and was largely unscathed by the civil wars, which is why it is the tourism capital of the country. Although the streets are bustling with local commerce, many buildings have been converted into hotels and restaurants. It has a pleasant ambiance, but not much to see. I am not one for horse and carriage rides, and I don't feel like taking a boat trip to the islets to see the monkeys. But the weather is warm, my hostel is comfortable, and I am addicted to the keyboard and screen.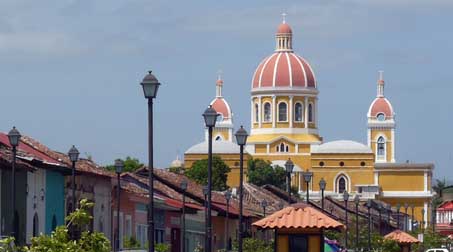 The second day I take a day trip to Managua. Minibuses leave every fifteen minutes, and the one-hour trip costs only a dollar. Despite the leftist revolutionary rhetoric that abounds, the economy is highly dollarized. Greenbacks circulate freely in parallel, and the ATMs ask you whether you want dollars or cordobas. Anything to do with tourism is priced in dollars. El Salvador, next door, has abandoned its national currency entirely and uses the US dollar as its only currency.
Modern Managua,
i.e.
, the suburbs, looks like anywhere else – shopping centers, strip malls, fast food restaurants, and crowded highways. It is the heart of the city that looks like a war zone. In 1972 the central city was leveled by an earthquake and never rebuilt (no money and too seismically dangerous). Large areas were cleared, and the spaces are now filled by tents, shanties, hovels, and other impromptu structures. Almost forty years on, the area has a few monuments and not much else. The former national palace has been repaired and is supposed to be a museum, but looks empty. Nearby is the shell of the cathedral, destroyed by an earlier earthquake in 1932. About the only thing "new" is a giant statue of a Sandinista fighter overlooking empty fields. Traffic zips along busy arteries, but it's too dangerous to walk around, even in the middle of the day. In other areas you can walk safely in daylight, but not at night. After this glimpse of Hell, I return to Granada.
A word about the lake: Lake Nicaragua is huge, the largest in the Americas after the Great Lakes. My entire time in Granada is marked by a constant strong wind off the lake, which is nice in the cool breeze department but makes it very difficult to keep a hat on one's head. Although almost all tourists visit Ometepe Island or one of the lakeside resorts, I am not so inclined.

My next destination is Leon, the other historic colonial city and rival to Granada. It was the rivalry between them that caused the capital to be sited in Managua, then a small village half way between the two. To get there I take the minibus back to Managua, then another for the hour and a half trip to Leon, arriving Sunday afternoon.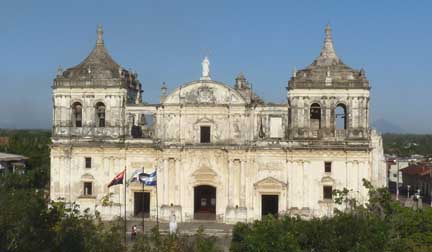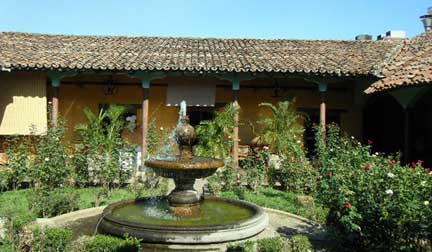 The city seems nice enough, but deader than a doornail. Around 4 PM it wakes up a bit. Like Granada, there is a dearth of actual attractions. Its cathedral is the largest in Central America. Across the central plaza the former governmental palace has been commandeered for the Museum of the Revolution. Leon takes pride in its role at the forefront of the successful Sandinista civil war against the Somoza regime. During the final stage in the late 1970's the city was the scene of heavy fighting and changed hands a couple of times. The museum consists mostly of photocopies of various articles and documents pasted on the walls along with a handful of objects. It's a paean to Augusto Sandino (a rival to Somoza Sr. and killed by him in 1934), Fidel, Che, and various other commie icons. Admission includes a lengthy guided tour (in Spanish); perhaps for my benefit the guide dwells on the exhibits showing imperialist aggression and exploitation by los norteamericanos from the original filibusters in the 1850s through that modern icon of evil, Ronald Reagan. Now that Daniel Ortega is back in the saddle, the buildings are covered in graffiti extolling the modern holy trinity of "Fidel, Hugo (Chavez), and Daniel." I guess that they envy the freedom and prosperity for which Cuba is famous. Like all good revolutionaries, they brook no dissent; a sign at the front desk says that visitors must check their firearms.

For those of you who have forgotten, Ortega and the Sandinista took power in 1979 and began turning Nicaragua into another Cuba. With Reagan's backing, the Contras fought a years-long anti-comuninist insurgency. It all ended in 1990, when Ortega, in a glut of overconfidence, allowed free elections and was promptly booted out of office. In 2006 Ortega managed to get reelected. These days he mostly spouts revolutionary rhetoric while devoting his attention to enriching himself and his clique.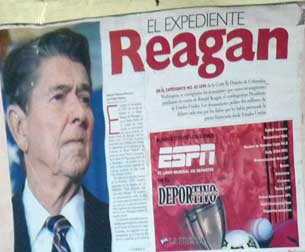 I kind of like Leon, and am prepared to stick around another day until I see that there is a bus direct to San Salvador leaving tomorrow, Monday, at noon. Otherwise, I will have to go back to Managua, stay overnight, and catch the bus that leaves at 5:30 AM. The next semi-decent bus from Leon is not until Thursday, so the Nicaragua portion of my trip gets truncated.

The distance is not that far but the trip takes almost twelve hours, almost half of which is spent at the three border crossings. Just exiting Nicaragua takes two hours and involves piling out of the bus three times for various checks; I guess they are looking for enemies of the revolution. The Honduras entry and exit would have been fairly quick except that they were unable to find the entry stamp on one guy's passport. The final assault is the entry into El Salvador: we pull into a loading dock and drag out all our stuff to be examined by the Salvadoran version of the DEA. If it all weren't so irksome it would be comical to watch an obviously uninterested and unwilling dog being dragged by the collar past the luggage splayed out on the concrete. (So, no more aid to El Salvador; what they don't steal outright they use to harass their benefactors.)

The bus is going on to Guatemala and does not drive into San Salvador proper; it drops me off at a gas station on the Pan American highway outside the city. At that late hour there are no cabs around, so I have the attendant call me one. A taxi arrives shortly, and we begin a lengthy negotiation over the fare. He wants ten dollars; I offer three. We end up at six, which I view as a defeat because I really didn't want to go over five. Fifteen minutes later I am at my hotel, a really nice place in questionable neighborhood but an outstanding value at thirteen dollars a night.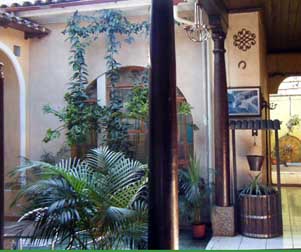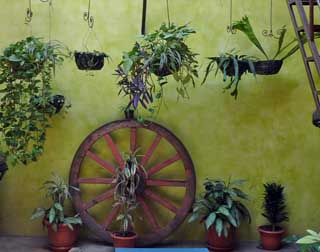 In the morning I venture out to see the city. Central San Salvador is safe enough during the day, but an absolute no-go at night. It makes San Jose Costa Rica look like a garden spot in comparison. The principal impression is a flea market cum rummage sale gone riot. Vendors of every sort have set up booths, tables, and kiosks on the sidewalks, along the streets (restricting the traffic lanes), and in every (formerly) open space. One expects in Latin American to see shotgun-toting guards in front of banks and stores, but here even the street vendors openly carry sidearms.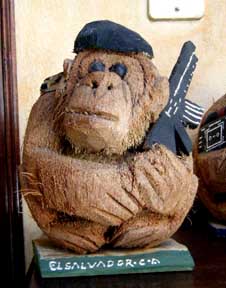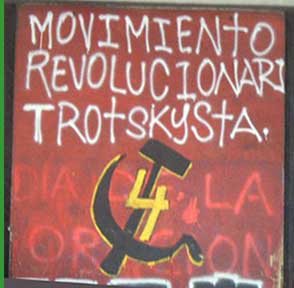 El Salvador is the smallest country in Central America and the most populous. Although it looks poor, it is also more prosperous than its neighbors. (I think it's because rural poverty is less visible.) I find it quite a bit cheaper than Nicaragua. The US dollar is the official currency, but prices are like you haven't seen in the seventies: you really need those nickels, dimes, and quarters, and you practically have to go to a bank to get change for a ten.

On day two I take a trip to the mountain town of Suchitoto, the most touristic spot in El Salvador and one that retains its colonial look. The hour and a half bus ride costs 70¢. What I find is a nice-looking small town with old buildings that are now hotels, restaurants, shops, and art galleries. For want of an alternative, I go browsing and, to my surprise, buy something. Although my esteemed Costa Rica sombrero already adorns my crown, I cannot resist a fine Panama hat for only $12. I love it, but it's the non-collapsing kind that will be one more thing to drag around and look after the rest of the trip.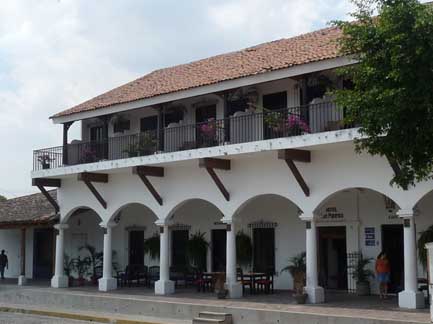 I don't think El Salvador will grow on me with more time, so I buy a bus ticket to Honduras. Since I still have a week, I intend to stop off in Santa Rosa de Copan. A combination of factors (not the least of which is that I miss the stop) causes me to alter my plan on the fly and continue onto Copan Ruinas.

The town is a very pleasant place that exists solely to service the tourist trade to the adjacent archeological site. It is blistering hot when I arrive in mid-afternoon, and the entire town is without electricity due to work on the generating plant. When power is restored at dusk, I am not the only one relieved.
Friday morning I visit the archeological site. Among hundreds of abandoned Mayan cities, Copan is considered one of the biggies, but I find it doesn't hold a candle to Tikal in Guatemala or Chitzen-Itza or Uxmal in the Yucatan. (Copan is just a few miles over the border from Guatemala). It is noted primarily for its sculptures, now in an on-site museum, rather than its buildings that are now largely heaps of stones. More photogenic than the ruins are the scarlet macaws that grace the park. Going extra slow, I stretch my visit to three hours.

I could be moving on, but I like it here and have a short itinerary. I stay a second night and catch the morning bus to San Pedro Sula where change for Tela So far there has been eight days of merciless sun, but the day I am going to the beach it has turned overcast.

Tela was once the Honduran headquarters for United Fruit ("Chiquita," which put the banana in "banana republic"), but now is a faded beach town on the Caribbean. The other tourists on the bus are continuing on to the Bay Islands (Roatan being the largest), but that's too far for my limited enthusiasm for beaches. Arriving in a beach town on a Saturday gives one a limited selection of accommodation (especially when one is a cheapskate), so I have to settle. Even worse, this place is antediluvian in terms of connectivity: no wifi, only one internet place, and that has a maddengly slow link. The beach itself has dingy sand but is quite busy. Unfortunately, the only chicks displaying any skin have way too much of it and would do us all a favor by covering up.

On Sunday I switch to my desired hotel, which also rents bikes. I pedal one to Lancetilla Botanical Garden, the second largest tropical garden in the world, started in 1926 as a research station for United Fruit. It is huge in terms of acreage. The visitor's center is a couple of miles down a bumpy dirt road (past many wild banana trees); I swear it's uphill in both directions. Although I like gardens, I prefer spectacular specimens and gorgeous flowers to spindly trees with fancy Latin names. Nonetheless, I spend the morning there. In the afternoon I ride around town and beyond. The sun has come out, which makes for hot pedaling. The beach gets pretty crowded, but I'm not one for sunbaking. Everywhere Caribbean (black) women are selling pan de coco, which the guidebooks all say is delicious, so I buy some. Mistake. They look and taste like dense, flavorless dinner rolls without even a hint of coconut. I get through two and discard the rest (you gotta buy eight). The redeeming feature for Tela is its seafood restaurants.

Monday morning I take the direct bus to Tegucigalpa, getting off early at Comayagua on the way. My bet is that it will be nicer, cheaper, and safer place to stay than the capital. Comayagua was the capital prior to independence, and, unlike Tegucigalpa and San Pedro Sula, did not undergo a population explosion in the last century. It is midday when I arrive, and hot. I get room with AC (my first, but still only $16).

The city is about as expected: a nice square, a nice cathedral, some nice old (like 500 years) churches, and old buildings, a few of which have been restored. The clock on the cathedral is the oldest in the Americas and one of the oldest in the world: it was made about 800 years ago by the Moors for the Alhambra in Granada. The King of Spain didn't care much whether the Saracens got to prayer on time so he had it shipped to Comayagua.

The next day is a day trip into Tegucigalpa, fifty miles and almost two hours away. Boy, am I glad I didn't stay here! It is crowded, dirty, and dangerous. Even the best parts have a run-down look, and they don't even have an earthquake to blame. The streets are chaotic, and traffic is almost immobile. The city is situated in a narrow valley but the slums have now sprawled up the surrounding hillsides.

On to San Pedro Sula, my final stop. It's Honduras' second city in population, but first in economic importance. It more modern, has wider streets on a grid system, and is flat; so it seems less congested, but it's no garden spot. Within a couple blocks of each other are the Gran Hotel San Pedro and the Gran Hotel Sula, but they are several orders of magnitude apart in price. Guess which one I stay at?

The city's one worthwhile attraction is its museum, small but containing some fine Mayan figurines and pottery, displays from the colonial period, and memorabilia and photographs of banana plantation days. The item I liked best is a carved alabaster vase in traditional design with two bound, captive Spanish soldiers for handles. The Indians didn't do so good: Columbus landed here in 1502, and within 50 years 95% of the native population had died.

Passing a billboard on the highway for a hotel called "El Indio" and showing a guy in an Apache headdress reminds me that this trip has been marked by a noticeable absence of Peruvian flute players. I suppose you need tourism to support busking, and except for Copan, I haven't been to any touristy places.

Well, that's it: three more countries; my Central America map is filled. What have I learned? There's a reason hardly any tourists come here. But it's all good, in my perverse way of thinking. Honduras gets in a parting shot: San Pedro Sula has a nice new airport, to pay for which they whack you with an extortionate $34 departure tax. (Lest you doubt that it is a gringo tax, the fee for domestic departures is $2.) Gimme the crummy old terminal for free.