A Briefe Visite To Ye Auld Sod


Last summer a package of airfare, lodging, and rental car for a week in Ireland for $500 seemed too good to pass up. So what if there were no frequent flyer miles, it was cheap. Even better, there was no Thanksgiving blackout.

Then, to put it mildly, there were intervening events. Post 9/11 there were all sorts of deals to be had. Numerous European destinations for less than $400, including double miles and other bonuses. (I racked up a bunch of miles on domestic runs) The fare madness hit a peak with Jacksonville to Honolulu for $270 on Thanksgiving. But enough of the "would've, should've, could've," I have chosen the path to the Emerald Isle.

Departure is the day before Thanksgiving, traditionally a nightmare day for travel. Due to route cutbacks, we have to take a series of three one-hour hops to get to Boston, our revised gateway. The airports are busy, but not particularly crowded. The planes are full, but there are fewer of them. Security procedures range from the thorough to the ridiculous: a man in a business suit carrying only a small portfolio is asked in series: are you carrying any hockey sticks?; are you carrying any baseball bats?; are you carrying any ski poles?

The Aer Lingus flight is chockers. Mostly two types: Irish-Americans visiting the ancestral homeland and American-Irish popping back for a visit. The metal tube is an Airbus 330, which is fine but cramped. Good thing it's only a 5 1/2 hour flight.
We are going to Shannon. There is no place called "Shannon," just a river. In the 60's an airport was built in the impoverished western countryside near Limerick in an effort to uplift the area.

We pick up the car from Dan Dooley Car Rental. It's a fine Irish name. Every business has a fine Irish name. (I suspect that if a Mohammed Hussein opened a fish and chips shop he would call it Seamus O'Leary's.) The car is a Ford Focus, a significant upgrade from the promised Fiesta. After a 30-second lecture on drive on the left, but not too far on the left, and please mind the roundabouts, we're off.

The first stop is the hotel near the airport, a regular hotel that has been included for the first night. The package includes vouchers for 6 nights at bread and breakfasts and a directory of 2,500 B&B's where they are honored. After checking in and freshening up, we're off to see the west.
It's misty with a touch of drizzle as we head into Limerick. This city has a lot of traffic, but no apparent reason to stop. Film used = zero. So we take a cue from the McCourts (Angela's Ashes) and leave.

Right by the hotel is Bunratty Castle, one of the major tourist draws of the west. Like most castles in Ireland, it is Norman, and like most castles, it was abandoned after the Cromwellian invasion.

Unlike most castles, has been restored. A wealthy English family bought it in the 1950's and made it habitable, replete with period furniture. They kept to the original plan, so there are four corner towers with spiral staircases and few modern conveniences. It also means that the family didn't really live there, just visited. Nowadays, its great halls are host to medieval banquets for tour groups. Jammed to the rafters in the summer, Bunratty is pleasantly uncrowded.


On the castle grounds in Bunratty Folk Park, a recreation of rural life around 1900. It started when a peasant's cottage in the path of the runway being built at Shannon was moved here. Many more representative buildings followed. There is now an assortment of fisher and farm folks' houses reflecting various regions and economic stations, with smoky peat fires authentically burning in the fireplaces. A whole village has been created with a school, shops, doctor's office, pawn shop, etc. Amazingly, they are not selling T-shirts and other Bunratty souvenirs. (The mandatory gift shop detour occurs on the way out, when one is offered traditional Hibernian items such as Bunratty chocolate and Bunratty wine.) It is all very quaint, but chiefly illustrates how very poor Ireland was.
Ireland is poor no more. The prosperity of the past decade has had many consequences inimical to those who admire a traditional way of life (for other people). One such problem is traffic. The villages were not built for cars at all, much less for a time when everybody has a car. People park at both curbs, leaving lanes about 4 1/2 ft. wide for two-way traffic. The rural roads aren't much better in terms of width, although they have been paved. To compound the situation, Ireland has very few railroads. All freight moves by truck, so it's a constant squeeze play in both directions. And there are no shoulders either?it is stone fences or hedge rows on both sides.
That is why it takes 1 1/2 hours to go 30 miles to the Cliffs of Mohir, a 700 ft. high escarpment facing the Atlantic in a crenelated line. In what will prove to be a predictable pattern, morning drizzle and fog gives way to brilliant afternoon sun, followed by an early sunset. Daylight touring hours are pretty much limited to 10 AM to 4 PM.
Both Bunratty and Mohir have something in common -- giant car and bus parks with but a handful of vehicles. At the lesser attractions, we are usually the only ones there. In the summer, I hear, everything fills up, and anything worth seeing is chockablock full o' tourists, and the road congestion, compounded by Americans creeping along on the wrong side of the road, is even worse. And it's not like the weather is much better -- it rains all summer too. Take a tip: avoid Ireland in the high season.
Day 2: the Rock of Cashel and Waterford.
The Rock, an ancient fortress on a tor dominating the Tipperary plain, was the seat of the King of Munster, and is said to have been visited by St. Patrick. (That seems to be a rather common claim. The passage of time makes it difficult to disprove that neither St. Patrick nor George Washington slept here.) The complex became increasingly ecclesiastic, and it was turned over to the church around 1100.
It's a fortress cum cathedral cum monastery. The place is a ruin, but the mostly intact sort of ruin that tourists like to visit. It's ruination is a combination of lack of upkeep -- a new cathedral was built in the lower town ? and a destructive visit by Cromwell's army. ( Old Ollie may get mixed reviews in U.S. history textbooks, but in Ireland, where there are not many Protestants to protest, he is despised as a pillager and murderer.) Hore Abbey is nearby, but I don't see any ho's, so we move on.
Along with Dublin, Limerick, and several other Irish cities, Waterford was founded by the Vikings. It has a well preserved 19th century mercantile waterfront, much traffic, but not a whole lot to see. Yet, Waterford is on every tourist itinerary. Why, you naively ask? THE FACTORY. We succomb and PAY to vist the Waterford Crystal Factory.
The visitors center displays crystal rugby balls, soccer balls, footballs, trophies, and presentation vases, not to mention such curiosities as a full-sized crystal grandfather clock. But that's all an adjunct to what has to be the world's biggest wedding gift emporium. And most people have come to BUY. The factory tour is OK, but basically a sales tour. Amend that -- the glass blowing portion is good, the rest boring. Memo to management: they ought to move the Beanie Baby Factory here, build a monster showroom, charge admission, and make even a bigger killing.
Facts omitted from the tour (but revealed in my guidebook): 1) the company logo says "since 1790." True enough, but the factory closed in the 1850's. After WWII investors bought the name and started a new company. Glass blowers were imported from Europe to teach the locals the trade; 2) Only a tiny proportion of production comes from the Waterford plant. The stuff you buy is made by cheap labor in third world factories. Special commemorative items such as sport trophies are made in Waterford, but the rest is mostly to keep the illusion up and the tourist dollars flowing. Very few of the workbenches are manned.
We drive to Traymore, on the south coast. This is our first in an authentic Irish B&B. Outside cities, there traditionally were no hotels. The supply of B&B's has kept up with the boom in tourism; in the countryside, especially in scenic areas, a very high proportion of presentable homes on or near main thoroughfares are B&Bs. They are mostly restored old houses or of modern construction. The guest rooms are en suite, subtly segregated from family quarters, with decor handled by the Martha Stewart's Irish cousin. There is off-street parking for patrons, but getting in and out without damaging other cars, the house or the fence requires an external pilot.
Our B&B proprietress is somewhat batty and definitely in her cups, but everything is pleasant enough, and her recommendation for a dinner bistro is superb. The continental influence has improved Irish cooking immeasurably although you still get two kinds of potato on your plate.
Day 3: Kilkenny via New Ross
New Ross, another Viking-founded city, was a principal embarkation point to America. The place is bursting with Kennedy pride because Patrick Kennedy, JFK's grandfather, emigrated from here during the famine (1840's). JFK visited in 1962. We skip the Kennedy Forest, the Kennedy Arboretum, and the Kennedy homesite, but do visit The Dunbrody, a reconstructed emigrant ship. The vessel and visitors center were completed this summer, but the project ran out of money before the ship could be fitted with an engine, which modern maritime regulations require. So the proud tall ship lies trapped at the dock and reenactors play the role of passengers. It's much better than it sounds.
The drive to Kilkenny is the most scenic yet. We follow the River Nore past sheep munching in the green fields with ruined castles in the background, movie-set towns, and little traffic. In the south and east the roads are much better, and by now I have gotten used to driving on the wrong side.
Kilkenny, the biggest intact medieval town in Ireland, is another major tourist destination and a popular weekend jaunt for Dubliners. Even out of season, it's hopping. Kilkenny also boasts two cathedrals dating from the 1100's (one for the English, and one for the Irish) and a postcard pretty town full of quaint shops.
After finding our B&B, we catch the last tour of the day at Kilkenny Castle. Originally Norman, the interior was remodeled into a Victorian stately home. Continuously occupied until the 1930's, it is now a museum. It's pretty good, if you don't have to wait all day to get in.
Day 4: An ancient experience.
Continuing north, the first stop is Brown's Hill Dolmen. A neolithic structure consisting of a 100 ton rock atop two pedestal stones, it is the largest dolmen in Europe. It's just sitting in the middle of a cow pasture. No one else there except some Frenchies who have hiked out and are attempting to channel its energy by standing with eyes closed and palms pressed against it. Meanwhile, their teenage daughter stands nearby channeling nicotine from a cigarette.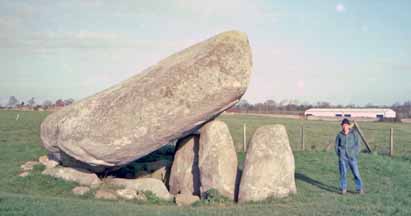 Then Newgrange, home to a passage-tomb which is deemed the oldest astronomically-sited construction in the world. It dates back 5,000 years, 500 years older than Stonehenge. It is a large mound with exterior stone walls. A central passage is aligned so that on the winter solstice a shaft of light penetrates and illuminates the central chamber. The interior construction is what is impressive. Nearby is a modern visitors and interpretive center, all weel presented. We overnight in Slane, another very nice B&B whose proprietress is a font of local knowledge.

Day 5: The Boyne River Valley; Dublin
The morning turns out to be extra misty. We drive to the Hill of Slane, the site where St. Patrick lit a Pascal bonfire to challenge the pagan king on the nearby Hill of Tara. We are greeted by the Dog of Slane. It's too foggy to see anything, so we drive to Monasterboice, noted for its 11th century narrative high crosses. We find them with some difficulty. Then the ruins of Mellifont Abbey, a Cistercian monastery looking extra spooky in the mist. We return to Hill of Slane, where the Dog of Slane has acquired a canine assistant, and ascend the hill on which more ruins are hidden in the fog.
The Boyne River valley is fogged in, but everywhere else is just fine. Onward to Trim, where the sky is a brilliant blue. Trim Castle is one of the largest in Europe and frequently used as a movie set, including Braveheart. By now, we have gotten the general idea on castles and skip the insides.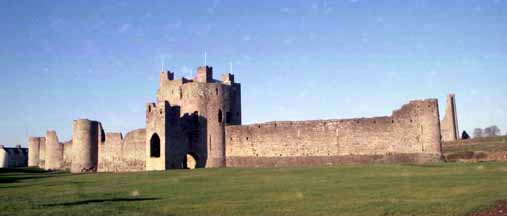 Finally, to Dublin, where we locate our B&B (for 2 nights). A car is a liability in the city, so we park it and take the bus (3 miles, 10-30 minutes to city center, depending on traffic). It's a nice looking city -- the principal buildings were erected during Georgian times when the English-Irish wanted Dublin to hold its own against the capitals of Europe. Lack of money in times in between kept a lot else from being built, and recent prosperity let them clean things up. Dublin is jumping and jiving in the entertainment scene, except I am too much of a fuddy-duddy to do anything except stop in a couple of pubs where musicians are playing "the trad" for drinks when not chatting on their cell phones.

Day 6: Dublin
At Trinity College there is an enhanced exhibition on the Book of Kells at enhanced prices. When we get there, a sign announces that the Book is out for conservation work, but that a reproduction is on display at a reduced admission. At the ticket counter they said that the fake hadn't gotten there yet, so the whole thing is free. (That's my kind of discount!) The exhibit is extensive and informative. Enlargements and explanations more than cover for not being able to look at two pages of the original through thick glass.
| | | |
| --- | --- | --- |
| | Speaking of tradition, all signs, postings, and announcements in Ireland are bilingual. Not bilingual meaning a second language that would assist anyone, but English and Gaelic. Only about 10% of the population speaks/understands "Irish" (as they call it) and none of them do not know English. As our guide in Dublin castle put it "not everybody speaks it all the time." (I am sure she doesn't: she's from Spain. The economy is so flush that the Irish are importing low wage help.) Gaelic is taught in all the schools. Ireland is in the eurozone and is a big euro booster. It seems counterproductive to force feed a language no one else speaks at a cost of a useful second language at a time they are trying to integrate. The Irish ain't polyglots like the Dutch or Danes, and it ain't like they are short on national pride. | |
Having done Dublin, we devote the final afternoon to shopping. Woolens abound. Tweed hats for me. The shops are rife with genealogically themed stuff. I resist the temptation to purchase any items bearing the coat of arms of the ancient and proud O'Bergwerk clan.
The next morning is our last. Departure is from Dublin, stopping at Shannon for more shopping. Good thing we are driving against the flow of rush hour traffic on the way to the airport; otherwise, I think we would still be there.
An uneventful flight to Boston, followed by reverse hops down the east coast back to Jacksonville. I need to rest up for my next trip in two weeks.
Trip date: November 2001