Delta used to operate a 777 on its Atlanta-Tokyo route, but now uses one of Northwest's 747s. Instead of the most comfortable plane in the air, I get the flying barn. At least the second leg to Singapore is in an A330. As usual, we land at 1:00 am on the third day after departure. (Which is why when flying east you get back the same day you leave.)
I was supposed to catch a morning fight to Bali, but a scheduling change by Air Asia pushed it back to late afternoon. Instead of staying in the airport transit hotel I bunk down in Geyland, the cheapo hotel area nearest the airport. It also happens to be the red light district. Nothing interesting to report, except that my luggage is still in Atlanta. I guess Delta couldn't be bothered to put it on the plane.
I left Jacksonville early Wednesday morning and arrive in Bali Fri night. My intention was to leave the next morning so I am meeting my buddy in Kuta, which is close to the airport. Kuta is concrete tourist hell, jammed with hotels, bars, shops, and drunken Australians. It is where the big nightclub was blown up by the local Al Qaeda affiliate in 2002 (the bombers thought the Australians were Americans). There is a large monument to the dead foreign partygoers, something that must rile the locals.
Saturday is spent running around on onwards travel arrangements and other logistics, including returning to the airport to collect my luggage -- thank goodness the airport ground services in Singapore are efficient. We secure air tickets out Sunday and back Saturday (my buddy is going on to Mozambique; I am continuing in Indonesia).
| | |
| --- | --- |
| Flores is two islands east of Bali (in between are Lombok and Sumbaya). It has been in the news lately because it was on Flores that the new species of man was recently identified from fossils. Only about three feet tall, it has have been nicknamed the "Hobbit." They survived until about 12,000 years ago, long after the Neanderthals went extinct (or, some say, became Europeans). Indonesia is an archipelago, and the larger islands are huge; the flying time from Bali to Maumere in the middle of Flores is two hours. Air service is less than reliable: on the departure board at Bali three flights are listed as delayed, two canceled, and the rest blank (i.e., no information). | |
We arrive at Maumere at 1:00 PM, two hours late. The largest city on Flores, it is a big nothing. What little is there is shuttered tight on a Sunday afternoon. Nobody stays or even stops in Maumere, but there is no shortage of onwards transport: we arrange for a large comfortable Toyota and driver for a five-day trip to Labuan Bajo on the western tip of the island, from which we will fly back to Bali.
Flores is lush, tropical, mountainous and rural. The road is in good condition but incredibly curvy – we are always climbing up or down. We have little choice of route: there is only one main road. Our driver, who sort of speaks English, does a good job in not being reckless and not constantly honking the horn.
The first leg is five hours to Moni. Considering that everyone stops here, we are appalled at the poor choice of accommodation available and sparse food on offer. The only hotel is unacceptably grotty and, at $30, insanely overpriced. We move on to another hostelry and take a large bungalow. It's cheap enough at $15, but a wreck. We report that the bathroom light is out. "No problem, we will bring new bulb." Two hours later no one has shown up. A renewed complaint brings a fresh diagnosis and response: "It's broken." There's no hot water either. The problem of taking a freezing shower in the dark proves illusory: the shower doesn't work at all. The restaurant, if you want anything other than macaroni, requires 24 hours advance notice.
The reason everyone stays in Moni is because of nearby Kelimutu, a dormant volcano with three lakes in its crater. Due to mineral content, they are weirdly different colors. Even stranger is that the colors shift rapidly. The colors are variously brilliant turquoise, bright green, yellow-green, dark green, reddish-brown, and almost black. You are supposed to leave at four am to watch the sun rise, but we do not have that level of motivation. I am briefly awakened by the sound of doors slamming and car engines starting, then go back to sleep.
A Swiss girl who went reports that it was freezing cold and windy up there, and cloudy – one couldn't see any sort of sunrise. We offer her a ride to the next overnight stop, which proves handy because she knows a bit of Indonesian and can talk to the driver (her Indonesian is better than his English). The ride entails a return visit to Kelimutu for her – she advises us that the lakes look just as good at ten am as they did five. The colors today are blue, green and green-black.

We continue eastwards, stopping for lunch at Ende, a port town on the south coast. For a while the road follows the coast, passing palm-fringed black sand beaches. One remarkable section of beach is covered in smooth green stones; people gather them for sale and export for to other islands and Japan, where they are use for ornamental purposes. Not wanting to lug around a suitcase full of rocks, I limit myself to three samples.
| | |
| --- | --- |
| | |
The road turns inland and upwards. We stop for the night in Bajawa, a hill town amidst lush slopes. Importantly, it offers an acceptable hotel although if you want hot water you have to take the super-deluxe room. The price includes a nice balcony with a view of an iconically conic volcano. The next day we hire a local guide for some easy trekking through nearby traditional villages. We visit the pictured in the brochures one that everyone troops through and three that hardly ever get tourists. The people are friendly, the scenery very nice, and the explanations interesting. We stay a second night in town.
| | |
| --- | --- |
| | |
It was a full day's drive to Bajawa, but the next leg is only four hours. We stop at Ruteng, another hill town. It a lively place, but most interesting thing is where we stay: in a convent. Indonesia is the world's largest Muslim nation but Bali is primarily Hindu and this part of Flores is mostly Christian. Ruteng has a large Catholic presence. The convent has guest rooms which they rent for small money; they are comfortable, well-equipped and (pardon the pun) immaculate.
Beyond Ruteng are supposed to be "spider-web rice fields, but we don't see any, just regular, not especially nice terraced fields. Here is picture I found of what they are supposed to be like.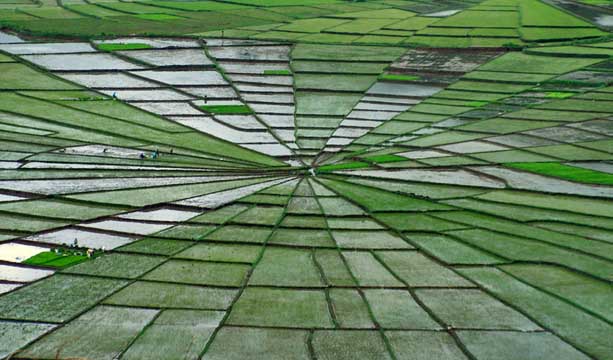 It's only another four hours for the final stretch to Labuan Bajo. We arrive at midday. The town is very touristy, but the upside is competition for the tourist dollar leads to better value. We stay in a very nice place with a great view overlooking the harbor. The nearby beaches aren't very nice, so we hire a boat to go to an islet about thirty minutes offshore. Beach report: temperature of water: 10: solitude factor: 10; cleanliness: 4.
| | |
| --- | --- |
| | |
The big deal here is that Labuan Bajo is the start point for visiting Komodo and Rinca Islands, home of the dragons. Cruise ships visit Komodo; independent travelers favor Rinca, reached by chartering one of the homemade wooden boats that fill the harbor. We sign up with a storefront agency in the evening for the next day. In the morning we have been grouped with two Brits and a Dutch guy. That's not a problem. What is a problem is the scummy tour guy does not deliver the same boat promised. What we get doesn't even have life vests on board. We storm off and demand our money back. Mr. Sleazeball then takes us to another crummy boat and assures us it is properly equipped, another lie. Another standoff. Finally, he produced five life vests. (I am compressing an hour of drama into three sentences.) The boat owner gets even with us by motoring to Rinca at half speed, turning a two-hour trip into three and a half.
You get whacked for a

$20 entry fee to Komodo National Park, but that includes a two hour walk led by a ranger.

(You are not allowed to wander off lest you get eaten.)

There are about six dragons hanging around under the camp kitchen drawn by the smell of food.

Others are resting in the shade of trees or guarding their nests.

The total population of dragons is about 2500: 1300 on Komodo: 1000 on Rinca, and the remainder on a third small island.

They are the top predators who can take down the water buffalo that are also abundant in the park.

In the wild they keep their distance, but you can get within about 10 feet of the ones that come into the camp; any closer and they might attack.
Our ranger/guide also spots a spitting cobra that he is able to antagonize into a defensive posture.
That's it for Flores. Saturday morning we fly back to Bali for our respective flights. Mine is backtracking east: five hours flying time to Papua, f/k/a Irian Jaya, the left side of the island of New Guinea.
A brief history and geography lesson: New Guinea is the second largest island in the world (after Greenland). The west half was part of the Dutch East Indies and the eastern half a German colony. Australia took over the German half in WWI, and it is now the country of Papua New Guinea. The Dutch half became part of Indonesia in 1969; large-scale settlement and economic domination by the ethnically very different Indonesians has led to resentment, separatist unrest, and armed resistance ever since. Papua is many times the size of Java but with a tiny fraction of the population (under two million). Jayapura, the capital, is further from Jakarta than Baghdad is from London.
The plane first flies to Timika, support town for the Freeport mine that is extracting the world's largest reserves of copper and gold. The mine is viewed as exploitative by the natives and has been the scene of frequent separatist violence. There is a crew change and all transit passengers are bussed to the terminal. You can tell this is a company town: the airport security guards wear Freeport uniforms and arriving passengers are assumed to be either company employees or visitors who need to register at the in-airport reception center. In the departure lounge the walls are covered with large displays on the myriad ways the mine benefits the locals: there are photos depicting Papuans working for the company, their kids learning, and light-skinned doctors treating little black babies. Other panels offer tips and exhortations about not getting the natives riled up.
I think I am the only white guy on the plane coming into Timika (foreign workers fly directly from Australia), and for the second leg to Jayapura I am sure of it. Seated next to me is a wooly-headed fellow who is obviously from a culture that doesn't hold personal hygiene in high regard. By directing the overhead ventilation blast directly onto my face I am able to keep breathing.
Jayapura is a seaport nestled between steep mountains. The nearest flat land for an airport is some twenty miles and several towns distant in Sentani. To travel anywhere else in Papua one needs a permit from the police. I inquire at the small police station at the airport and am told that it is not necessary to go to Jayapura, permits are also issued in Goyo, just a few miles away. I make my way out there and find a large police compound with an impressive collection of riot and crowd control vehicles. Someone escorts me to the office that issues permits, but it is closed on Sunday. How about in Jayapura? Also closed.
In hopes of getting a quick flight out, I stay near the airport. My overpriced but minimally acceptable room is near enough to hear the airport announcements but not quite close enough to poach the wifi signal from the administration building. Having read that the highlands can be cold at night, I go shopping for arctic survival gear. A blanket, towel, and a hooded fleece (or, as they say in Japan, "freece") set me back $15.
Monday morning at eight AM I am back in Goyo with passport copies and photos. Four guys behind the counter take my stuff and go back to what they were doing, which is apparently nothing. Above the service window is the departmental seal: a drawing of what looks like a lorax with the motto "Community of Intelegent" [sic]. At 8:30 a polite, soft-spoken guy comes out to ask me about my travel plans. He doesn't really speak English, so it's a difficult interview, but in another half hour I am on my way back to Sentani, permit in hand.
My permit is for Wamena, the best and about the only place for casual tribal tourism (i.e., not involving a month-long jungle march), but I learned yesterday all flights are booked for the next four days. There are a couple of scheduled airlines, a few missionary flights, and some other small operators. Everyone is fully booked to everywhere, then they shut down for Christmas. There is no road; flying is the only way to get there. My guess was that people who work in the interior would be flying out for Christmas, but I have it exactly backwards: people with jobs in the city are returning to their families. Anyway, it is not like you can book in advance over the internet; you can't even find out who is flying where until you get here. Also, you need a permit first.
A word about the role of missionaries and aviation. Papua is one of the last places with heathen souls to save, so missions are big here, mostly evangelical protestants from America plus Roman Catholics. There being no roads, they can only reach their posts by air. They run, inter alia, the Missionary Aviation Fellowship, Adventist Aviation, and Associated Missionary Aviation. They fly tiny planes and will take paying passengers if space is available. (The pilots and ground crew are Americans, so it's relatively safe.) This is some of the most rugged terrain in the world: a flight is often needed to reach even nearby villages. That why New Guinea has about 600 languages, one-quarter of the world's total, some as different from each other as English is from Japanese.
Not long after I arrived I met a local guy. In the third world, the general rule is that if someone comes up and talks to you, it is always about money, i.e., transferring some from your pocket to his. The rule is doubly true if he tells you he is a guide. Sam is the exception. He is a guide from Wamena who came to Sentani as a separatist activist. He chats up foreigners to gain international support and awareness for his cause. His English is passable, and he knows a smattering of German, Dutch and Japanese. He also knows everybody in town. He tells me that for the right price I might be able to wrangle a plane seat, and takes me to an unmarked airport outbuilding. A very friendly guy (I think he is in charge of communications) tells me he would see what he could do and graciously offers me use of his office, even to sleep overnight if I like.
That was yesterday. After I get my permit I head back to the airport office see if anything has turned up. Nope. There is no standby possibility because the flights are oversold; dozens of hopeful souls are camped out at the airport. Then Sam and a guy from the office visit a woman behind one of the check in counters. She tells me to come back tomorrow, Tuesday, and she will sell me a ticket for Wednesday.
There being nothing better to do, I decide to check out Jayapura. One would think that there would be some sort of public transportation between the principal city and its airport, and there is, sort of. Overcrowded minibuses fill the roads, but they only run between adjacent towns. From Sentani to Jaypura requires four buses and more than and hour and a half. It's hardly worth it: the city has a dramatic setting – nestled at the bottom of a ravine opening onto a harbor – but contains nothing noteworthy. Glad I decide to stay near the airport.
| | |
| --- | --- |
| | |
There is one decent place to eat in Sentani, a Chinese restaurant with an expanded menu. All the Americans eat here. Two young blond kids are scarfing down hamburgers and fries. Their missionary mother's review of the fare: "Pretty good, and, for here, excellent." Walking back to my hotel in the evening, there are two distinct odors in the air: dagga (marijuana) and gunpowder. Christmas fireworks are a tradition here, and the shops are full of firecrackers, bottle rockets, and roman candles.
Early Tuesday morning I hire Sam as a local guide for a trip on Lake Sentani. We charter a boat and visit various fishing villages along the shore. The pattern is similar: a cluster of houses on stilts over the water and, on the hill above, a church. Plenty of pigs around; witnessing the roiling squealing mass of swineflesh when the slop bucket is emptied gives meaning to the expression "eats like a pig." And, judging from the number of children around, the worldwide drop in fertility has not yet happened here. One of the churches dates to 1940. In 1944. in "Operation Reckless." MacArthur landed near Jayapura (then named Hollandia), seized the Japanese-built airfield (now Sentani Airport) and set up an army base. One of the chapels they built at a lakeside village is still in use. Sam points out the start of the footpath to Wamena if I can't get a flight; it's a two and a half week walk.
| | |
| --- | --- |
| | |
The boat ride gives Sam time to ride his favorite hobbyhorse, getting Indonesia out of Papua. I ask a few questions. Would you close the Freeport Mine? "Right away." How would an independent Papua get the money needed to run the government? "International aid." He refers to Indonesian (which is actually the same as Malay) as "Java peoples" language. What would be the national language? "Papuan and English." (There is no such thing as the former and hardly anyone speaks the latter.)
Back to the airport to see about a ticket. The woman comes through: I get a handwritten ticket (looks more like a hall pass) for a "Mr. Ronald" with the date and price. The airline does not have a ticket office and is not on the departures board. It is primarily a cargo airline; even if there are no passengers, there is always freight waiting to go. Everything except locally-grown produce must be flown into Wamena: all goods for sale in the shops, all construction and paving materials, heavy equipment, spare parts, fuel and even vehicles.
I take the afternoon off to start on this trip report.
My ticket is for the noon flight, but they told me to be there by eight to see if I can get on an earlier one. No luck, but I am first to check in. I receive a slip of plain paper rubber-stamped "Boarding Pass" with "Ronald" and "01" written by hand. I expect the plane to be one of the twin engine turboprops that the scheduled airlines fly but am surprised to board a stubby Bae (British Aerospace) with a short but wide fuselage (seats six across) and four jets for plenty of lifting power and a big belly for cargo.
Wamena, at the heart of the Beliem valley is only forty minutes away by air. The valley was discovered from the air in 1938 and a subsequent ground expedition met with a very hostile reception. In the highlands agriculture generally is conducted on terraces cut into steep hillsides, but here the Beliem River emerges from a gorge onto a plain that supports denser settlement. Its elevation means cooler temperatures and few mosquitoes. Harsh surrounding terrain makes the valley is almost inaccessible by land, but its relative ease of access by air, proximity to Jayapura, and strong traditional tribal culture make it the top tourist destination.
Due to my tight schedule, I let Sam have a guide friend meet me at the airport. It's easy to spot me: I am the only white guy on the plane. As such, the reception committee – men in traditional costume, i.e., wearing a horim (penis gourd) but otherwise naked – converges on me in hopes that I will pay to take their photo or buy an item of handicraft.
There are three tribes in the area: the Dani, the Yani, the Yali, all with different dress, habits, and languages, although all mix in Wamena. In my short time it is only possible to visit one, the Dani, the largest and closest. The guide, Isaac, and I come up with a plan for a two-day trek, which is really an extended day trip but all I have time for. (Serious trekkers go out for two weeks or more in order to reach the truly primitive areas.) He quotes an astronomical price. I point out that I am the only game in town, which lowers the next quote by a third. We finally agree on a somewhat less absurd fee for guiding plus I will pay all expenses.
I visit the market. It's not very photogenic: squealing pigs, scrawny produce, fish, a bit of craftwork. Although there are people of people about and they are friendly, they tend to dress in rags; no one wants to see photos that look like they could be of America's urban outdoorsmen, a/k/a the homeless. Isaac and I pick up for supplies for tomorrow. It's an overnight trip for three (me, him, and a porter), but he is shopping like it's a two-month expedition; with me footing the bill, it is clear that he is aiming to stock the family larder. The prices are from two to five times higher than in Jayapura.
In the morning we begin by riding about forty minutes south to the beginning of the Beliem River Gorge. There are paved roads on the valley floor around Wamena, although you cannot drive out of the valley. We begin walking through the forest. After about fifteen minutes we come to a raging river. As he begins to cross, Isaac warns me to be careful of the deep mud. One minor misstep (I do) and you sink into knee-deep mud (I do). My hands are completely coated as well. After another ten minutes in which I try to refrain from touching or adjusting anything we reach a clear stream where I sort of wash off.
Once we leave the valley floor it's all uphill and down. The temperature is pleasantly cool and the clouds limit the heat of the sun, but, at over a mile above sea level, it doesn't take long before I am panting in the thin air. That the story for the whole morning. Good thing there is good scenery to justify frequent photo breaks. Above us and below are terraced fields of sweet potatoes, taro, peanuts, and corn. The houses are mostly traditional thatched huts but this close to civilization the people attend church and wear clothes. They are mostly subsistence farmers -- their only income is government transfers and extracting huge sums from tourists.
At about two we reach the village where we will spend the night. They have erected a few huts for tourists to stay in, which is fine by me because sleeping in a regular house is a last resort – they bring their pigs inside at night, and their dwellings are crawling with fleas and other vermin.
We are in luck: a former warrior chief has died and people have gathered from all around for his funeral feast. The body was cremated yesterday and today, next to the cremation site, half a dozen pigs have been slaughtered for roasting. For a not-so-modest contribution, I am invited to participate, i.e., observe.
The men are gathered in the compound surrounding the ceremonial hut while the women watch from an adjacent area. The old men are wearing only their horims; the women and the younger men are clothed. Two large pits have been dug, into which men are placing alternating layers of wet leaves and heated stones. The split and flattened carcasses of six pigs are laid flat, and more layers of leaves and stones placed on top. Then the entire pile is tied into a bundle.
There is ritual crying and wailing with responsive chanting. Some sort of ceremony ensues involving belts of shells and piles of high denomination bills, Isaac explains it in terms of sacred ritual objects and payments to the family. He knew the deceased. How old was he? "VERY old, maybe seventy."
When they open the bundles, clouds of steam billow forth. The leaves and hot rocks are removed and the carcasses removed. The elders start slicing off huge strips of semi-cooked flesh and tossing them to clusters of diners who eagerly devour the gristly fat and skin. The leaves used in cooking are eaten as a side dish. I politely accept a tiny of pork and try not to spit it out. After a while, the women join us. The close relatives of the deceased do not eat at all. Those who have traveled from other villages use the larger cooking leaves to fashion doggie bags to carry the excess home. I return to our compound and appreciate the carrots, green beans, rice and tuna the porter has prepared.
I retire to my thatched hut. It's COLD at night in the highlands -- it takes my fleece plus a windbreaker plus the blanket to keep from freezing. Anthropologists may decry the loss of authentic native culture, but it is no mystery to me why the tribespeople have taken to wearing clothes.
I wake up early. It's December 25th. Santa has brought me nothing, but at least I had no nocturnal visitations, spirit or otherwise; over in the kitchen hut, where Isaac and the porter slept, rats came and ravaged the dinner leftovers that they saved for breakfast. My morning repast of cookies and coffee were safely with me.
Isaac "just remembers" that last week the suspension bridge we were to cross today was damaged and tilting precariously. It would take four hours of walking to check its current condition: if unusable we would have to trek all the way back or spend six hours of hard climbing to the next crossing. So instead we will walk along fairly level ground and be at the pickup point in two and a half hours. I don't suppose the fact that it's Christmas Day and his wife and four children are waiting had anything to do with Isaac's sudden recollection concerning the unsafe bridge.
As we head out from the village I notice that trail is littered with the wrapping leaves from the takeaway pork; it was so yummy they just couldn't wait.
We have to reford the river, but at a different, less muddy point. The water is rushing over the rocks, and there is no way to cross without wading. At least my sneakers get clean in the process.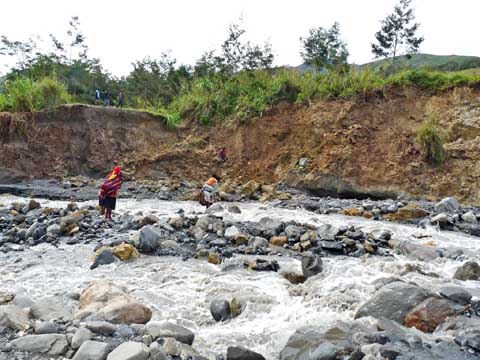 As a consolation prize, Isaac takes me on his motorbike to a traditional village to the north. It has been well preserved for the sake of the tourist dollar. Men and women in traditional and ceremonial dress are there as ready photographers' models. They are not phonies – they are real tribespeople who maintain their traditions but who figured out that they can make a living at it at well. They are very friendly, there is no pressure and I am the only one there, so, without guilt, I spend a dollar.
The big draw is the mummy. Inside the ceremonial hut is an ancient mummy. For $5 they will bring it out. (That's $5 a head, so the big money is in tour groups.) It has blackened skin, knees to chest, and mouth open in a permanent scream. (If they were into marketing, they could put a red Santa hat on, ala the mannequin pis.) The price includes a photo with the chief, and they don't charge extra for another shot with me in it as well. Money well spent.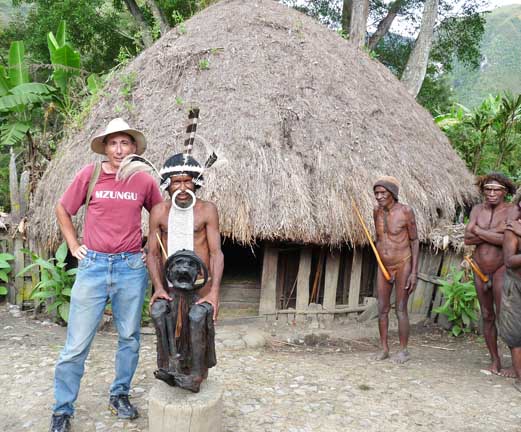 Back in Wamena, I conclude that I am the only white guy in town. The merchants are either Chinese or Muslim, so it's pretty much business as usual. The churches are broadcasting Christmas songs, including that old Papuan favorite "Feliz Navidad." I see more than one person wearing an "AIG" T-shirt; I guess they had to go to the ends of the earth to unload them.
I buy a ticket for the first flight out in the morning. If they run anywhere near schedule I will be able to connect with my flight to Bali; if I miss it, I might have to wait two days for an available seat. The flight back to Jayapura costs less than half the inbound flight: the bellies of the outbound planes are empty and passengers are not competing with valuable freight.
I haven't bought any souvenirs on this trip, not even a Komodo dragon T-shirt (couldn't find one that I liked that fit). I cure that problem with a boar tusk and cassowary claw necklace. At the airport I decide that the ensemble would not be complete without a cassowary feather headband – conveniently available from a naked guy in the departure lounge -- but pass on the penis gourd.
The climb out affords a good view of the cultivated valley surrounded by the almost cliff-like walls of the surrounding hills. The highlands are doubly rugged: steep hills and covered by dense vegetation. WWII plane wreckage is still being found in remote jungles in similar terrain elsewhere on the island.
I arrive in Jayapura just in time to check-in for my flight to Bali. This time the absence of clouds reveals the solid jungle of the southern lowlands. The tribes that live down there are very primitive and very different from those in the highlands; visiting is possible but very difficult.
I am going to Java, the densely populated principal island that is home to 130 million people. I am bypassing Jakarta entirely and flying to Jogjakarta, which is supposed to be a more pleasant and touristic locale. My first impression of Yogya (as it's called to avoid confusion with the capital) is not good. It takes an hour to drive the six miles from the airport to the city. The hotels kiosks at the airport had signs posted that no rooms are available; according to my cab driver holidaymakers have poured in for Natal (which is what they call Xmas) and New Years. My hotel picked from the guidebook is a dump and the only rooms they have left are overpriced and crummy rooms. It's late and I don't feel like shopping for a bed so I accept one.
I am awakened at four am by the cacophony of multiple calls to prayer. Indonesia is the world's largest Muslim country, but the three islands I have been visiting are mostly Hindu (Bali) and Christian (Flores, Papua). That explains the regulations posted in my room: "Don't be gambling and drinking liquor": "Extremely forbidden to sleep with prostitute in the Hotel": and "Unacceptable to stay overnight persons who have spreading disease, the serious sick and insanity."
In daylight the first order of business is to find better digs. The hotels all have "full" signs posted, but I manage to locate a somewhat less dumpy place and move. No wifi, but at least I have hot water and AC.
Compared to Jakarta, this counts as quaint. Horse-drawn carriages take visitors through the overcrowded streets. Mobs and merchants make the sidewalks almost impassible, reminding me of P.J. O'Rourke's concise summary of the overpopulation problem: "Just enough of me, way too much of them."
The hassle factor here is fairly high. As usual, the only reason that a white man is standing on his own two feet must be that he is need of but unable to find someone willing to accept money for transport, a situation that every taxi, pedicab, and motorcycle driver is determined to remedy. Here in Yogya there is an additional element: if his hands are empty it must mean that he is desirous of purchasing souvenirs but is unable to find any.
I make my way to the Vredeburg, the old Dutch fort. It has the classic rectangular-star shape, but is not much of fortification because it never had to defend against anyone; it was more of a barracks and administrative compound. It is now a museum on the struggle against the colonial oppressors. The exhibits consist of cheesy dioramas mostly depicting various political meetings. Conspicuously absent is any sort of claim of resistance to the Japanese. The short story is that the Dutch didn't have the ability or stomach to reestablish their colonial empire after the war.
For the next day I sign up for a tour that takes in the three most popular but widely scattered attractions. The first stop is Borobudur, the biggest tourist draw in Indonesia. It is an 8th century Buddhist stupa that sort of looks like a squat step-pyramid of dark-gray stone. Carved reliefs adorn the lower levels while the upper one are crowned with smaller stupas and statues. Not a great photograph, but very impressive. It was abandoned and forgotten for a thousand years until a Brit (Raffles, of Singapore fame) found it and had the obscuring foliage removed.
The next stop is to see Mt. Merapi, one of the most active volcanoes in the world. The Indonesian archipelago is part of the Pacific Ring of Fire whose volcanoes give the soil its fertility and constantly threaten to erupt. Unfortunately, clouds entirely obscure the peak (it's the rainy season).
After lunch, it's on to the Hindu temples at Prambanan. Before the arrival of Islam, Java was Buddhist and Hindu. The temple complex, built roughly at the same time as Borobudur, was also lost until the nineteenth century. There are three major and three minor temples plus the ruins of hundreds of minor shrines. Nearby is a similar Buddhist temple. Whereas Borobudur is a man-made mountain set among natural peaks, the temples at Prambanan rise dramatically from the plain.
| | |
| --- | --- |
| | |
The price of the day tour is cheap enough, under $9, but foreigners really get hosed on admission to the sites: an outrageous $12 for one and $11 for the other. (Considering that foreign aid paid to restore them after a 2006 earthquake, we ought to get in free.) The consolation for being charged five times as much as locals is that we get an air-conditioned admission building and a welcome beverage. There are not many of us, but plenty of them: families, tour groups, and school groups. Some girls from an English academy interview me for their "meet a tourist" assignment: they ask me questions read from a list and try to write down my answers.
I still have another day. The top draw in Yogya is the Sultan's palace. It's not exactly up to Rajasthan standards – more like a series of oversized carports (or, to put it more charitably, gazeboes built in Javanese style). Like most minor royalty, the rulers had more ego than money or power; lots of ornate uniforms and a few shiny trinkets and items of European kitsch. Judging by the number of people traipsing through, you would think this was Versailles.
This is also the batik capital of Indonesia: the high street is sold batik shops. In the afternoon I go shopping and augment my shirt collection.
That's it. Up at five am for my flight to Singapore, then a one day layover for the three flights to Jacksonville. Back New Year's Eve to fall asleep at eight PM.