Southern India
Cheap is good. Free is better. Which is why I couldn't resist the Cathay Pacific mileage sale. 55,000 miles to India, a destination that is never discounted. I toured the north (and Nepal) in 1995. Now, I decide, it is time for the south.
Departure is from JAX on Saturday @ 4PM, arriving LAX (via STL) @ 8PM. The next segment is to Hong Kong (I am going the long way, transpacific rather than transatlantic), departing at midnight PDT. A nice lounge at LAX to help pass the time. Supper is served at 1 AM, or 4 AM by my body clock. No need to reset my watch, it's already on HK time -- EDT +12 hrs.
The domestic portion was on AA. Then a transfer to my old friend, Cathay Pacific for the long hauls. The seat next to me is vacant, and there are nine channels of in-seat video. (AA was offering The Divine Secrets Of The Ya-Ya Sisterhood, a chick movie even chix wouldn't watch, for $5.) The grub is fair too; I select the beef, figuring it will be a long time before I again see it on a plate rather than on the hoof blocking traffic.
We arrive in Hong Kong @ 5 AM. My next flight isn't until 10 PM, so I have the day to kill. I hang around the lounge for a few hours then catch the high speed train into the city, 23 minutes. A same day round trip ticket is the same price as a one way. They used to charge the departure tax if you left the airport. Now, there is no tax for same day transit pax.
The plentiful tourist info lists a recently opened Museum of Coastal Defense, so I head there. A. It's good, and admission is only $1.50. It is housed in an old fort on the far eastern edge of the city and very modern in its presentation. I am the only one there. (There are fewer and fewer white faces each time I visit. I don't see another roundeye after I leave the airport until I board the Star Ferry on the way back.)
The exhibit on the Japanese occupation during WWII has been moved from the History Museum. They have no sense of irony -- one display tells of how locals were nominally in charge but were really under the thumb of the overlords from Tokyo (not to be confused with the benevolent fathers in Beijing). A restaurant receipt shows the occupiers imposed a punishing, three-tenths of one percent "meal and entertainment tax." How merciless! Interesting fact: the Japs did not surrender HK until 9/16/45, a full month after the ceremony in Tokyo Bay, as the victors squabbled among themselves over to whom the surrender should be made.
The final display hails the Hong Kong garrison of the Peoples Liberation Army, housed in the former Prince of Wales barracks. I suppose they are vigilant in defending Hong Kong from, Taiwan? I also like the gift shop -- scale models of jet fighters with "USAF" wing markings.
An anti-drug poster warns: "drugs make you restless." Sounds more like a problem for the government than for the user.
Then the Art Museum, which sets me back another $1.50. After that is getting late and starting to rain, so I head back to the airport, where the lounge awaits. A refreshing shower, some high speed surfing, and some free food, My only complaint about this place is that they replaced the free Hagan Daaz in the fridge w/ TCBY.
The flight to Delhi is fine. All the other white people are flying sahib class; sitting in steerage, I am lost in a sea of turbans. There appear to be no Chinese aboard. Good video: About A Boy. That and another supper keep me awake for much of the 5 hour flight.
Filling out the landing card, one has to select from the following check boxes: doctor; lawyer; government; business; employed; sportsperson; other. I consider but decide against masquerading as the national tiddlywinks champion.
We arrive in Delhi at 1:15 AM. The airport is not as chaotic as Bombay. The international terminal is modern and spacious, but still manages an air of shabbiness and grime. Welcome to India.
My next flight isn't until 5:45 AM. Cathay thoughtfully provides a free transfer to the domestic terminal, a drab, spartan place. There is no lounge. People stetched out across the chairs sleeping.
I am on Jet Airways, the private competitor to the government-owned Indian Air. It is an excellent flight: clean new planes, good food, an interesting magazine, sharp uniforms, attentive service. I am given a customer satisfaction survey to rate these point and others. Customer service in India, what a concept!
| | |
| --- | --- |
| I select a hotel from The Rough Guide and arrive at 8 AM. I opt for a deluxe AC room @ $16. Mistake. The AC is fine in the morning, inadequate in the afternoon, and tries to catch up during the night. There aren't individual controls, so I have to keep piling on blankets. The cable TV has about 70 channels, about 35 of which are Bollywood music videos. I like 'em, but they all seem alike. | |
In the days of princely rule, Hyderabad was the southernmost Muslim stronghold.

The Nizam of Hyderabad was reputedly the richest man in the world.

It helps if you have a diamond mine.

Until 1898, India was the only source in the world of diamonds.

The Kohinoor Diamond (now in the in state scepter in the Tower of London) came from here. Its slightly smaller twin is in Teheran.

The last Nizam was one of the stingiest men on the planet, whose parsimony was on a par with Howard Hughes' reclusiveness.

Also, he was a major pervert.

No one will say what happened to his world class pornography collection.
The palace complex has some nice-looking buildings.The main palace is still private, but another is now a museum and yet another a museum cum college. The big museum houses the collection of his prime minister, whose grandfather was wealthy in his own right and traveled the world in the 1800s buying anything and everything. The result is tons of stuff: Indian art, Chinese art, Italian sculpture, western paintings, furniture, jewelry, tochtockes, you name it. It's good, but after a couple of hours one cannot avoid the MEGO (Mine Eyes Glaze Over) effect.
The museum has the offensive dual admission price system: 10 rupees; 150 rupees for foreigners. It is more of an exercise in get-evenism than revenue raising. The foreigners' tickets are sold at a separate desk, where I am the first (and probably the only) customer of the day.
Another palace holds items personal to the Nizam. No dual system here: admission price for all is 50 rupees. At that price there are no other visitors. There is also no electricity (my introduction to the power cuts I will be experiencing daily for the rest of the trip), so the ticket seller leaves his post to give me a private tour by flashlight. The core of the collection are silver gifts to HEH (that's His Exalted Highness) on his silver jubilee in 1937. Most of them are really ostentatious and tacky, which is a good thing -- after all, if you want to see tasteful stuff any jewelry store will do.
The city is crowded and dirty, which is to say typically India. As just about the only tourist I am the target of hordes of beggars and hawkers. It is impossible to take 3 steps without being accosted. My initial thoughts are along the line that "this is nothing an Ebola epidemic couldn't fix," but, on reflection, I recall that Hong Kong has a much greater population density and used to be as poor.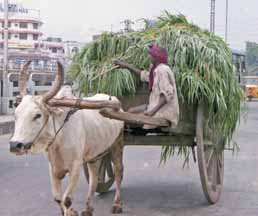 By 4 PM, I am pretty tired. It has been three days since I have had any horizontal sleep, so I head back to the hotel. I barely manage to wake up in time for dinner.
Wednesday, day 2 in India (but day 5 of the trip). My train isn't until 10 PM. I signup for an 8 hr city tour. I could have hired a car and driver very cheaply, but then I would be finished by noon, and I am trying to kill time. Then a couple of hours in the internet cafe. It's only 20¢/hr, but at these connection speeds it's no particular bargain.
Like Cambodia, India is infected with Everything Is A Dollar Fever. If you are a foreigner, everything is 50 rupees ($1). The rickshaw drivers in front of the hotel won't budge for less. The ones interesting in working are out cruising the streets for fares; the ones hanging out in front of the hotel want the easy dollar. When it comes time to leave for the station it is pouring rain, so I succomb.
The train offers several classes of service, but not first class, so I am booked into the best available, 2nd class AC. It's not too bad: two tiers, curtained compartments, luggage storage area, bedding. It's also freezing. Good thing there are blankets.
I alight at Hospet Junction at 9 AM. My destination is Hampi, a ruined city that was the capital of the Somethingorother Empire. Abandoned about 500 yrs ago, World Heritage Site and all that. I engage a rickshaw for the day($6) and off we go. The guidebooks recommend spending a couple of days wandering the ruins, but my driver observes my pace and predicts we will be done by 3:30. He is right. Hampi is good, but after all, ruins are ruins. As a tip, I invite my driver to dinner at the finest hotel in town. Tab for two including tip: $5.

Rather than staying over, I take another sleeper train, the Hampi Express to Bangalore. The amenities are somewhat better than the previous night, but not twice as good, which is what the 1st class tix cost ($32). I guess that's why I am the only one in it. (The basic fare is $1.60, with each upgrade approximately doubling in price.) Later on I am joined by 3 businessmen who have upgrade because 2nd class is full. They are very pleased because their employer is paying.
It takes while to get used to Indiaspeak.

Initials (but never acronyms) are used for everything, including proper names, place names, job titles, and public bodies. The TC is the ticket collector, a different person than the TT, which itself is short for TTE, traveling ticket examiner.

Reading the newspaper is like reading an uncoded message.
We arrive in the morning in
Bangalore, the hi-tech capital of India. My guidebook advises there is nothing to see so I board the Chennai(Madras)-Mysore Express waiting on the next platform.

There is no time reserve a seat, so I pay the base fare, 46 rupees, and board the 2nd class AC car.

It too is a sleeper but many pax have exited at Bangalore, leaving plenty of seats.

The TC tells me that the upgrade charge is 430 rupees but that I might want to move to the next car, also 2nd class AC but with 3 tiers of berths but the seats are the same, where the upgrade costs only 205 rupees.

A plaque denotes that the railcar was built in April 2000,

but from the condition, design and quality of workmanship, I would have guessed 1950.
It takes while to get used to Indiaspeak. Initials (but never acronyms) are used for everything, including proper names, place names, job titles, and public bodies. The TC is the ticket collector, a different person than the TT, which itself is short for TTE, traveling ticket examiner. Reading the newspaper is like reading an uncoded message.
We arrive at Mysore at 10 AM where the usual throng crowds the platform. A man asks
"Taxi?"
"How much?"
We load up and head off. He makes a stop at the tourist office, runs in and gets me a map. He reaches into his glove box and hands me the rate card for my intended hotel. He gives me his card and offers a full day city tour for 200 rupees. This guy understands marketing. Becasue he didn't try to gouge me I book him for a day tour and the next day as well.
The main attraction in Mysore is the Maharajah's palace. It was built in 1908 in the oriental fantasy style of architecture. Inside and out, it looks right out of Disneyland. It's in good shape too, not tattered and mildewed like most of what is on display in India. The M's son still lives in the back. There is a big temple on a hill overlooking the city, which I enjoy because I am not yet templed out. Also, the market is one of the most colorful in the country. Still, enough is enough. I finish the day tour in 2 and 1/2 hours.

Friday morning I head out of town. My destination is Svaranabelagola. It is only 50 miles away, but getting there takes a full 2 hrs, the roads being fully up to African standards. There, atop a hill is a 58 ft statue of a Jain saint standing. It's a big time pilgrimage site, but not many foreigners go. I spot one Jap and two German tourists. For some reason the Indian pilgrims and tourists hand me their camera and ask me to take their pictures. Maybe I look competent, or maybe they figure I won't run off with it. A few ask me to pose with them.
There is only one model of taxi in India, the Indian built Ambassador, which is a copy of the 1950 Vauxhall (or is it Hillman?) and has seen little if any improvement. (Unless you want to pay horrendous duties, it is also the only car available.) They are powered by tiny four cylinder diesel engines. In addition to lousy performance, they offer terrible fuel economy (about 20 mpg). India has to import all its oil. If they would allow foreign competition and modern technology the drain on foreign exchange would be halved. But that would "cost" jobs. So long as India treads the socialist path of that simpleton Gandhi, it shall remain forever poor.
On the way back I visit the summer palace and tomb of Tipu Sultan, the Tiger of Mysore, who posed the last serious challenge to British rule of the subcontinent. He was defeated by the young officer Arthur Wellesley, who went on to greater fame at Waterloo as the Duke of Wellington.
We have to detour around a farmers demonstration. Their gripe is over water: the monsoon failed this year and they are protesting the release of water to the neighboring state. All politics is local: let the other guys starve; they don't vote here. I get back at 2 PM. All is quiet, but I read in the next day's paper that the same protest shut down downtown Mysore for three hours.
That afternoon I join up with the group, which has come in by train from Madras. We are five -- 3 kiwis and a gal from Sri Lanka (Ceylon) --plus aussie leader. The first item is a visit to the palace. This time we have a guide, so I get to hear which portrait is who and who designed what. At the end of the tour, I have retained exactly the same amount as the previous day's visit but this one has taken 90 minutes instead of 10.
Sunday morning it's back to the hill temple (another repeat) and a new site: a Hoysala temple. It's good, but am I glad I scratched visiting two others some four hours distant the previous day. When we return to Mysore, it is eerily quiet. Its not respect for the Sabbath, the transport drivers are on strike for the afternoon. Same water protest.
On Sunday night the Maharaja's Palace is illuminated by 97,000 bulbs tracing its outlines and details. Very impressive. Half the city turns out for the carnival atmosphere.

Speaking of festivals, I am twixt and tween. When I left, Hyderabad was getting ramped up for the Ganesha (elephant-headed god) festival. Two weeks hence Mysore celebrates Dussera, a Mardi Gras-type blowout. Oh well, I hate crowds anyhow.
Dinner at very nice restaurant. Notation on the back of the menu: "Vomit bags are available upon request. Please use them as a consideration to other guests."
Monday morning a nice empty minibus shows up at our hotel at 7:30 AM. After boarding, we spend the next 75 minutes driving around Mysore picking up other pax until full, including passing our hotel 3 more times.
We are heading to Ooty. On the way we pass through Bandipur National Park, home of elephants and tigers, which we do not see, and monkeys, which we do. The drivers feed them, so they come right through the windows into the bus to beg. The park is also the hideout of the notorious bandit who kidnaps, and poaches with impunity despite an intensive 12 year manhunt. He is considered a sort of Robin Hood by the local tribespeople who give him shelter.
Ooty is, or, more accurately, was the Queen Of The Hill Stations. It's in n the westerns ghats at an altitude of 7500 ft, it was and still is a respite from the heat of the Deccan plain. Once very snobbish (hence "snooty Oooty") it is now democratized as zillions of Indian holidaymakers make this place seem as crowded as wherever they were fleeing.
We are staying at the YWCA, which is housed in a spacious bungalow overlooking Ooty town center. Talk about atmosphere! The place was built in 1929 by the YWCA of India Burma and Ceylon and hasn't changed much since. Very tranquil. No other guests. Period furnishings. The library contains such titles as: Christianity And The Race Problem, The Unjust Steward; and Time Capsule 1933. Each room has its own bathroom, but it's across the hall. Reason: the bathroom are accessible from an outside walkway so the untouchables can clean the toilets without entering and thereby defiling one's living space.
This area is about one-fourth Christian. But it is a hybrid Christianity incorporating aspects of Hinduism. In their homes people have shrines in which Jesus or saints are substituted for Ganesha or Krishna. On the roadside are multistory, multicolored shrines with the same adaptation.
An advertised "highlight" of our trip is a visit with the Thoda people, the indigenous tribe people of these hills. BFD. We drive to a "village," actually 2 or 3 concrete houses and "visit" with them, even though they don't speak English. I suppose they look a bit different from the other Indians, but it's not like they have blond hair and blue eyes. Then, another special opportunity, as we forego a night in a hotel to stay in one of their hovels. Some people like it. Different strokes . . ..
The next morning we take the toy train/narrow gauge railway. We travel for about 30 minutes (covering only about three miles) through tea plantations and valley vistas , when we alight to begin our walk. It's like ten little Indians. The Ceylon gal has fallen ill Monday afternoon and missed the village stay. The kiwi woman gives out the next morning. A taxi is recruited to serve as an ambulance. I jump in as well, foregoing the opportunity to hike in the hot sun through ugly villages. Instead, I enjoy a peaceful afternoon in Ooty. Two people complete the walk.
Wednesday is a travel day, which means a suffering day. Nine hours bouncing along on hot, crowded local buses. The first five hour ride winds its way down the mountain traversing, after five hours, a grand total of 42 miles. (My GPS keeps things honest.) Then, a change of buses, and we arrive in Cochin in the late afternoon. We check in to the Hotel Excellency. Maybe it's just me, but my definition of "excellence" would include hot showers.
Cochin is on the Arabian Sea (the water on the left side of India) in the state of Kerala. Dinner is outstanding. Kerala is famous for fish, and that is what we have. You buy the whole fish and they cook it for you. Delicious. Cheap too.
A change in plans. Thursday is spozed to be our tour of Cochin, but in protest of a terrorist attack on a temple in Gudjarat (far, far way), the major Hindu parties have declared a one day shutdown. From 6 AM to 6 PM everything is closed. No shops, no business, no transport. Emergency and essential services, including hotel restaurants serving guests, are excepted. The situation is not uncommon. The word hartal, defined as a one day strike, is included in my guidebook's glossary. The only mention in the newspaper is a list of postponed events and an item that an exception has been made for a particular area having a festival. On the TV news, only the briefest mention. I catch up on my reading and work on this trip report.
At 6 PM the city comes alive, sort of. I had thought that everyone would want to make up for the day of lost commerce, but this is India. It's mostly deadsville.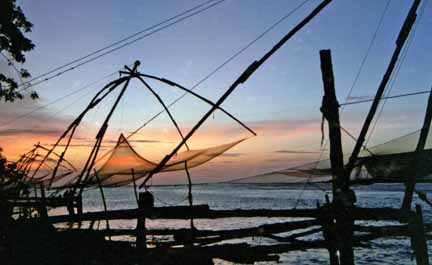 We take in a Kathakali -- traditional Kerala theater -- show. Wearing elaborate costumes and makeup, actors mostly dart their eyes and wiggle their fingers to the accompaniment of drums. Like the hula, they are supposed to be telling a story, but no grass skirts or shimmying to hold your attention. A performance more to be admired than enjoyed. Mercifully, we get the one hour abridged tourist version instead of the real thing which goes on all night. The guidebook suggests that one really should take in several different performances in order to really appreciate the art form. No, thank you.
On Friday morning we have a catch up sightseeing visit to Fort Cochin. The first stop is the 16th century synagogue, which is "closed due to a Jewish Holiday." According to the posted calendar, there is a "Jewish Holiday" occurs every Friday, Saturday, and Sunday during the low season for tourism. There are only a couple of dozen of Jews left, so it is not like they are thronging the place. Couldn't be that the caretaker wants a four day work week?
The next place is the Dutch Palace, also closed, as it is every Friday. As noted in every newspaper and news program, it's World Tourism Day. We are doing our part; why can't they do theirs and be open? That leaves the churches, which are old but boring. So much for Cochin. It is not particular scenic or atmospheric -- it's hot dirty, crowded and chaotic like the rest of urban India. A fair number of tourists around, mostly of the backpacker variety.
Then another local bus to Alleppy, gateway to the Kerala backwaters. Coastal Kerala is a big rice growing region laced by rivers and canals. It bills itself as "Venice of the East," but the only similarity is that they both flood periodically. The big thing to do is to rent a houseboat and cruise for days or a week. We take a boat down the canals to a homestay guesthouse. Very scenic and quite comfortable, particularly after the Thoda village.

Our hosts are Syrian Orthodox Christians. Tradition holds that St. Thomas came to Kerala in 52 AD. (He is supposedly buried in the cathedral in Madras.) More certain is that 600 years later Syrian bishops came and organized the extant Christians. Catholicism came with the Portuguese around 1500, and Protestantism with the British and Dutch a century later.

There is a large Catholic church in the village where we are staying. About a half mile distant is a smaller Catholic church built for low-caste Hindu converts. They may have been brothers in Christ, but they were still untouchable so couldn't enter the main church building. Oddly enough, the low-caste converts "lost their faith" and the smaller church is now unused.
In the morning it's another pleasant two hour boat trip down to our next transfer point. Another four hour local bus, this time climbing into the Cardamon Hills to Periyar National Park. It is very scenic as we wind our way past rubber and tea plantations. Much more pleasant temperature-wise. Enjoy it now -- the forecast is for more 100É+ weather at our next destination.
We stay at a very comfortable lodge. At 6:30 AM we assemble for our Park boat ride. In two hours we see wild elephants, warthogs, buffalo, otters, and plenty of birds, but no tigers.
That afternoon, I sign up for an ayurvedic massage. They take this stuff seriously. I am warned against having a foot massage administered by a poorly trained practitioner. They believe that the soles of one's feet are direct paths to the bodily organs. You wouldn't want walk out of a botched foot massage and die of renal failure the next day!

There is no end to the list of wondrous benefits it is said to provide. The process says enough. I enter a private chamber and strip buck-nekkid and don a sumo wrestler style strip of cloth. My own personal Torquemada then selects a vile-smelling green oil which he then attempt to injects about a quart of transdermally. After an hour I feel like a veal cutlet ready to be breaded and fried. The best part comes at the end when they wipe (most of) it off. Whatever benficial effects that may have been imparted are negated by an immediate shower upon return to the hotel.
Next is a visit to a spice garden, followed by dinner. The garden is a compact, dense assemblage of ornamental plants and foliage together with nondescript looking shrubs and trees. In that small area is an entire spice rack. Just about every plant and bush yields a spice. We spend about an hour walking through it, sniffing crushed leaves, and trying to identify the spice. The meal is a Keralan feast prepared by the owners. I can't get into this eating with your fingers stuff. Utensils, please! But I come up with a work-around: whatever is being served comes with thin flat bread, so I just make burritos out of everything.
I pass upon a guided walk through the park in favor of a free morning. It turns out that all I missed were leeches. When I return from the internet cafe, the kiwi guy is sitting in the hotel lobby with a salt shaker trying to coax a leech from under his toenail. His big toe looks like a bloody margarita.
After a free morning in Kumily, the small town at the gateway to Periyar National Park, we have a midday departure for Madurai, four hours away. As usual, we ride a public bus. Unlike the state-owned busses, which look like a West Bank bus AFTER a suicide bombing, this one is owned by a private company. It is sort of upscale; it even has windows. It also has a video player with the sound turned up to ear splitting level. After our polite requests to lower the volume are ignored, our leader commits a shocking act of cultural insensitivity as well as contributes to the climate of corruption by bribing the driver to turn it down.
The drive across Tamil Nadu (one of the five states that comprise southern India) is pretty desolate. It is supposed to be lush and green, but now looks more like a desert. (This is the area the protesters in Mysore don't want to let have any water.) At Madurai, the riverbed is about a half mile wide and dry as a bone. Beneath the bridges are squatters tents and grazing cows.
Madurai was known to the Greeks and Romans as a source of riches, and is the holy city of the south. Its chief attraction is a 15 acre temple complex smack in the middle of the city. There are four 150 ft towers and seven smaller ones, all crammed with multihued 3-D image of gods, goddesses, heroes and demons. Very impressive. The inherent problem of travel to difficult places: at first glimpse you say "Oh, wow!" But then you've seen it. It's not like if you keep looking it will change color. Our guide stretches the visit to 2 hrs. Inside are multiple shrines and worshipers. Also an elephant who, for ten rupees, will bless you by bonking you on your head with his trunk. I got bonked. Twice.

Madurai is also noted for its same day tailor shops. I order five bespoke shirts. I would have bought more, but the fabric patterns were mostly boring.
Mahatma Gandhi must have also been disappointed by the unexciting choice of fabrics, for it was in Madurai where he first donned the loincloth. A visit to its Gandhi museum provides a good look at self-delusion and fantasy.
The theme of the exhibit is "How India Lost Its Freedom and Won It Again." The first instructional panel is titled "Coming of White Man." We learn that England became rich by plundering India, destroying the native industry and agriculture. The visitor is informed that Indians were treated worse than slaves. The seeds of independence were able to grow because a network of railways "sprang up" and newspapers, printing presses, postal service, and telegraph "came into existence." The leadership of the independence movement was the "English educated middle class." Although the signs and captions are all in English, there is no sign that says "If you can read this, thank your oppressors."
The lesson continues: caste conflict and religious riots are the fault ofthe British. The Indian National Army, which fought for the Japs in Burma in WWII, were heroes. Likewise was is bluntly called "the campaign of terror." Now that India has its own terrorist problems, I am surprised that they haven't been relabeled "freedom fighters."
Having been shaken of all my historical misconceptions, I pick up my shirts. They fit perfectly. After dinner, it's back to the temple for the nightly ceremony in which the gods are put to bed for the night. So that they do not injure themselves during their nocturnal copulation, the idols are are relieved of sharp metal objects.
In my book, Madurai is a one-act town. The temple is it. Good thing the tour organizers also think so. The next morning we take the train to Pondicherry.
Pondicherry was the French base during the little-known (in the West) wars for control of India between the British and French. The frogs didn't leave until 1954. The old quarter is a little piece of a French equatorial colony. Baguettes, croissants, French street names, even funny hats on the cops. And, at last, good food!



Pondicherry was the French base during the little-known (in the West) wars for control of India between the British and French.

The frogs didn't leave until 1954.

The old quarter is a little piece of a French equatorial colony.

Baguettes, croissants, French street names, even funny hats on the cops.

And, at last, good food!
Pondy is also HQ for a cult started by a Bengali swami and his Parisian mistress (a/k/a "The Mother"). They are both dead now, but the place still attracts navel gazers from around the world. They have their own utopian community on the outskirts of town, which is home to the world's largest crystal ball. The ashram owns most of the prime real estate in town, including our hotel. It is lovely: new, sparkling clean, right on the beach in the middle of the french quarter. Traffic is restricted, so the background noise is the crashing of surf rather than the honking of horns. The ashram imposes on its guests a few other restrictions, like no smoking or drinking, and a 10:30 PM curfew.
We arrive around noon, just in time for an outstanding lunch. Supper is even better. It appears that virtually all the other diners and tourists are frogs, Every French tourist to India visits Pondicherry. All the stores carry Evian water (that's "naive" spelled backwards).
It's Gandhi's birthday, which means another public holiday and another excuse not to work. (I don't recall anyone stopping work in Hong Kong for Buddha's birthday.) A giant statue of the Mahatma is wreathed in garlands. In front, politicians have seized the opportunity for speechifying. I can't understand what they are saying, but there are lots of red flags with the hammer and sickle. Communism is big in these parts. I guess they are desirous of replicating the economic and social successes of the Soviet Union.
I am typing this report on my balcony fronting the Bay of Bengal. I have just returned from the bread shop with a baguette and two chocolate croissants, my first decent breakfast in two weeks. I am swooning! Too bad we leave in an hour.
It's a two hour bus ride (by now, that is nothing) to Mallamapuram, site of the famous shore temples. They date from the seventh century, but are no longer in use. Some were built not as functioning worship sites but as display models for the local stonecarvers' skills.


The economic base in the village is making stone gods for export to temples across India and around the world. All day long the tap-tap-tap of mallets on iron chisels can be heard as rocks are transformed into Vishnus and Shivas. There is also, with the backpackers and eurohippies staying in guesthouses in town and the better heeled in the big hotels a few miles up the beach.

| | |
| --- | --- |
| | |

The tour is to end where it began in Madras, another 30 miles north, but our little group is rapidly disintegrating. One gal is leaving tomorrow, and the couple are bailing because they don't like the hotel there (worst of the lot they say). Also, they tell me there is nothing to do or see in Madras. Besides, it is practically the same cab fare from Mallamapuram to the airport as from downtown Madras. So, I decide to skip the urban hellhole entirely and spend the last few days in the languor of this beachside village. It's hard to believe that the tour has lasted two weeks. Time flies when you are having fun, or, in my case, complaining.

I am camped out at a small guesthouse grandly named The Greenwoods Beach Resort. The beach is a good 100 yds away and the room is pretty basic, but I have a glorious new Hitachi remote control air conditioner. (The room is a budget busting $13/night.) It's about 100 degrees during the day and not much less at night.

It's too hot to sit and bake at the beach, and, the drought means a shortage of hydroelectrically generated power which means rolling blackouts, and ours seem to be from about 3-6 PM. (The smaller towns bear the brunt of the cutbacks.) It's now five o'clock, and I have taken refuge under the thatched canopy on the roof where the sea breeze keeps things bearable.

In the something-to-do department, this morning I accept a ride to and tour of Kanchipuram, another holy city about 70 km inland. Just yesterday I said that if I heard about Krishna and Vishnu one more time I would vomit, but I must be a glutton for punishment, cuz here I go again. Transport is on the back of Suzuki motorscooter. One and one-half hours each way. The temples? In a word, big. They are interesting, but monochromatic. Just as well, I am at the end of my film supply.

| | |
| --- | --- |
| | |

I have belatedly adopted a new program to reform the country. Whenever I give to a beggar or tip a shoeminder or the like, I am invariably met by a complaint that it is inadequate. (Hardly, I am giving way too much.) As soon as the whining starts I snatch back what I have given and DO NOT relent, leaving them dumbfounded. Sometimes they follow me, but all that means is they join the ever-present retinue of hawkers, beggars and touts.

You can't walk unmolested in this country for 10 yards. Even if you take a rickshaw, the second you get out all the other rickshaw drivers descend on you in the apparent belief that the previous driver was inadequate and that I have stopped my journey short in order to engage another.

Mallamapuram quiet and slow paced. The eats are great. Abundant, fresh, expertly prepared seafood dinners run $3-5. Colorful characters dept.: there is a real French restaurant. Middle age owner with a game leg, and his six foot tall, also limping wife with a parrot perched on shoulder. She does the cooking; he provides the entertainment. Everything is "facking zis" and "facking zat." (The parrot's vocabulary is similarly limited.) I ask how the Crevettes Provence are prepared. "Like in zee south of France! What more can I say?"

The tour leader told us of a guy who runs an orphanage. He has 27 kids and a waiting list of 60. The guy is a saint! He gets no government, institutional or regular support and works 7 days a week cooking in a restaurant to keep the place going. He takes me out there, and I am overwhelmed. My greeting upon arrival was about 20% rehearsed and 80% spontaneous and sincere. These kids have nothing, but are truly thrilled and grateful that someone cares enough to visit. They all want to hold my hand the entire time. There are a couple of huts with concrete floors, a couple of (mostly bare) cupboards, two cows, a vegetable garden, and that is it. They sleep on mats on the floor, eat mostly rice and vegetables, do chores, go to school, and live in harmony. The budget for 27 children and 7 staff is $10,000/year. They have inadequate space and salt intrusion has ruined the well. (Drinking water must be carried from town.) The guy is Christian and the school non-denominational, which engenders indifference and even hostility from the government.



I never thought I would say it but this country could use some more Christianity. Unlike the Hindus, who expend all their economic and spiritual energy on propitiating the gods in hopes of a better break the next go around, the Christians are the only ones doing anything to improve the here and now. Christians are only a tiny minority, yet it seems that they account for most of the organizations and institutions that deliver social services. If you see a school or a hospital, chances are it is afflicted with a church. (The Catholics get no greater credit or blame than Protestant denominations.)

Update: that's it. I've been driven out of my guesthouse by the power cuts. The first day the electricity was off from 3:30 to 6 PM. Yesterday, it was 2:45-8 PM. This morning it goes out again at 4 AM. I wake up in minutes, stifling, and retreat to the roof for relief. I transfer to the upscale hotel next door which has its own generator. I am now paying a shocking $20/night. Fringe benefit: lots of eurochicks in skimpy bikinis at the pool (but the water is like a bath, too hot for swimming).

Further update: I am vindicated. At 3:20 PM the power goes out again. How can I tell? I hear the generator kick in.

I manage to kill three full days in Mallamapuram. Sunday night, I begin the long journey back. First flight is to Bombay, then to Hong Kong, then to LA (overnight in a hotel) , then to Dallas, and finally, to Jacksonville on Tuesday afternoon. The airport lounges alleviate much of the discomfort. The worst part of the flight is knowing that I am flying more than half way around the world and not earning a single frequent flyer mile.


Trip date: October 2002