Weekend in Waikiki

or
The Tourist Trap



I spent three months on Maui in 1975, but never been to Honolulu. Cheap fares and my quest for platinum elite frequent flier status draws me out for a weekend.
Leave Jax Fri AM, scheduled arrival is late afternoon. The long flight is spozed to be nonstop from Newark, but it doesn't work out that way. After a few hours a medical emergency cause us to divert to Los Angeles. Some guy on his honeymoon has abdominal pains, diagnosed as appendicitis, gall bladder, or kidney stones. This event is a first for me, and this one cost the airline a bunch: they had to dump the fuel, recater the plane, and then refuel. Plus, the airline had to provide hotels for all the people who missed their connections.
No big deal for me. My Hawaii visit is 3 days + 5 hours. The delay means that I am able to return the car closer to the time of my flight without paying for a fourth day.
The car is $20/day. I found a hotel room on Waikiki beachfront for $38 (okay, my room faces the Marriott next door, not Diamond Head). But arriving late means that I am unable to survey the free parking situation in daylight so I get nicked $10/day for hotel parking.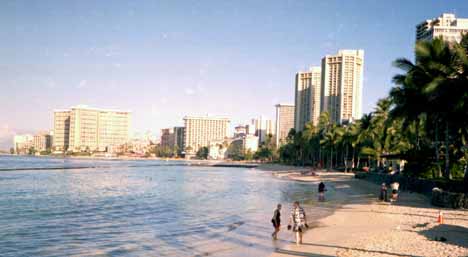 I check in around 7 PM and head out to the strip. Plenty of people. And hotels. And stores. And restaurants. And food courts. Waikiki is one giant outdoor shopping center. An hour is enough for me. With the 5 hour time difference, I am tired.
Saturday morning I do downtown. Iolani Palace is good if pricey ($20 admission). As I will discover, EVERYTHING is pricey. A walking tour of downtown reveals nothing. Looks like LA. Then, the Bishop Museum, which is good. All the original royal stuff there. Spend a few hours there. Then the Punchbowl, site of the National Cometary of the Pacific. Good scenic lookout. By now it's getting dark (the earth is approaching the solstice) so back to home base.

| | |
| --- | --- |
| | |
On the beach is a free hula show. What a disappointment. It's authentic, i.e., fat chicks all covered up wiggling their hands and keeping the rhythm with their feet. Further down at a shopping center is a hula more to my liking: grass skirts about six inches below the navel, coconut shell bras, and hips gyrating like a paint shaker. (The tourist hula was invented for cruise ship passengers in the 1920's; grass skirts arrived via the Gilbert Islands.) Observing many hula performers over three days I can group them into three categories: the pros; amateurs (usually overweight) with a smidgen of Hawaiian blood looking to recapture their heritage; and haoles who like to dance.

| | |
| --- | --- |
| | |



Watching the tourists is my main sport in Waikiki. Middle Americans of Disney World variety and Japanese. Lots of Japs. The signs in my hotel are bilingual and half the channels on cable are in Japanese. Only they and Disney habitues would not be

shocked by the prices. The main activity seems to be walking up and down the strip. The buskers, humans statues, Peruvian flute players and touts of every variety are out in force.

Sunday morning I drive to Pearl Harbor. Pretty well done. Lots of Japs there too. Nearby is the Battleship Missouri, where the surrender ceremony was held (not so many Japs). Also a submarine museum.




In the afternoon I drive to the North Shore, home of the big waves. I go to Waimea Falls Park. Wouldn't have gone but for the free coupon. (With the rental car comes a book of coupons good for one admission to various attractions. Guess they figure most tourists come in pairs or better.) Looks great from the road, but a big ho-hum on the inside. Would have been really pissed had I paid the $27 admission charge. I didn't even stay for the cliff diving show.

I continue my drive on the North Shore. The weather is pretty crummy, so I don't even get out of the car. On the way back, I stop at the Dole Plantation. Another tourist trap: a big gift shop with a maze and a tourist train. Even though I have a coupon, I skip the maze ($5). No coupon for the train. I buy a pineapple juice (probably from a can). I do not buy a pineapple ($4 each, 2 for $9; must be graduates of public school math).

Evening is more people-watching at Waikiki.

Monday. I start out by climbing Diamond Head. The view from the beach is the face of the volcanic cone. The inside is a perfect circular crater that is a park. There used to be a coastal defense spotting post at the top which is now open to tourists.


Out of shape America dept.: The climb to the lookout is all of 775 feet on a concrete path and stairs. Warning signs caution hikers to allow at least 1 and one half hours and to carry 3 days of water and provisions. People are huffing and puffing and dying all along the way. At the top, they will engrave a certificate commemorating your achievement. I take a leisurely stroll up, dawdle at the top, and come down. Total time elapsed: 45 minutes. I forego the opportunity to buy a "I survived the Diamond Head Death Climb" T-shirt.

I have another coupon for Seaside Park on the eastern shore. I drive all the way up to find that the road has been blocked by a landslide. The detour is back through the center of the island, which takes me by Queen Emma's Summer Palace (another coupon). Small, good. The route also takes me through the Pali lookout, also good (free).
Seaside Park is like Marineland, Hawaiian version. Big reef tank, dolphin shows. Free (I have a coupon) is worth it; $24 (without) is not.
Then, the Polynesian Cultural Center. The Mormon were the third set of missionaries to come to Hawaii (Congregationalists first, Catholics second). They bought a former sugar plantation on the north shore and built a campus of Brigham Young University. They also built a Temple, and next door, the Polynesian Cultural Center. It's a theme park built like Epcot, only different islands. It actually is somewhat authentic. The Mormons are big throughout Polynesia. Students come from the various islands to enroll at BYU. For part time jobs they dress up in native costume and do shows for the tourists. It's better than it sounds because they are fresh, enthusiastic youth full of religious zeal rather than jaded Filipino or Puerto Rican transplants from Los Angeles or Newark. Admission is a steep $39, but I have a coupon for that too. The cost would be even higher except the land was free, the place was built with volunteer labor, and much of the help are Mormon missionaries (called "volunteers"). A pleasant afternoon.


| | |
| --- | --- |
| | |
Coming back I take H-3, the interstate equivalent. That completes my circuit: I have driven all of H-1, H-2, and H-3 plus circled and bisected the island in three days travel. Good thing I don't live here; I would have Island Fever by day four. My conclusion: driving around Honolulu is almost indistinguishable from driving around LA: the buildings, roads, and freeways are pretty much the same, but there are more classic cars and fewer Mexicans.
That's it. I've done Oahu. To the airport. Overnight flight and home.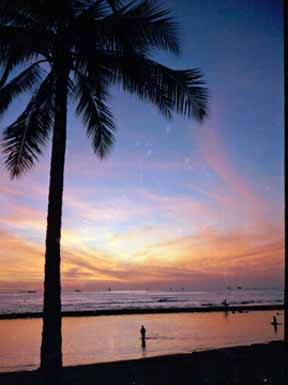 Trip date: December 2002