Egypt (again)

Thank God for people with nothing else to do but sit up all night trolling the internet looking for mistake airfares, and who then share the results. I have already been to Egypt, but I couldn't resist $20 for the round trip to Cairo on British Airways ($89 with tax). The trip is only a week, so it will be hectic.
Departure is on Monday night. A northeast snowstorm delays my plane into Newark but I mae it. The next leg is to London. After boarding the plane we (my sister and I) we sit for over an hour past the scheduled departure time while late luggage is loaded.
For our $20 we get to sit in the "World Traveler Plus" section, which means a better seat and more legroom, but unimproved food or service. It's only a six hour flight and there are plenty of video channels.
At Heathrow there is a six hour layover. It's cold and rainy, putting the kibosh on any idea of going into the city. Luckily, the lounge is well stocked with reading material and snacks. Also, free high speed internet. The time passes quickly. I think you are supposed to spend the time shopping; but, if so, the British Airports Authority is disappointed in me.

The flight to Cairo is almost as long as the transoceanic hop. For some reason, we are cheated out of the premium seats. Arrival is past 10 PM. No luggage (for me). We have booked a room at the airport Novotel. By the time I have filed a missing bag claim, it is midnight when we get to the hotel. We stay at an airport hotel, so are able to get a solid three hours sleep before having to leave for the 5:30 AM flight to Luxor.

We spent the extra $20 for business class, which gets us row 1 (first class) in a 747. Too bad the flight is only 50 minutes. Arrival in Luxor is on Wednesday morning. After hotel check in, we start sightseeing: Luxor Museum, Luxor Temple, Mummification Museum. In the afternoon, Karnak Temple.


We are pretty tired, so after dinner it's an early bedtime. Still no luggage.
Thursday morning we hire a car and driver to go over to the west bank where Hapshepsut's Temple, the Valley of the Queens, and the Valley of the Kings re situated. In the afternoon, a fellucca sail on the Nile.
I thought the sound and light show at the Pyramids was pretty hokey but heard that Karnak's is good. So much for hearsay. It starts out OK, walking through the temple with dramatic lighting. For the remainder of the show we proceed to bleachers while the insipid narration/dramatization continues. I defy anyone to recall what was said or even what it was about. Many people fell asleep. A few diehards videotaped the entire program, no doubt intending to torture their friends back home. So here's the word: don't go to ANY of those shows in Egypt.
That night my suitcase arrives. It's all sealed up, which means that it was only rifled and pilfered once. I attribute the delay to there probably was a backup in the "baggage awaiting theft" department. A bag of batteries and a folding tool are missing (they had been well-concealed). Oh well, I suppose for Egypt that is pretty good. (Gosh, I wouldn't want to contribute to the unfortunate stereotype that Arabs are a bunch of thieves.)
We also book a Nile cruise on the spot. The standard tour includes the journey from Luxor to Aswan by boat. There are fleets of boats operated by hotel and tour companies. Most take only their own prebooked passengers (for big bucks), but some accept walk-ons. Tourism is slow these days (plenty of French and Germans, no Americans), so I was willing to take my chances. We find a four star boat leaving Friday for $40/day each. I think that is a pretty decent rate, but one couple who booked an hour before sailing paid $25. Half of the boat is a German group spending a week (and a fortune) on board.
The trip is two days. A repeat of my prior experience, but shortened. Stops at Edfu and Kom Ombo, sites of two well-preserved temples. The weather is glorious -- dry, sunny and mild, but not hot.
Sunday is Aswan. The usual itinerary includes the High Dam, but, having been, I know better and skip it. Worthwhile are Philae Temple (on an island) and the unfinished obelisk. Then, a visit to the new Nubian Museum, which is well-presented and very good.
In the evening we board the overnight sleeper train back to Cairo, where we arrive early Monday morning. We leave our luggage at the station and head out to the Pyramids. It's overcast, so not particularly photogenic.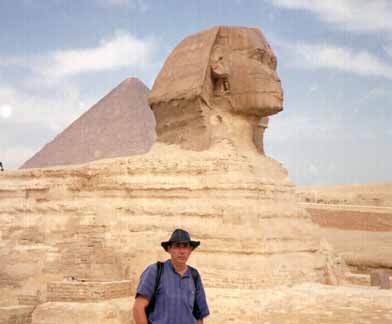 In the afternoon, we do the Egyptian Museum. Lots of stuff, good stuff, but poorly labeled and displayed. The King Tut loot is nicely presented, but most of the other objects are just piled about. Heretical suggestion: if they sold off just a bit of the junk in the attic they would have plenty of money to properly exhibit the rest.
The entire tourist experience in Egypt is illustrated by the one block walk from the bus stop to the museum entrance. In that distance three different people come up to tell us that the museum is closed, giving three different reasons, even though it is obvious that it is not. That's is the story of Egypt: they will tell you ANYTHING to get you to part with some money. And baksheesh for everyone all the time. If you don†t know what something really costs, figure on paying ten times as much. When walking around, the hassle factor is enormous, which is why most tourists never stray from their groups. I think the only people who actually produce anything in Egypt are the farmers; everyone else devotes 100% of his energy to scheming and scamming.
Monday night we are back at the airport hotel. Tuesday is coming home day. Back to London. A blizzard had hit the northeast the day before, causing flights to be canceled and the remaining ones overbooked. The happy consequence result is we get upgraded to business class. Excellent!
Trip date: February 2002