Down Under

I might be Continental Airlines' worst customer. Not only do I suck up the maximum benefits while paying minimal fares, my frequent flyer award tickets cost them twice. Last summer it took 2+ hours at the check-in with the counter agent and her help desk to work through the computer snafu. This time it only took 40 minutes - the computer wants me to ride in back, but that's not where I want to be. Eventually the right override codes get entered and my first class boarding passes emerge. Then I notice that the last two flight coupons are not part of my ticket. She spends another 40 minutes working until the flight is boarding. I will have to revisit the issue later.
I transfer to Qantas, where I have an upstairs seat on a 747-400. I am looking forward to their much-touted Skybeds which recline 180É, but I read the fine print - it's only on the Sydney and Melbourne routes. This flight goes first to Auckland and then on to Brisbane. That's OK, there are plenty of movies I want to watch. The business class seats are similar to the Air France seats on which I logged 60,000 miles a year ago, but Qantas has a better selection of movies (although an inferior selection of cheeses). Guess which one I favor? But I still have a complaint: the movies I want to see are on the eastbound flights.
The flight time to Auckland is 12 hours, where they make everybody get out while the cabin is cleaned and catered. Had I known this was the routing, I would have gotten off here and not already have bought a ticket to fly back to New Zealand in two days.
For all you who think New Zealand and Australia are almost touching, it's 3 hours and 3 time zones. (2 + daylight savings time.) Brisbane airport is crowded with groups of Japanese schoolgirls in uniform, but the arrival formalities are quick and friendly. Once through, it takes about 15 seconds to get my car. Avis has done me a favor and upgraded me to a big car, which is no favor at all since it's harder to park and maneuver. Plus, it's harder to re-acclimate to wrong-side driving. Speaking of wrong, it seems like all the streets in Brisbane are one-way in the wrong direction and keep turning - you need to make 90É turns to stay on the same street because if you go straight you will be on a different street.
Australia is a big, sparsely-settled continent, so there ought to be plenty of room to park, right? Not in Brisbane. I leave the car at the motel (selected because it has parking) and walk the short distance to the center.


| | |
| --- | --- |
| The first stop is just across the street: a windmill that is the oldest building in the city. It was built in 1828 to grind grain for the Mooreton Bay penal colony. It's the right shape, but the arms (which once doubled as gallows) are gone and the glazed concrete surface looks like it was poured yesterday. The area is called Spring Hill, not nearly as colorful a name as nearby Kangaroo Point or Wooloongabba (not to be confused with Woolloomoolo, which is in Sydney. | |
| | |
There are no rundown buildings in the city center. It is mostly glass and steel towers, but the colonial and prewar buildings have been preserved and rehabbed, with many having been converted to shopping malls. There is a general air of prosperity. There are also a lot of beggars, mostly healthy, young, white males who appear to be motivationally challenged. At first impression I think it is a giant adult entertainment district because "XXXX" signs are everywhere. Turns out to be a local brewery. The office buildings display "no hawkers or canvassers" signs, but not "no solicitors." We don't want lawyers excluded.

I happen on someplace not in the guidebooks: the MacArthur Museum. After his "daring escape" from the Philippines (leaving his men behind), Mac made his way to Brisbane where he commandeered the best office building for his headquarters. A small part of it has been converted into a museum (the rest is luxury flats and retail), as hagiographic as the MacArthur Memorial in Norfolk, VA. The best bit is the display of Brisbane at war when, after, the fall of Singapore, the bombing of Darwin, and the submarine attacks in Sydney harbor, the city prepared for imminent Jap invasion.

This place isn't cheap. It is much more expensive here than in the U.S. The Australian dollar used to be worth 55¢; its value has risen (to 80¢) but its purchasing power hasn't. Some items are still a bargain: only $15 for a change purse made from a kangaroo scrotum. If you already have one, there is a bottle opener made from a kangaroo paw.
It's St. Patrick's Day. The Queensland Irish Association headquarters is oddly quiet. The parade took place last Saturday. I spot one, lone celebrant.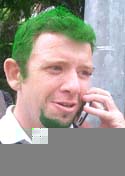 Damn jetlag! Much of the afternoon is wasted on a nap.
In the early evening a coffee wagon pulls up in City Hall Plaza to dispense free hot beverages and cookies, attracting every bum within walking distance. I don't see the point unless it is to drop a net on them.
Yesterday it was overcast. Today, Friday, it's raining, so I visit the Queensland Museum. There are good animatronic extinct animals such as a marsupial lion and a dino-size lizard. A display on life in the outback has a pedal-powered radio. The current feel-good, multicultural-crapola exposition is about Lithuanian immigrants to Queensland. There is a good section on the whaling era, which in Queensland was the 1950's. Stuff like whale products and videos from before whales were people too. Watching the elderly Jap tourists, I wonder if they are viewing the pictures and thinking "yum-yum, whale meat." Facts learned: Queensland is where macadamia nuts originate; and it is home to the world's the largest cockroaches.
I drive south 50 miles on a 10-lane freeway to the Gold Coast, where the sun shines 300 days a year. This isn't one of them. I swing through Surfer's Paradise: a broad beach lined by miles of high rises, a few shopping malls, and little else except a dearth of parking. It's connected to Brisbane by.
On the way back I stop at the Daisy Hill Koala Center, which is noncommercial and free. At 2 PM I am the first visitor of the day. (But I count ten cars in the staff parking lot.) There are plenty of koalas in the surrounding woods, but none to be seen from the observation deck. (I do spot a kookaburra.) I leave without spotting a koala but with a valuable tip: I should keep a knotted rope in my swimming pool should any koalas fall in and need to climb out.
Discouraged, I visit the commercial koala sanctuary, where there are heaps of the little buggers about. (I guess socialism doesn't work for marsupials, either.) My timing is right: they are just waking up from their 19 hours/day nap.
My flight out is in the early morning on Saturday. On the way to the airport, the sun is shining and the sky clear. Oh well, maybe next time.
At the airport, there are just as many Japanese tourists leaving as were coming. (Jumbo jets fly directly to Tokyo and Osaka.) My ticket is on the all coach class Pacific Blue, so I suffer the indignity of having to wait in line with the hoi polloi.
I am back to New Zealand, this time the South Island. It is the last weekend of summer. (Exactly one year ago I was in Auckland finishing up my North Island circuit.) At the Christchurch airport there a festive south seas welcome. Today Pacific Blue begins service to Roratonga in the Cook Islands and has brought in drummers and grass-skirted dancers. Leis for all the island-bound passengers, but not for me.
I pick up my rental car. There are no expressways here, just wide uncongested streets with an occasional traffic light. The sky is clear and the temperature is 75É and dry. (Brisbane was humid.) What a pleasant place!
New Zealand is more English than England, and Christchurch even more so. A very attractive core city with well preserved and restored buildings. Through the central business district flows the Avon River, landscaped like a country stream. The only problem is that the motels all have "no vacancy" signs. (Last year, Auckland on Saturday was full up by noon.) The only place I can find is an upscale backpackers/downscale B&B called "Shalom." "Oh no," I think, "Israelis." But it turns out to be run by Japanese, who also comprise the other guests. Very quiet and very clean. Christchurch lives on Japanese tourism If you like Jap food, you won't go hungry in this town.
On Sunday, I head south.

I reach Oamaru in early afternoon and call it a day.

This place has been called "the most well-built town in New Zealand."

A ready supply of high quality limestone and prosperity from wool and mutton exports resulted in a main street lined with impressive classical buildings.
Oamaru is also the penguin capital of New Zealand.

There is a colony of the rare yellow-eyed penguins and of the blue penguin, the world's smallest (a/k/a "fairy penguin").

They spend the day at sea and return to land at dusk.

I try for a doubleheader, but with limited success.

I watch for an hour but only see one yellow-eyed, then I drive to the blue colony, where grandstands have been erected to watch the nightly penguin parade.

A semi-bust: only about 30 birds come ashore.

(There must be an late night festival in the Pacific Ocean.)

No photography is allowed.

There is also a no cell phone rule.

(Does it interfere with their navigational equipment?)

Visitors are requested, when leaving the parking lot, to check under their car for stray penguins.
Monday. It's Race Relations Day! Gosh, I forget to send cards! If I run into a wog I will be sure to be nice to him. I am driving to Mt. Cook, the tallest peak in New Zealand. Because it's overcast I consider rerouting to Queenstown, where the forecast is sunny, but decide it would involve too much backtracking. It's a 2 1/2 hour drive, very scenic. Unfortunately, at the end of the road the mountain is clouded over. There is a brief peek at the glacier, but overall a disappointment. I turn around and drive back.
Heading south, the weather worsens. By the time I reach Dunedin in early evening it is miserable. A stop to see the Moeraki boulders, giant round volcanic rocks on the beach.

I expect to take a quick look around and be on my way, but end up spending the whole next day. Dunedin was originally settled as "New Edinburgh." The discovery of gold in 1861 triggered a boom that lasted longer than the ore veins. The city developed into the largest and richest in New Zealand.
I start with the train station, a 1906 Edwardian showpiece.

Then, the Otago (the name of the region) Settlers Museum. The displays near the entrance suggest to me that they should change its name to the "Maori Grievance Museum," but that comes to an end and they get on to the very well-presented story of immigration and the pioneer life along with a fine collection of Victorian stuff. Next door, an art deco bus terminal has been restored and houses a transportation museum.

Across the street is a large monument to the Great War. "To The Glorious Dead 1914-1918" is inscribed between two fasces. On the other side are two more fasces with the add-on dates 1939-1945. No sense of irony here.
Next, the Otago Museum, the oldest, and, in many ways, the best in New Zealand. Founded during the age of collecting, it had wealthy benefactors and became the ultimate repository for the acquisitions of New Zealand's adventurers and administrators in the far corners of empire. Its 1.7 million objects include large collections of classical antiquities (including 4000 Egyptian pieces), ethnographic items from the world over, and natural history. The stuff is not heaped about in dusty piles; the displays are modern and thematic (but a bit politically correct). There are moa skeletons and stuffed kiwis along with displays of recently extinct species.

| | |
| --- | --- |
| | |
I succumb to my addiction and visit the Cadbury plant. There has been a chocolate factory here for 120 years. The tour should be free since it's all corporate promotion, but they charge for the tour and even charge admission to the visitors' center -- they won't even allow you into the shop without buying a ticket! (They claim to offer great discounts, but it looks like regular supermarket prices to me.) That beef aside, the tour is fairly interesting and entertaining, culminating in a chocolate waterfall, where 1.5 molten tons cascade several stories. At least there are enough free samples to almost cover the tour price. And, as for the tour guide, I don't think it is possible for a human to look more like an oompah-loompah, right down to the purple overalls.
Wednesday. A long day's driving. I start out by going to the Otago Peninsula, at the end of which is a penguin, albatross, and seal colony. Also an abandoned fort with a (then) state-of-the-art "disappearing gun" installed in 1885 in response to the newly-launched Russian Pacific fleet launched from Vladivostok.
Then, a bit further south and across to the west coast, past green, rolling hills full of grazing sheep stretching to the horizon. Too bad there is no right-wing talk radio - the choice is either pop or Radio New Zealand, the latter being a southern version of NPR. It, too, has only one theme: ours is a terrible, racist, sexist, homophobic society and the Aborigones, Maori, Indians, and assorted savages and third-worlders are better than you. They need some Rush Limbaugh down here.

| | |
| --- | --- |
| | |
The southeast corner of the island is comprised mostly of Fjordland National Park. I drive as far as Milford Sound, where the road ends. After stopping to find a place to stay at Lake Te Anau, I continue to Milford Sound, a postcard-pretty fjord. The road runs alongside a lake, a river, then through a canyon, a tunnel, and another canyon to emerge at the Sound. It's nice, but it would have been better without the overcast and low clouds which give everything a grayish cast. Once there, if you are not hiking, taking a boat ride or boarding a sightseeing flight, there is nothing to do but turn around and drive out, which is what I do.

Thursday. Another day on the road. Before leaving Lake Te Anau I stop at the wildlife center and witness the welfare state in action. There are some rare native birds - they look like giant blue chickens with red heads - in an open pen. When I arrive dozens of common birds are hanging around outside. In a few minutes a keeper comes by and dumps a pail of food inside the pen. As soon as she leaves, the freeloaders fly over the fence to help themselves to a free meal.
I start north. The roads swings inland, through Queenstown, a lakeside boomtown resort teeming with shoppes and tourists, but little parking. It is the center for "adrenaline tourism," offering bungee jumping, parasailing, jet boats, rafting, helicopter and fixed-wing flightseeing - none of which I am inclined to do (or pay the big bucks prerequisite). Then I pass through Arrowtown, a gold mining town preserved as a tourist shopping village. Its photographic appeal has been ruined by modern signage and both sides of the street being lined by cars (including mine.)
It is the first clear day since I started. The scenery is excellent, as are the place names, including Mt. Aspiring and the Remarkable Mountains. I take care to keep my speed up - the newspaper this morning had the headline "Easter Weekend Speed Crackdown" alongside a picture of a cop with a radar gun. The twist is that they will be going after slow drivers who are holding up traffic.
The road runs through the Southern Alps along rushing rivers, mountain lakes, and steep gorges. It takes all day to emerge again on the west coast at Haast. It's pretty remote out. It doesn't matter much that the remote control in my motel room is missing because the only choice in TV programming is channel 1 or channel 2. The small population of New Zealand means there are not enough preternaturally attractive people to populate the TV screen; instead they take normal-looking people and try to glam them up.
Good Friday. It rains here 180 days a year, and this is one of them. Today's journey will take me up the west coast, stopping at two glaciers. The drive goes quickly - there is no reason to stop at the viewpoints when I can barely see the road. It's very atmospheric, but not photogenic.
The rain pauses when I reach Fox Glacier. The signs showing where the glacier used to are meant to alarm you about global warming, but it is obvious that the greatest recession occurred between 1750 and 1935, before industrialization. (And the other glacier has been advancing since 1970.) Although there is a good view of the glacier from the parking lot, I do the one hour (round trip) hike to its face. The blue color of the ice is visible, but not intense due to low clouds. One is not allowed on the ice unless part of an organized tour, a regulation probably instigated by the guide's union.

The rain resumes as soon as I get back to my car. To the north, down a very twisty road, is Franz Josef Glacier. Different but similar. At this point I am very close to where I was on Monday at Mt. Cook, but on the other side of the mountain. I wait for a drier moment to run out and take a picture, but eschew another hike.

The balance of the afternoon is taken with the remainder of the drive north. Eventually, the land flattens out and the road opens up. The kilometers fly by as I speed towards Greymouth, my destination for the night.
There's not much to see here. Greymouth is a gold rush town that turned into an export port when the ore ran out but coal discovered. The downtown contains a number of old, preserved buildings, including my hotel.
Late afternoon is almost sunny. The morning looks pretty clear, too. It doesn't last - as I turn inland through the mountains the wipers go on and stay on all day. My woefully underpowered Hyundai (pronounced with three syllables here) can barely make it over the pass. Another supposed-to-be-scenic drive impaired by inclement weather. I am driving back to Christchurch (road sign abbreviation: Ch-Ch).
Robert Scott launched his expedition to the Antarctic from here, and the U.S. Antarctic Program is based at the airport.

I saw the International Antarctic Center on arrival and pegged it as a tourist trap.

Now, the lack of rainy day alternative causes me to be a sucker and pay the admission fee.

Even though it bills itself as "The World's Best Antarctic Attraction," (what's the competition?) it's mostly for kids with a layer of PC propaganda.

The highlight is the Antarctic blizzard experience, which is basically a walk-in freezer with a fan.

Everyone bundles up like they are going to die.

To prove it ain't fatal I do it in my T-shirt.

I'm glad I didn't pay extra for the Antarctic buggy ride.

So far I am merely disappointed; I am outright sickened at the poster of Clinton during his 1999 visit bloviating his "speech to the people of the world."
I still haven't seen a live kiwi. There is one downtown at the visitors' center, but, having just been ripped off for $20 at the Antarctic Center, I draw the line at another $12 to see a dimly lit fowl that probably not significantly more animated than the stuffed ones in the museums.
Sunday. Easter. The sun is shining as I drive for the airport.

It's a long flight to Perth - 8 hours, four time zones. I am in cattle class on Air New Zealand, but I survive. The whole day is spent traveling, and I arrive at night.
Who woulda thunk? Easter Monday is a holiday here. That's OK - no traffic and plentiful parking.
As the guidebook observes, there is less here than meets the eye. Perth has some old buildings - some preserved only as facades - and lots of new ones. No urban grime, but not a whole lot to see. The Jap tourists that aren't in Auckland are here.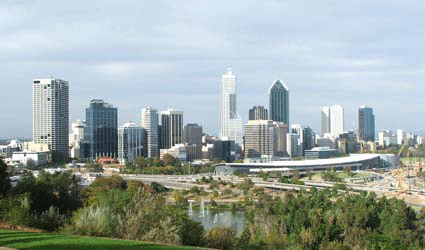 The Western Australia gold rush in the 1890's lead to the establishment of a mint, now reopened as a tourist attraction. These days it produces commemorative and collectable coins, such as for Chinese New Year and Hello Kitty. In the smelt room, where even the soot on the walls has value from the gold deposited over the years, there is a demonstration pour of molten gold from an incandescent crucible to make a 200 oz. ingot. There are lots of gold displays but no free samples, although you are allowed to heft a 400 oz. bar. There is a scale which tells me that today my corpulent self would be worth $1,406,750 (Australian) in gold. Call for King Midas!
The Western Australia Museum has a large hall devoted to inducing guilt over the Abo's. At the entrance is a large WARNING that some of the images are of people since deceased and that if you are "concerned" you should speak with a member of the anthropology staff. It gets worse. Piercing questions such as "how would you feel if your house and food were taken away from you?" (Why not ask the prisoners who were transported to Australia?) We are gravely informed that Abo's are "overrepresented in the criminal justice system." My solution: let them have casinos; that'll cheer 'em right up. Too bad I won't be here for Sorry Day, when we can all wring our hands over our horrid selves.
Tuesday. All of the day trips are way too far for too little for my liking. Instead, I drive to Freemantle at the mouth of the Swan River downstream from Perth. Formerly a faded, somewhat tatty port city, it has been lately gentrified. Many fine buildings have been restored and adapted. Architecturally and visually much better than expected.
Both north and south of Freemantle sandy beaches face the Indian Ocean. Lunch is at Coogee Beach.


I spend the afternoon at the Perth Zoo, where the animals are mostly free to wonder about the visitor paths.. Plenty of wombats, numbats, and quokkas, but no platypi.


Wednesday. Time to commence the long train ride. I am taking the Indian-Pacific to Adelaide, a 41-hour journey. And here's the insane part: I don't have a cabin. First class is absurdly expensive (about 6 times the cost of flying), and economy sleeper is very basic but still expensive. So I am going to tough it out in the "day-nighter" coach. On display at the Perth station is antique rail car: second class has just wooden benches and first class features padded benches; I hope the comfort level has improved.
The train stretches for half a mile. First class is comprised of geriatrics, economy sleeper is empty, and steerage is full of pensioners, backpackers, and a few nuts like me. The ticket states: "because of the close proximity of guests during rail travel, you are requested to board the train suitably attired with an acceptable standard of cleanliness and personal hygiene."
The first stop isn't until Kalgoorlie, in the heart of the gold fields. It's a 4-hour stop (why? I don't know); the problem is that it's from 9:30 PM to 1:30 AM. Everything is closed. There are some very attractive and ornate buildings from the gold rush, but it's too dark for photography. The bars are - there are a lot of them - still open, but quiet because this is mid-week; on weekends they stay open 24 hrs. The Abo's don't need bars - they are out drinking in the streets. Kalgoorlie is also famed for its brothels. (Judging from Brisbane and Perth, I would say all the girls in Australia dress like hookers.) One gal comes up to me and asks me if I have the time; I give her what she doesn't want: a chronographic report from my wristwatch.

The next day we enter the Nullarbor plain and the world's longest straightaway stretch of track, 350+ miles. Thousands of square miles of nothing.
Along the way, we stop to water at Cook, a modern ghost town. The next stop isn't until Port Augusta, again in the middle of the night.

Friday morning we reach Adelaide. The train is going on to Sydney, another 20 hours, but I'm getting off. Overall evaluation: it sucked. I didn't suffer inordinately, but I wouldn't recommend it.
First impression of Adelaide: wide streets in a proper grid and stolid stone. The WWI memorial lists the dead by battle and unit.

In addition to the killing fields of France and Belgium, the list for Gallipoli names the members of the Camel Corps who perished.

Another mid-east battle occurred at Megiddo, a/k/a Armageddon.

Today it's going to be a scorcher - 97É (that's 36É to you Frenchies).
| | |
| --- | --- |
| The best that can be said for the South Australia Museum is that it is air-conditioned. The first section is on Abo culture and so dimly lit that I can hardly barely see my feet much less the exhibits. (A cynic might make an acerbic comment about a benighted race or an unenlightened culture.) School groups are being trooped through for indoctrination in lieu of education. Say, did you know that the Abo's knew how to make fire by rubbing two sticks together? At least some of them had cool names, like Alligator Ned, Buggy-Buggy, and Hungry Jack. | |
Next door is the former Destitute Asylum. A perfectly good building and use is now the Migration Museum. Do you think it is about people who left various hell-holes on earth to make a new life in a new land? Of course not! It's all about how terrible the Germans were treated during WWI and Australia's horrible policy of favoring European over Asian immigration. (The result of which policy is that the signs in the museum are in English, not Chinese.) Their multicultural approach is illustrated by the self-awarded bronze plaques at the museum entrance: there is one from the poor Croatians, next to it is another from the suffering Slovenes, and right next to that is one dedicated to the innocent Serbs. Everyone is a victim: The Lats, the Letts, the Estonians (they get on well enough to share a single plaque); the Hungarians; the Poles; the Ukrainians; and the Jews. And don't forget the Tatar-Bashkurts, presented by the Tatar-Bashkurts Association of Australia. This is the mindset that has produced 1000 years of tranquility in the Balkans. But their is work is never done: a comment card left by a visitor accuses the museum of ignoring the Arabs who migrated here.


Dinner is in Chinatown, and the best Vietnamese food since Saigon. This is my kind of food court: Chinese, Thai, Malay, Korean, Vietnamese, and several of each.
Adelaide is really a one-day city. I would like to go to Kangaroo Island, but it's too grueling a day trip and I don't have an overnight organized (plus there's not enough time). So I spend the morning at the zoo. A couple more animals, but still no platypi. In the afternoon I ride the old wooden tramline to Glenelg, the nearest beach and the place where the founders landed.
My hotel is in the (rather tame) adult entertainment district. Across the street is the Resistance Activist Bureau, where, among other worthy revolutionary activities, they are organizing an international brigade to Venezuela. In addition to PLO posters you can buy "Make Love, Not War" stickers. Wonder if they sell many to the PLO?


Sunday.

My train is not until the afternoon.

What to do?

I don't have a car here.

I eschew the 2 1/2 hr. tour of the cricket oval and instead set out on a walking tour of the gracious stone mansions and cottages of north Adelaide, the original residential district.

Fall has arrived overnight- the temperature has dropped almost 30° from yesterday.
I am taking The Ghan to Alice Springs. The rail line was completed in 1929, and the train named for the camel caravans led by Afghan drovers which supplied the town for the 50 years prior. (Just this year the track was extended to Darwin on the north coast.) Once again I am in steerage, but, at 19 hours, this is a relatively short run. The rest of the coach passengers look like ordinary people, package tourists and families. For many, this trip is shorter than the one they endured to get here from Europe and the seats are a whole lot less uncomfortable. The seats are slightly better than on the Indian-Pacific, but the car still bounces and clanks like the New York City subway. I attribute the problem to poor track bed and inferior rail car technology. Australia has a DIY attitude and won't import superior European or Japanese equipment.

Alice Springs is just below the Tropic of Capricorn, and is further north than Brisbane. The settlement began as a telegraph relay station. It still is the base for the Royal Flying Doctor Service and of the Radio School of the Air, which offers classes to primary school children on remote sheep stations. The town exists for three reasons: 1) tourism; 2) shopping (two supermarkets, a K-Mart, and a MacDonald's); and 3) to give the Abo's a hang out. The Original Australians sit under gum trees, eat junk food till noon, then start drinking. They probably are talking about the good old days of combing the desert looking for lizards and grubs. I don't see any dogs; probably all got put on the barbie.

| | |
| --- | --- |
| | |
Although this has got to be the didgeridoo retail capital of the world, I pass on the shopping opportunity " they are too big to fit into my suitcase and start at $100. But I don't reject the outback spirit entirely " at dinner I order kangaroo. Quite tasty.
I have one full day here, so I sign up for the one-day tour of Ayers Rock. Departure is at 6 AM. At least it's a big, comfy bus.
There is a midmorning stop is at Stuart's Well, home of Dinky, The Singing Dingo. Many of dogs sing, but few accompany themselves on the piano. Dinky walks back and forth along the keyboard while howling. We are told that all dingos are descended from a single litter three to four thousand years ago, and purebreds are rapidly disappearing as they crossbreed with feral dogs.

More about the outback: there are an estimated one million camels roaming the desert, all descended from imported transport animals. To be a self-sufficient economic unit, cattle ranches need about a million acres. There are no roundups; they just put a watering trough in a corral with a one-way gate and by morning the livestock have rounded themselves up. Although there is plenty of vegetation, there is no cactus in desert because cactus requires at least some water each year. Inside the boundaries of the national park there is a $30 bounty on pussy cats, who eat the native animals.
Arrival at the national park is around noon. The first stop is the Aboriginal Cultural Center. "Due to the delicate nature of the information," no photographs are allowed. I see that they are not compromising their culture by working in the gift shop or snack bar. The ones hanging around are honoring their heritage by wearing "Fifty Cent" and "Snoop Dog" shirts.
The stuff for sale in the craft gallery makes didgeridoos seem practical and downright cheap. Take a crooked stick, paint on two dots for eyes, and, voila, a $200 snake! Although they get a cut of the ($25) park admission charge, they need more people buying $35 T-shirts that say "You Are On Aboriginal Land" and the dot paintings being offered at New York City gallery prices. For $5 you can buy a certificate that proclaims you respected the natives' wishes and didn't climb Ayers Rock.
Hoping that there is an award for cultural insensitivity, I undertake the climb, a 2 hr. round trip in the heat of mid-afternoon. It is tough! I feel at one with the natives since the whole way there are flies buzzing around my head.
Next, we visit The Olgas, a set of dome rocks about 30 miles distant. Not much to do besides drive up and take a picture.
Finally, back to the sunset viewing area. The sign warn against feeding the dingos. (Not even your bybies?) The Rock is naturally reddish (iron oxide), but the postcards show it glowing red like a hot coal. Our driver says that he has been there about 1500 times over the years and has never seen it looking like that. The sunset is somewhat hazy without any red; it's all sort of a let down.
We then begin the long drive back to Alice. We have to drive on the slowly because the road is chockfull of 'roos. Well, at least I get to see some wildlife outside of the zoo. We get back after midnight.
The next day, Wednesday, is pretty much consumed by travel. I fly to Sydney. Another back of the bus experience.
Sydney has a beautiful location. That said, it is overcrowded, overpriced, and overrated. Perhaps so the hordes of Jap tourists feel at home, this place is priced to put Tokyo to shame. Want to ride on the circular route public bus? $36. (2-day ticket, $62). To tour the public area of the opera house costs more than I would spend for an actual performance. (A backstage tour costs 5 times as much.)
At any time one can see a stream of people looking like ants on the arch of the Harbor Bridge. "Climbing" the bridge is supposed to be unbeatable and unmissable. I take a closer look. The experience is so totally sanitized that you couldn't even jump off if you wanted, much less fall. You can't even bring a camera. Then there's the price: $160 (more for peak times and days). Any lingering inclination is completely dispelled when I see the photo gallery of celebrity climb alumni: there are AlGore and Tipper.
It's completely free to walk across the span, which is what I do. Nice views.
I spend the day wondering around. My conclusion: Sydney is one of those cities that is wonderful if you come from a place without stores. Or coffee.
Friday I mostly devote to the Darling Harbor area, an industrial area redeveloped into a tourist zone for the Olympics. It is served by a monorail just like the one in Springfield and about as useful and successful.
The Power House Museum is the science and design museum. Good stuff, including a 1950's commercial by the Vegemite marching kids.
My favorite exhibit in the National Maritime Museum is a wartime instructional video, "Should Death Descend," which shows a family resolutely but calming dealing with pesky incendiary bombs coming through the roof and ceiling while a plucky teen doses fire bombs he encounters on the street. The museum has a special exhibition of ornate figureheads from French naval vessels " needless to say, none has sustained any war damage.
Saturday. I pick up a car. Avis has done me another big favor by giving me a really big car. Thanks to lousy Holden (General Motors) design, I can't see any of the corners, making it a pain to parallel park.
Sydney is like LA " endless suburbs " but with fewer freeways and even less parking. I decide to experience beach culture and drive to Bondi, where, with great difficulty, I secure 20 minutes parking. Enough time to walk the length of the beachfront, check for topless starlets (none), and take a picture.
Enough of this urban congestion! The guidebooks suggest the Blue Mountains, but I figure they will be full on the weekend so I decide on Canberra. I hear there's nothing there, so at least it should be uncrowded.
A planned city used to mean a grid; nowadays it's the antithesis. Canberra is all circles and whorls. Navigation and maintaining directional sense are difficult enough, but they make it worse by giving every segment of an arc a different street name. The commercial center is Disneyfied: pedestrianized; only remote parking; and no useful, convenient or cheap stores.
There is stuff worth seeing. The Australian War Memorial contains an extensive museum. As you might expect, lots on Gallipoli. Unexpected are cool items such as the lions from the city gates of Ypres, trophies from the seizure of New Guinea from Germany in 1914, and a sixth-century Byzantine mosaic church floor found in Palestine and "saved" from the Turks. The memorial opened in 1937. The builders had the foresight to leave plenty of room for expansion. The most recent addition is Anzac Hall, devoted to big things like naval guns, a Lancaster bomber, and a Jap midget sub sunk while attacking Sydney harbor in 1942. There is so much to see that I run out of time.
Sunday morning. I start with a tour of the diplomatic district. Lots of high fences. Foreign embassies were encouraged to build in their national style, so the Chinese one looks like a temple -- as I drive by it I can't tell whether the protesters are demanding freedom for the Falun Gong or Tibet.
Next is the National Museum of Australia. As a new museum, it doesn't have a lot of stuff so it consists mostly of didactic displays. There I learn the secret of Vegemite: despite its look and taste, it is not axle grease; it is a paste made from the detritus of beer manufacture. During the war, civilians were urged to cut back on Vegemite consumption so there would be adequate supplies for the troops. The museum also boasts a world-class collection of ceramic kangaroos.
As you might expect, it is all politically correct. (Did you know the Abo's could weave baskets out of reeds?) But, since I am not an Anglo-Australian, I leave without a sense of guilt, but only later I realize that I forgot to look for the outfit worn by the bybie that got et by the dingo.
Sydney and Canberra are like New York City and Washington, DC. In the big city, they would charge you for looking at the traffic lights if they could; in contrast, the capital cities, having already soaked the taxpayers once, don't compound the insults by charging admission to most attractions.
Next is the National Sound and Film archives. In addition to static displays, there are video terminals that let you call up clips and adverts for movies and TV. I could have stayed all day.
Then, back to the War Memorial to finish up from yesterday. No guilt here " they are unashamed about victory and the Anzac spirit.
I return to Sydney via the scenic route through the southern highlands. Very pastoral. I pass through Goulborn, the oldest inland settlement in Australia and home to some nice buildings as well as the Big Merino.
My transportation suffering has ended. I get to sit up front on the flight to Melbourne. It's just over 500 miles. Qantas must be printing money on this route: they fly a wide-body every 30 minutes.
At the Avis counter I decline the 3-class upgrade offered and request a Toyota.
My initial impression of Melbourne: although slightly smaller than Sydney, it is much more accessible. The city is confident, but not smug. Driving and parking are much easier. (I'm simple: just give me a car and a place to park.) It's very Victorian: a comprehensive tram system (a real one for the residents, not just for tourists); many parks and gardens; lots of clock towers. There is no guilt about having created civilized place. Food-wise it is the best yet: 3 Vietnamese restaurants in one block.
Melbourne is a working city, not a touristy one. Just a portion of the vast Queen Victoria market is devoted to tourist crap, but I do spot some excellent Australian souvenirs such as a mariachi gorilla (with sombrero), African masks covered in Abo-style dot paintings, and the ubiquitous Russian nesting dolls. Of course, there lots of kangaroos, koalas, and boomerangs. This is my second to last day so I succumb " I buy a boomerang, a plush laughing kookaburra, and music box that plays "Waltzing Matilda."
The Shrine of Remembrance, the WWI memorial, looks like a Mayan/Greek temple with a Mayan/Egyptian/Druid twist: each year, on November 11th at 11 AM, a shaft of sunlight enters through the skylight to illuminate the central inscription. The guide says that it took 144 pages of calculations to design, but that the adoption of daylight savings time threw it all akilter. Reflectors have been placed on the roof to advance the sun an hour.
I have not yet seen a live platypus, so I head to the zoo to remedy the situation. The platypusary is dark (they are nocturnal), and its denizens apparently off duty. Another disappointment.
On my last day I drive out to see some of Victoria, the state of which Melbourne is the capital. The route to the gold fields takes me past Hanging Rock, where I do not stop for a picnic. The gold rush here started in the 1840's. The extracted wealth left a number of towns with outsized and extravagant buildings. Impressive, but repetitive.
That's it, time to go home. This plane is has Skybeds, the best airline seat ever. Good thing I have a two hour layover at LAX, because it takes that long for the counter agent to fix the problem with my ticket. Thanks to the International Date Line, the entire trip back to Jacksonville takes place within the same, long day. Then, too the office to see if anyone sent me any money so I can plan for the next trip.
Trip date: March-April, 2005