Colombia is a large and varied country, from the Caribbean to the Andes to the Amazon. Last time in ten days I did not get past Bogota, Cartagena, and Medellin. I am ready to give it another ten days, this time taking in the south. Thanks to a bump voucher from Delta, the airfare is a freebie.
I've got the Bogota arrival drill down cold: we land at 10 PM, and I am at the bus terminal in time for the 11:15 PM bus to Cali. It's a nine and a half hour ride over the Western Cordillera, the mountain range that renders surface transport extremely slow in relation to distance traveled. No point in arriving before morning, so the bus ticket is also my "hotel" for the night. Recalling that overnight buses turn the aircon up to max, I brought a couple of extra layers but forgot to unpack them before stowing my luggage below. By morning I am ready to seek treatment for frostbite.
Cali is party central for Colombia. I think that means salsa dance clubs, which have zero appeal to me; I'd sooner jog home from the vascectomy clinic than go dancing. It is an historic city, founded in 1536 by one of Pizarro's lieutenants striking out for El Dorado after taking down the Incas. I check in to a hostel in an artsy, somewhat seedy neighborhood adjacent to the even seedier Centro. Downtown is combination of modern and colonial buildings with no particular charm. It's a bustling place, but far from congested. What public square would be complete without Peruvian flute players in Apache headdresses? I take in the few sights the first day. There are a couple of museums, including a very good Gold Museum featuring treasures from the south.
The second day I move to a better place in the flash part of town. Much more upscale, much safer, chock full of nightclubs, but no real appeal to me. Wandering around kills the second day. Everyone says that the girls in Cali are the most beautiful in the country; either they are wrong or the pretty ones are hiding.
Cali is the unofficial capital of southern Colombia with a population of two million. It lies in a lush valley where pineapples, sugar cane, and other fruits are grown in abundance. Street carts sell a variety of produce, most too messy to eat on the go – not so for the delicious grapes (from Chile) the size of ping-pong balls. Bogota is high up and cold: the temperature in Cali normally hits around ninety in the afternoon. (Medellin's weather seems to be eternal Spring). Not being in any hurry and liking my hostel, I stay a third night.
The morning brings pouring rain. It finally lets up in mid-afternoon, and I zip over to the zoo, reputed to be the best in the country. It's pretty good.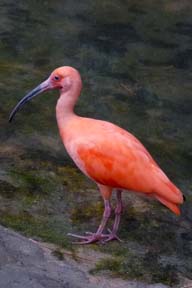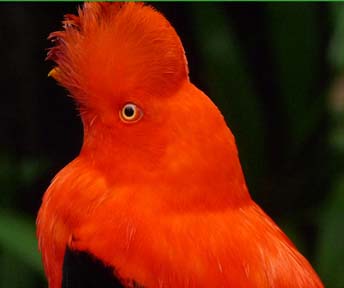 So far, this trip report is being labeled "the boring south." Sunday morning I move on to Popayan, two hours south. Now this is a nice place! Founded at the same time and by the same guy as Cali, its colonial center remains intact – single story whitewashed buildings with church towers rising above. All the more remarkable is that it has been periodically struck by earthquakes, the most recent in 1983, and continually rebuilt in colonial style. It has a great deal of charm and tourist appeal, but hardly any tourists.
Sunday afternoon is spent on a wander. On Monday I want to go downhill bicycle riding – a truck hauls you and a mountain bike up a mountain and you spent a few hours coasting back – but the hostel is unable to scare up a necessary second rider (one of the very few times I have been disadvantaged by solo travel). So I kill the day hanging around, no burden because my hostel is really excellent.
I wanted to stick around for the Tuesday market in Silvia, a mountain village about an hour and twenty minutes distant. The Indians come down in their colorful and distinctive dress to trade. They don't do it for tourists (there is nothing for sale but produce and implements), and don't like for their pictures to be taken. Thanks to a long zoom, I am able to get several good one on the sly. They look very Andean: Popayan is the last stop for travellers going overland to Ecuador, and Quito can be reached in a day.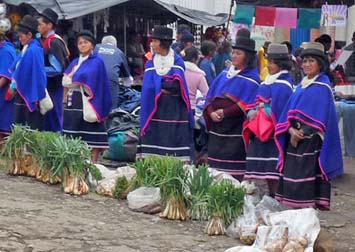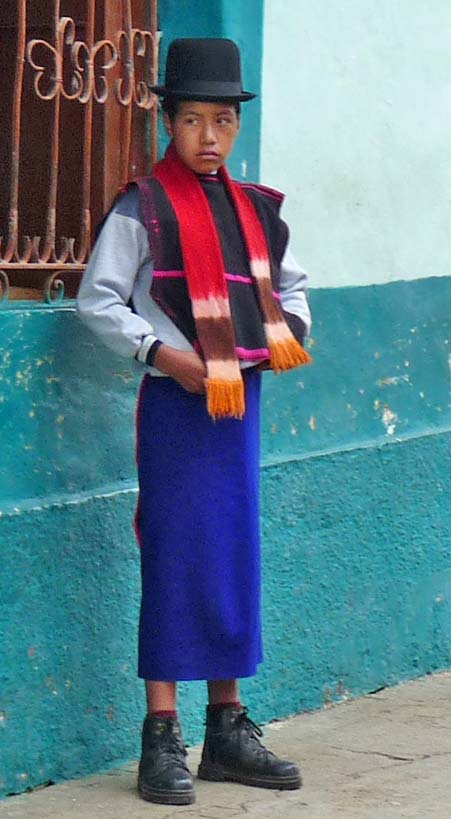 According to my out-of-date guidebook, it takes twelve hours over terrible roads to get to San Augustin, my final destination on this trip. The road has since been improved and even partially paved, so the trip now takes less than half that time. After a very scenic and somewhat bumpy journey over the mountains, I am there by two-thirty.
The area was home to several civilizations that flourished from around 1000 BC to 1000 AD. They weren't very advanced but left behind numerous large stones carved into figures of gods, men and animals. Most of them were funerary in purpose and guarded gravesites. Some have been moved to an archeological park near town and others left in situ. They are in varying states of preservation, but all now protected from the elements. A walk to and through the park takes the rest of the afternoon.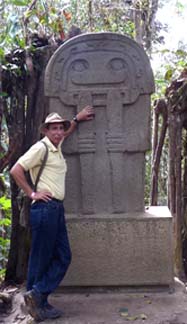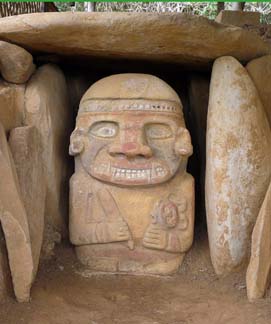 Interesting: the park office keeps a visitor count by nationality. The top countries are Germany, France, and the UK; the US is eighth on the list, with only one-third the number of tourists as Germany. Venezuela, right next door but where Hugo Chavez is no friend to Colombia, is at the bottom of the list with one visitor, the same as Uzbekistan.
Thursday is caballero day. Horse riding here is fun and cheap. They don't obsess about safety: you mount up and ride (with a guide). Good thing my animal is well trained and responsive. A German gal I am with is too kind-hearted to kick start her lazy beast; instead she keeps urging "rapido, rapido," an injunction which my animal obeys. Thus, the pace is fast, from a trot to a full gallop. We go up and down hills, cross streams and fields, and follow muddy paths to scenic outlooks and ancient runes. All in all, a great half day.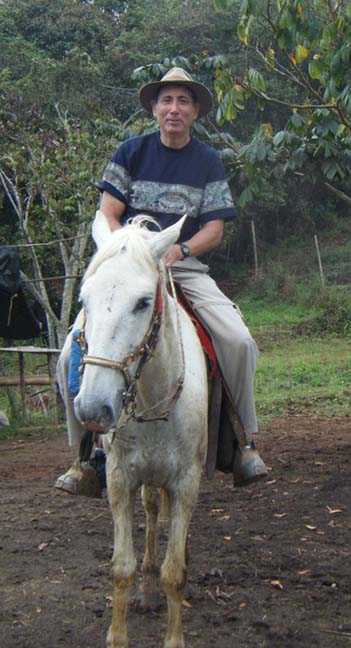 Friday is a jeep tour of the spectacular mountain scenery and some of the more remote ancient sites. There are deep gorges and waterfalls, including the third highest in South America. The roads to and between the various locations leave much to be desired, hence the jeep. Also aboard are three older French women who don't have a dozen words of Spanish between them and even less English. One carries a dictionary, but beats me how they manage to get around.
That's it. My plane is in the morning. I take the night bus back to Bogota. (San Augustin is the end of the road; the bus starts out empty and fills up along the way.) Arriving in the early AM, I am at the airport more than four hours before my scheduled flight, a new record. Note that I say "scheduled," because when the check-in counter opens I learn that the plane will be ten hours late. When it arrives in Atlanta it will be too late for any connections, and all the hotel rooms there have already been taken by other interrupted travellers. The flights for tomorrow, Sunday, are overbooked. After much discussion and exploration of my limited options, I decide stay in Bogota until Monday, courtesy of Delta. I get a five-star hotel (where the pilots stay) plus meals and transfers. The rate here for a single night exceeds what I have spent on lodging this entire trip. The staff is friendly, the service and food good, and it's a great place to compose this trip report. I need to importune Delta for another voucher to compensate me for all this suffering.