Lots of logistics are necessary for this trip. I leave early Tues AM and won't reach my initial destination until Saturday. I will be entering China at Shanghai, which is the cheapest airfare. To minimize the suffering and maximize the mileage I choose the NW flight from Portland which uses an Airbus w/ in-seat, on-demand video. The downside is that it takes three flights to get to Oregon, though I do get to ride up front all the way.
At Tokyo I transfer to the barn-like 747 for the final leg. Good thing it's only a three and a half hour flight. Seated next to me is an 18 year old gal off to teach English to 6 year olds. Dressed in an ensemble of worn-out and torn clothing, right down to her toes sticking out of her sneakers, she is sure to make a fine impression on her employers.


A year ago I began my Manchuria trip under a cloud: it was a ramp-up for my visit to North Korea that had been cancelled due to widespread flood damage. This year is an exact repeat and for the same reason: reports are that floods have destroyed over 10% of the country's cropland. This year the week before I leave again comes the bad news: mass games cancelled. Faced with manpower demands of flood relief, the government decided that putting 100,000 gymnasts and card-flippers in a stadium to perform for a handful of foreign tourists is not the best use of resources. The "mass games" are the only reason that Americans are allowed to visit at all, and then only for a maximum of three nights. No games = no trip.


The word is that the games might resume in a couple of weeks. On the plane to Tokyo I read some heartening news in the paper: the South Korean president will be in Pyongyang at the end of the month for the first summit in seven years and the second ever. That is the same time as my trip. They'll probably put on the show for him! I cross my fingers.


At Shanghai there are plenty of tourists but I am the only big-nose on the bus from the airport to the city. (The 270 mph maglev train shuts down at 8 PM, plus it goes to the wrong part of the city.) I am staying near the RR station, from which I will be departing tomorrow. By the time I arrive, it's 11 PM Wednesday. (They are a day ahead.)


I stop at the "Yangke" convenience store for my breakfast. The prostitutes have sharpened their sales pitch: if you decline their offer of a massage they immediately ask if you would like to have sex.


After a brief AM walkabout, I return to the hotel and sleep till checkout time. I still have a few hours until my train, so I revisit Nanjing Rd and the Bund. The usual pollution haze has cleared up enough that I can actually see across the river to the Pudong skyline.
I paid extra to book my train ticket in advance and have it delivered to my hotel. At the station, I discover that the thieving agency charged me for soft sleeper class and only gave me hard sleeper. Que horror! Luckily, I am able to upgrade, though I have to pay the difference a second time. (Epilogue: after my complaint, the agency refunded the difference.)


Sharing my compartment is a grumpy Chinese family who like all Chinese, enjoy shouting into their cell phones while on public transit. They eventually calm down, and it's a restful night.


The journey is scheduled for sixteen hours, but we arrive at Xian at 9 AM, an hour late. The pollution and attendant non-visibility is even worse than Shanghai. I locate and take the 10 AM bus to the airport for my 1 PM flight to Urumqi. In order to be in Kashgar in time for its famed Sunday market, I am flying the rest of the way.

It's an hour to the airport. Last time I was here in 1985 we were bussed to a shed next to a runway. There were no planes in sight. After a while a dot appeared on the horizon. As it drew nearer the dot turned into an Ilyushin. At the end of its landing roll it pirouetted and taxied back up the runway to the shed. No one got off; CACC had sent an empty plane to bring our group of 60 or so to Beijing.


Now, Xian has a modern international airport with flights to Europe and throughout Asia. My flight is not listed on the board, although there is one shown for noon. They put me on that one. Had I been "on time" I would have missed it.


It's 3 hrs flying time to Urumqi, capital of Xinjiang Higher Autonomous Region, a/k/a Chinese Turkestan. Not far from Xian we break out of the haze and fly through blue sky and brilliant sunshine the rest the way. The scenery below is rugged, bone dry and empty ? desert, hills and mountains. Down there is Lop Nor, where the Chinese test their nuclear bombs. For lunch we have a choice: rice or noodles. That's not the side dish, that's all you get, rice or noodles, plus a roll (so you make a sandwich).


The weather in Urumqi is cool, dry and very pleasant, a stark contrast to the sodden, sweaty haze of the east. (Just like the US!) My last flight isn't until tomorrow, so I stay at the Civil Aviation Hotel, a trusted name in my book, though this is the first one located at the airport and not the city center. The restaurant menu foreshadows that this trip will be a weight-loss opportunity: fried dog meat, pigeon, braised lamb kidney, lamb's trotters, horse intestines, tripe, etc. Perusing page after page of offal on offer, I select something that sounds like the meat part of a cow. It turns out to be pretty tasty. Not only do I win the culinary lottery, there is a cash payoff as well. The bill was 27 yuan ($3.50). When I pay I get 4 scratch-off coupons -- two for 10 yuan, one for 5, and one for 2. One of the 10 yuan cards reveals that I have won 5 yuan, so they hand me back a fiver.


Boarding the flight to Kashgar, I realize why finding Osama Bin Laden has been so difficult. The plane is continuing on to Islamabad, and half of the passengers look like they could be on the Al Qaeda board of directors.


Kashgar is in the heart of Tartary, where the British, Russian, and Chinese empires met. (The former British and Russian consulates are now hotels.) On the modern map, the borders of Pakistan, Afghanistan, Tajikistan, and Kyrgyzstan are all nearby. This is as far west as you can go in China. Because we are more than 2000 miles west of Beijing without a time change, sunrise and sunset are considerably later than "normal." (There is a "local time" which is 2 hours earlier, but you won't see any clocks displaying it.)


My hotel is decent and and cheap. It's kind of far out, but the choices are scant. It does offer a "Professional Male Beauty and Health House," which services include "Taking Care of Kidney, Avoiding Facial Furrow, and Dispelling Whelk [sic]."


Kashgar has a few interesting sights: a couple of tombs, and an old mosque. The signboard at the latter notes that it was built in 1442 and has been restored recently by the government. "All of it shows fully that Chinese government always pays special attentions to the another and historic cultures of the ethnic groups and that all ethnic groups welcome Party's religious policy. . .. All ethnic groups live freely together here. They cooperate to build a beautiful homeland support heartily the unity of different ethnic groups and unity of our country and oppose the ethnic separatism and illegal religious activities."

The ethnic group is the Uighurs, central Asian Muslims who don't look at all like the Han (Chinese). They are the good kind of Muslims, not the Jew-hating death cult we all know and do not love. Maybe their being a minority with a strong thumb always upon them is the key to good behavior. Anyway, they are wonderfully photogenic and not especially camera-shy.


I arrive at noon and spend the day wandering about. A not-unfamiliar story: sleepy, ancient town rapidly being replaced by a modern, Chinese city. As my hotel room has an ethernet connection but no wifi (which my new Nokia pocket internet device requires), I prowl the nearby residential neighborhoods looking for an internet cafe -- usually a large smoky room tucked away upstairs or in a basement filled with hundreds of computers occupied by teenage boys playing violent video games.

For lunch I have a local specialty, a bagel, a real one, freshly made and delicious, costing 7 cents. At suppertime I pass a place with bundles of skewers of shish-kebabs cooking over charcoal in front and many patrons inside scarfing them up with noodles. It smells delicious, so I sit down and order. What comes is a plate of cold spaghetti and six skewers, each containing a fragment of animal product, a cube of what I decide is some internal organ, a blob of pure fat, and another even worse-looking piece of meat. (Probably the same items that were listed on the menu last night at the hotel.) I manage to get about one third of the way through before giving up. Oh well, at least the bill totals less than a dollar.
I thought that I would be able to refrain from commenting on hard Chinese mattresses, but this one takes the cake. I think it would be softer sleeping on the floor.


Breakfast is included, but from a selection of thirty or so items I find the only thing edible is a steamed bun with some onionate filling. Even the bread, which was probably baked yesterday, tastes like it is left over from last month.


The point of all the flying was to get here in time for the famed Sunday Market. I start with the animal market, which has been moved to the outskirts of town. Zillions of sheep, many cattle, some horses and donkeys, but, today at least, no camels. For obvious reasons, no pigs either. Lots of great photo opportunities. Also, it's a reminder of where meat comes from, a vegetarian and PETA recruiter's delight. It's pretty much a live market, though there is a small butchers' section. I don't see much being thrown away. They don't have hot dogs here, so I guess the lips and ears go directly on to the skewers.
Then to the main market. Farmers have brought their produce in on donkey carts and converged on the streets surrounding the main bazaar. Not as exotic as the animal market, but still quite good.
Kashgar's good, but it's time to move on. The next stop on the Silk Road is Osh, some 300 miles west, in Kyrgyzstan. There are no really good options to get there. There is a daily bus that is scheduled for 24 hours, but I hear that the trip can take 26-32 hours. I met someone who said he took the bus last year and the border crossing took 9 hours. I decide I can beat the system -- I will hire a car to take me to the border, 4 hours, zip through, then pick up transport on the other side for the final 8 hour drive. If I am at the border post when it opens, I will be in Osh by evening.


The first part goes as planned. I leave at 7 AM (5 AM local). The sun rises to reveal a rugged and barren landscape that looks a lot like Utah. At a couple of points the crystal-clear sky is filled with an unexpected haze, then the stink of sulpher, then we pass the reason: a chimney belching black smoke and surrounded by great heaps of coal. To the south is a line of snow-capped peaks. My driver points to the mountains and says "Afghanistan."
We arrive at the border post ten minutes prior to its 11 AM opening. The bus should be leaving Kashgar right about now. I get in line behind a Kyrgyz group returning from a trade show in Urumqi. A few minutes later an Australian group arrives -- they are traversing the entire Silk Road -- Beijing to Istanbul -- in 39 days.


At 11:00 the various border officials arrive, and proceed to do nothing. As the queue lengthens they process a couple of truckers, but not us. Finally, after an hour, the first of us its through. The formalities consist primarily of copying each person's passport information by hand into a ledger book, a process that is repeated a half dozen times. By 12:30 I am on the other side. The Aussies have agreed to give me a lift to the actual border, a couple of miles beyond. In the meantime, we are all waiting. After all the foreigners are through, they let the busses through. It's now 1:00. We board. The Chinese officials then pull me off, saying that no "extra" passengers are allowed. They would be sending an official vehicle.


Fifteen minutes later a van arrives. We without transport pile aboard. After a few minutes we are ordered off. Reason: it's too close to their lunchtime. They schedule 30 minutes for lunch, then take a two hour siesta (seriously!). They collect our passports (to make sure we don't walk across, which is forbidden), and tell us to be back at 4:00. By this time I have fallen in with the Kyrgyz group, who are especially frustrated because they have a vehicle waiting on the other side. They offer to take me all the way to Osh. We go to lunch, wandering at will back and forth through the completely deserted border post. They go shopping in the ad hoc village that serves the truckers waiting to cross and buy snake wine, which they call "Chinese vodka."


At 4:15 the van returns. We load up and wait. Then a huge row erupts -- the Chinese want us to give way to a group of Chinese citizens who just arrived. No way! After a long and heated argument in Russian, the situation is resolved by transferring the luggage on to a passing truck and we all board the bus. (It's a boon for the trucker since he gets to jump the queue.) The reason for the "no riders" rule emerges: we have to pay 10 yuan each for the transfer.


A second Chinese border post brings another delay for more repetitive formalities. Then to the actual border, which is a complete gridlock. The roadbed through a narrow pass is only two lanes wide, and truckers jockeying for position have blocked both of them. Nobody can move in any direction. Many long confabs. This is what you would expect in India, not China. I put my expensive education to use and suggest that we walk through the scrum, shuttling our luggage in two trips.


By the time we reach the actual border, it's 6:30 (4:30 Kyrgyzstan time). Our vehicle (a Daewoo 4WD land cruiser) drives us to the Kyrgyz border post. In contrast to the Chinese, who have been complete assholes, the Krygyz border guards greet us warmly with handshakes. The immigration guy asks only whether I am a tourist or on business, and why don't I want to visit for 2 weeks or a month? For customs the vehicle is not unloaded or anything checked. Instead, each person undergoes a lengthy interview in the captain's office. Mine goes very quickly -- frustrated that I do not speak any Russian, he finally picks up a card from his desk and reads aloud phonetically "Do you have any drogs [sic] in your luggage?" He must believe me because he smiles and tosses me my passport.


So, it didn't take any 9 hours to cross the border, just eight and a half (7.5 for Chinese, 1 for Kyrgyz).


The border is about halfway between Kashgar and Osh. The Chinese road is fine; the Kyrgyz road is TERRIBLE, unpaved and fully up (or down) to Africa standards. Along it a line of overloaded trucks crawls along at about 10 mph. (Good thing I already snagged a ride, cuz I don't see anything available at the border.) We drive mostly on parallel dirt tracks, which is faster and slightly less bumpy than the road. Much of the surroundings is wasteland. One guy draws the radiation symbol and points to the ground outside. Later I read that this is where the Soviet Union obtained its uranium and left behind many mines that have never been cleaned up.


If we keep driving we will not reach Osh until well past midnight. Instead, we stop for the night at a camp for foreign tourists. (A Spanish group that crossed with us is already there.) They give us a bit of food, and we sleep in a yurt. Very efficient: first day here and I've already completed my yurt camping experience.


In the morning we complete the journey. As we get closer to Osh, the road improves considerably. The mountain scenery is excellent. We arrive at about same time as the bus should have, although who knows where it is along the route.


The Kyrgyz group is lead by a gal who runs a tour company. She takes me to a very nice guesthouse, actually a family hotel, where it takes me a while to surf through the 1277 satellite TV channels. The American ones require some sort of premium subscription, but lots on offer from everyplace else, including an amazing number of phone-sex chat lines in Arabic and Turkish.


I like Osh (B'Gosh!). It's a very pleasant place, the country's second city, a normal place without tourists and concomitant tourist hassle. It's a sunny, clear, day, and not too hot. From the giant Lenin statue to the now-antique fizzy-water dispensers, there are many vestiges of Osh's former existence as a provincial outpost of the Soviet empire. On the first day I don't do much beyond wandering down to the large, colorful, and busy market.
| | | |
| --- | --- | --- |
| The second day is not a whole lot more productive. At breakfast a German guy here for work regales me with tales of life in Baghdad when he lived there while building Saddam's bunker. Later, I pay 9? fee to climb Solomon's throne, a mountain peak that overlooks the city and is a minor Muslim pilgrimage site. Then, the Silk Road Museum. Osh is older than Rome, though nothing of real antiquity remains extant. The museum contains an assortment of pot shards, rugs, bugs pinned on a board, and moth-eaten stuffed animals. The city's Lenin Museum has closed, so added to the collection is an aggregation of soviet detritus: B&W mug shots of party bosses (though Gorby is in living color) and medals that they awarded themselves. Particularly interesting are photographs of local heroes in the Great Patriotic War (WWII) -- their faces vivify the Nazi's nightmare of being overrun by Asiatic hordes. | | |
I would be remiss not to remark on the pulchritude of the ladies. Kyrgyz girls are tall and slim with light, clear skin and delicate features. They have an exotic look without looking too severely Asian. And, unlike their far East counterparts, they ain't flat-chested.


It's quite cheap to fly to Bishkek, but I have come to see this country, not fly over it. The tour gal has gotten me the front seat in a big Mercedes sedan shared with two others in the back. We will be crossing two mountain ranges, but the road is very good. The trip is supposed to take 12-13 hours, but our driver says 10. He is right.


Most of the route is across valleys and through rolling hills. Looks a lot like Montana, except with yurts. We race through villages and grasslands, at times hitting 100 mph. To avoid donkey carts and slower traffic, our driver tends to stay in the left lane. The only problem is that it's a two-lane road and oncoming drivers have adopted the same strategy. It's a wonder that we only pass two fresh wrecks on the way. I am probably the first person who has used the seatbelt in the car.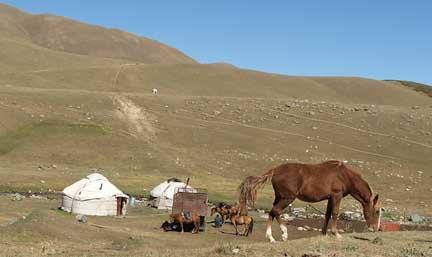 The mountain crossings are dramatic and impressive. For lunch we stop by a rushing river where the locals fry us up a mess of fresh-caught trout. Dem's good eating!

When we arrive at Bishkek I check my GPS. We have only traversed on 300 km as the crow flies, but that would have to be a very high-flying crow.


The guesthouse that I wanted is booked up, but the driver has already made me an offer I can't refuse: a one-room furnished flat for $15/night. It belongs to a doctor who is working elsewhere. So here I am on Karl Marx Prospect mingling with the proletariat. It is anything but luxurious, but staying here is a total soviet experience.


Until 1991 Bishkek was called Frunze in honor of a local boy who made it big with the Bolsheviks, led the Red Army campaigns in central Asia, and succeeded Trotsky. Stalin offed him and named the capital of the newly-formed Kyrgyz SSR after him.
| | |
| --- | --- |
| Until 1991 Bishkek was called Frunze in honor of a local boy who made it big with the Bolsheviks, led the Red Army campaigns in central Asia, and succeeded Trotsky. Stalin offed him and named the capital of the newly-formed Kyrgyz SSR after him. | |
This is the most soviet city I have seen in 20 years, but I mean that in a good way. Lenin no longer presides over the main square and the Dzerzhinsky statute has been banished, but they have not chiseled off or painted over the ubiquitous hammers and sickles. More Russians live here than do Kyrgyz, and Russian women apparently need to prove the point by (badly) dying their hair blond.
My first stop is the State Historical Museum, formerly the Lenin Museum. It's still the Lenin Museum, but has added a yurt display on the third floor. Even the building's shape is reminiscent of Lenin's tomb in Moscow. Old Vladimer no longer faces the square in front, but is perched on a lower plinth in the rear. Inside there are larger than life bronze tableaux of major events in Lenin history and display of exquisite Lenin carpets and Lenin vases. (There's even a Stalin rug.) The ceiling murals make this a commie Sistine Chapel. It's all so good that I pay extra for the privilege of taking photos.
| | |
| --- | --- |
| | |
Continuing the hagiographic theme, I proceed to the nearby Frunze museum, built around what is supposedly his birth house. He was a good-looking chap, and cuts a dashing figure in painting depicting various revolutionary feats and as a confidant of Lenin. It reminds me of Kirov, another handsome commie who was viewed by Stalin as a rival and also went to an early grave accompanied by great crocodile tears. The museum also includes an exhibition of the achievements of the Kyrgyz SSR, and display of how Kyrgyz units fought their way to Berlin the in GPW.


Speaking of which, brides still come to lay flowers at the Victory Monument where the eternal flame also keeps drunks warm. (Surprisingly, the memorial at Osh is in poor upkeep and its flame extinguished.) General Frunze on horseback greets arrivals at railroad station, which was built in 1946 by German POWs, many of whom are buried in pits nearby.


Bishkek is a very green city, full of parks and tree-lined streets, which is very uncharacteristic for this part of the world . There is little of historic significant and nothing of antiquity; it's almost entirely post-war. One day is plenty.


There is a direct highway from Bishkek to Taraz in Kazakhstan, and busses and collective taxis are supposed to be frequent and cheap. The Moscow-bound train follows the same route, taking all day and arriving late at night, but I reject it as slow and inconvenient.


I go to the bus station, where collective taxis (actually, private cars) assemble. Lots are going to Talas, in Kyrgyzstan, but none to Taraz. One guy quotes me a price of $55 for the trip, divisible by the number of passengers, which in my case is one. I could have paid him and been there, but then I would have missed an adventure.


I go inside to check on the bus schedule. Nothing posted. There are 22 windows, one of which is open. I tell the bored and annoyed woman behind the open one that I want to go to Taraz, and she points to the line of closed windows. I point out the lettering on her window that says "Taraz" and she becomes angry and shoos me away. There is no activity and no one else to ask, so I turn to go back to the parking lot. Halfway there a cop comes up and demands to see my passport. Oh, no! I've read about the crooked cops at the station who shake down foreigners. He says we must go to the police station. I protest. Then a nearby vendor leaves her stand and starts arguing with the cop. After a few minutes he hands me back my passport and slinks off. She explains to me in English that she was saying "Why are you bothering this man?" and the cop was saying "This is none of your business." I guess she shamed (or threatened) him into trying elsewhere.


My savior then offers to help me find a ride. She negotiates a price with a driver, very specific that I am going to Kazakhstan. It takes a bit to find other passengers, and off we go. About an hour and a half late we turn off the main road west and head south into the mountains. I pull out my map and protest. Through pointing and gestures he indicates that he is going to Taraz by way of Talas. It's a longer route, but accept it as a scenic alternative. It turns out that that crook never had any intention of taking me to Taraz.


Three hours later we arrive in Talas. I refuse to get out and refuse to pay him. (He wanted money up front, but I told him "money Taraz"). He wants another $15 to go to Taraz. I negotiate that down to $8.


It's 60 miles from Talas to Taraz. After about 40 miles we pull into some sort of open air festival that seems to be celebrating Victory Day four months late. My driver tells me (in Russian) that he has no passport and that someone else would take me the rest of the way. That guy wants $4, so I pay the Bishkek driver the fare plus $4, one-half the extra fare.


By the time we get going it's 6 P.M. The new driver heads down some lonesome rutted road, which I know is not right. "Passport control!" I keep telling him. "OK, OK" he responds.


As I expected, the border post we reach is just for local cars and donkey carts. They won't let me through. Via the paved road, it's giant loop to the proper border post. Instead we route across some very poor unpaved roads, past fields and hamlets, stopping to ask directions along the way. After about an hour we emerge right at the main road and the border post.


They process me in about 15 minutes, but it takes the driver the better part of an hour to fill out the forms required for the vehicle (the first, local crossing omits such formalities). By the time we are back on the road, it's 8 PM.


Fifteen minutes later we are in Taraz. The driver dumps me by the side of the road and demands four times the agreed price because of the long detour. Pissed off that he won't even take me to my hotel, I negotiate that down to double. I then get a taxi . When we arrive at the hotel, he won't give me any change because he had to detour a couple of blocks around a street festival. I snatch my money back, run into the hotel, and get the exact change. He suddenly seems grateful. What a bunch of wolves!


The English spoken by the desk clerk is the first I have heard since this morning. This is a swanky place, and I might stay more than one night.


I do. Eschewing watching the Gators getting whupped on TV by Tennessee at Florida Field (with Russian commentary), I spend a lazy Sunday taking in the few sights the city has to offer.


This place was called, until 1991, Zhambala. (So, was I on the road to Shambala?) All the commie statues are gone, replaced by guys with swords and funny hats. Last night the former Lenin Square was filled with fair-type stuff; this morning it is a farmers market, including guys selling loose hunks of meat from the trunks of their cars.

The museum is officially closed, but the guard eagerly accepts my "admission fee" and lets me wander around. It's the usual stuff. I find most interesting the exhibits on the days of the Czarist conquest and settlement of the region (in the mid-1800's) and the early Bolsheviks. Displays on scientific, cultural, educational, industrial, and sports achievements seem to date from waning days of the Kazakh SSR. Also on display are trinkets from Fresno, sister city of Taraz, including a cheesy proclamation from the mayor and city council of Clovis, California.


This was a Silk Road city, but, aside from a couple of mausoleums, there is nothing old. Not much happened between the time when the town was leveled by Genghis Khan and when it was built up by the Soviets. My overall impression is that this is a clean, pleasant, normal place. There's money here, but also widespread decay. There seems to be parallel economies: fancy stores and high prices for the rich and foreigners, many steps below for everyone else.

On to Shymkent, principal city of southern Kazakhstan and a three hour bus ride away. With a population of half a million, it's a modern, prosperous place. From here, it's only a hop and a skip to Tashkent in Uzbekistan, but for that I would need a visa to cross, plus I've already been.


I am staying in a soviet pile that has been renovated into a 3 star hotel, though the unrenovated (and closed) section gives a glimpse of the horror that was. I pay extra for a "superior" room, but "superior" apparently does not include bed linen. Also, they weren't able to do anything about the 22" wide elevator doors.


There is a smallish museum here, mostly ethnographic stuff and some interesting old photographs. Boy, did they have great hats! Upstairs contains good bits of Soviet memorabilia -- I like the early model TV and a later, "portable" one.

I locate the unmarked rail ticket booking office, where my non-existent Russian is good enough to purchase a first-class ticket to Almaty two days hence. (It helps that the clerk isn't completely hateful.) A minor sticking point is understanding that she needs my patronymic, an item not appearing on my passport. Problem resolved, I walk away with a ticket issued to Ronald Rudolfovich (in Cyrillic, of course.).


Not much else to do but wander about. No wonder everyone likes America -- we send them our best: the Shymkent Theater is showing the Russian-dubbed version of "I Now Pronounce You Chuck and Larry."

On to Turkistan, which is as far west as I am going. Kazakhstan is enormous, larger than western Europe, and I am only covering a little sliver of the south. Not too much further up the line is the Baikanur Cosmodrome, the Russian Cape Canaveral.


It costs me twice as much for the taxi to the bus station as it does for the 100 mile, two hour ride to Turkistan. I hope that this is the end of bouncing along bumpy roads for this trip. It should be rail and air from here on out.


Turkistan is home to the finest ancient building in Kazakhstan, a mausoleum built by Tamerlane for some Sufi poet. As the bus approaches and it comes into view, I am both excited and disappointed. Damnit, the main dome is covered with temporary wooden scaffolding!

My hotel is adjacent to and overlooking the mausoleum. The $30 superior room is not available, so I take the $25 standard one. This is only a 2 star establishment, but I can't tell much difference. They may be lacking the doorman, but, hey, at least I have bed sheets!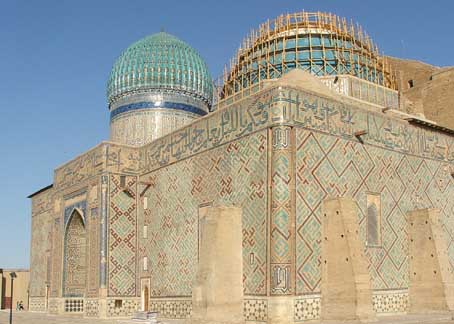 There are 3 hotels a stone's throw of each other, but I think I am the only tourist in town. In fact, I haven't seen another tourist since the Chinese border. Maybe they like to come in the summer when temperature hits 140. The visitors to the mausoleum are all Muslim pilgrims. Besides the tomb, the inside features a 2 ton bronze urn, a gift from Mr. T. Across from the main entrance is a line of shops selling Muslim trinkets, but no normal souvenirs, not even a postcard.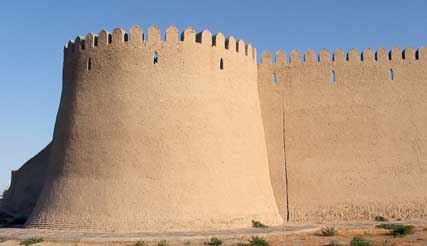 The mausoleum is the only attraction in Turkistan; nonetheless it's a pleasant-enough place. My plan to spend the time between checkout and my evening train are stymied when the city's internet connection fails.

On the platform at the train station are dozens of kiosks selling that indispensable item for Russian train travel: big bottles of vodka. The logo of the Kazakh railways features the sleek nose of a bullet train, but what actually pulls in is a creaking Soviet hulk. Good thing the sun is going down, because there is no a/c, not even in first class.


The mileposts along the track still show the distance to Moscow, from which the rail system radiates. Tashkent (Uzbekistan), Bishkek (Kyrgyzstan), and Almaty (Kazakhstan) all have direct train service to Moscow, but not to each other.


The 18 hours to Almaty go by in a flash. My compartment-mate doesn't speak a word of English, which is fine by me. Adhering to the sartorial rules of the rail, he changes into a track suit for the duration.


It's overcast when we arrive at midday, the first clouds I have seen since Xian. This place has a very Russian/European look -- it could be Minsk or Pinsk or Pskov with a slight Asiatic tinge. (Very slight -- the urban population was about 80% Russian, and still is about half.) European prices too: everything is at least twice as expensive as I have encountered thus far.

My hotel is an unreconstructed Soviet pile that hilariously sports 2 stars. (It also displays the "Best Eastern" brand.) It features the same standards of workmanship and design as did my flat in Bishkek: pipes and wires running on the outside of the walls; no right angles; tiles set by drunkards, etc. There's no a/c; it's OK now, but this place must be a furnace in summer. The hotel is almost empty, yet the reception gal is too busy to check me in. "Come back later.") At least the key lady, who must have the one of the world's most boring jobs, is pleasant. I belatedly learn that the women gathered in front of the hotel are offering apartments for short-term rent.
This is by no means the worst place I've every stayed, but it's the most I have ever had to pay, $65, for a dump. But hey, I see that this is where the Explore groups stay. I could be traveling with them and paying $150 a day to SHARE one of these rooms.


Good news and bad news. I obtain a train ticket out for Saturday night, which means I will be on schedule. If the train were sold out (it often is), it would cost me $640 for a one-way plane ticket to Urumqi, an hour and forty minute flight. The bad news is that first class is sold out.


I awake to a bright, sunny day. It's in the 70's, perfect Fall weather. I proceed to the dining room for the included breakfast. To reach it one has to go down a long corridor past the kitchen and scullery areas.


Almaty used to be Alma-Ata, capital of the Kazakh SSR. The seat of government has been moved to the new city of Astana in the center of the country, but Almaty remains the commercial capital. It features tree-lined streets, fountains, pocket parks, and public buildings in classic soviet monumental style. Typical of soviet urban planning, buildings are sited without regard for commercial potential. Major thoroughfares in the center of the city are lined by dingy apartments projects. The face of Almaty is changing as expensive boutiques are literally drilled into existing structures, and whole blocks are being demolished for modern retail, office, and residential developments.
The communist past is also disappearing. The hammers and sickles have largely been removed. The street names have been changed: Karl Marx, Soviet, October, and Komsomol Blvds. now bear the names of Kazakh poets and the like.


I have the full day to wander around. The Central State Museum is largely empty, many of the displays in the Central State Museum having been moved to Astana. I locate the former NKVD/KGB headquarters that is supposed to house the Museum of Repression, but the museum is closed, purportedly for renovation.


This is a one-day place, but I need to amuse myself for a second day because my train doesn't leave until tonight. Good thing the internet is on tap. I catch up on my reading and plan the balance of my trip.


A cold front is coming through, and the weather turns foul as I make my way to the station. In contrast to Chinese trains, which seem to stretch on forever, this one is short, nine cars. My compartment mates are a Chinese businessman and two Kazakhs, one Russian and one of Korean ancestry. Since the Chinese guy doesn't know Russian and the Korean guy doesn't know Chinese, the default language for communication is English. There is no restaurant car, but these guys have brought enough food for a week.


We reach the border at 4 PM the second day. They need to change the bogies (wheel carriages) on the cars from Russian gauge to standard gauge, but on such a short train the task takes less than an hour. The crossing is scheduled for six hours, and they see no reason to get ahead of schedule. The rest of the time is spent sitting in our compartment while various officials mosey in and out. There's nowhere else to go, and it's cold and wet outside. The customs officer spends the better part of an hour with us practicing his English. He keeps saying that I look just like a movie star but he can't remember who. Finally, it comes to him: Nicholas Cage. Now, that's a first! When I produce my passport everyone agrees that the photo is a dead ringer for the actor. He calls over the other officials, who all concur. Amazing!

At 10 PM the train advances to the Chinese side, where we are greeted by music and everyone in full uniform lined up at attention on the platform and saluting. (It was exactly the same scene coming from Mongolia eight years ago.) An hour later they are done processing us and open the station to let people use the toilets (the toilets on the train have been locked for seven hours). Finally, we are ready to go but the locomotive has disappeared. At midnight another arrives, hooks up (the jolt wakes me up) and we proceed.


We arrive in Urumqi at 10 AM. The Chinese guy helps me buy the train tickets I will need to complete the trip, although only one of the two is available.


We are back in taxi heaven. In China, unlike the rest of central Asia, cabs are plentiful, cheap, and always metered. To my surprise, the Chinese guy hops in with me. Total service? No, he works in the building next door to my hotel. Que coincidence! The hotel is a welcome relief after two nights on the train, although the mattresses have been chiseled from granite and two elevators are not enough for a 24 story office tower cum hotel.

There's only one tourist attraction here, the Xinjiang Regional Museum. It's new large, and well-presented. It is most famous as the home of the "Loulan beauty," a 3800 year old mummy dug up nearby. What is notable is that she, along with the other denizens of her cemetery, is fair-haired and European in feature. On top of that, she is (was) a babe. I flout the no-photos rule and sneak a picture.

Xinjiang, like Yunnan in the southwest, is a trove of minority peoples, 47 by their count. Some have only a few thousand members; the largest, the Uighurs, number 8 million. (They are nominally in charge of this "autonomous region," the same deal as in Tibet.) The museum features a large ethnographic display. Lest the message be missed, they don't risk subtlety: "For a long time [the minorities] have been cooperated [sic] as one family to build and safeguard the borderland. Under the glory of the nationality policy of the Party, precious traditional cultures of various nationalities have received effective protection, inheritance and development." There is another section of the museum on the History of the Revolution in Xinjiang, but the displays there lack English captions.


I oversleep and dash to the airport for my morning flight. I make it on time, but all for naught because the flight is delayed by an hour and a half. The plane is packed, and most everyone is carrying their souvenirs of Urumqi: cowboy hats and large boxes of fresh grapes. The front has passed through, and it looks to be a nice Fall day. We fly 1500 miles east into the warm, polluted haze of Xian.


Between the delay, the hour drive into the city, finding and settling into the hotel, and obtaining my last, crucial train ticket, the day is shot. I had some concern about this last item because over a million people travel to Beijing for the National Day holiday and all trains were sold out when I tried to book in Urumqi. Knowing that there is usually greater availability in the originating city (rather than a remote) city, I go to the station to try my luck. With surprising ease, I get my first choice. Upon returning to my hotel via a different entrance, I notice that in the lobby but only visible from the street is a train ticket office. And to think that I just wasted 25? on two bus fares to the station!


The hotel is smack in the center of town right by the Bell Tower and right off the main shopping street. There is a Starbucks at the end of the block, and a noted Scottish restaurant next to that. I learn why my room in a 3* hotel only costs $22 -- it has no windows. Considering how noisy it is outside, that's not such a bad thing.

Boy, has this place grown up in the past 20 years! Congestion, highways, pollution, neon, and flash shopping malls made Xian another Beijing or Shanghai, only more compact. The Ming-era city walls concentrate the effect. Today is the Autumn Moon Festival, and everyone is out and about, including western tourists -- this place is crawling with 'em. At night the pollution haze thins just enough to make out the full moon.


In the morning I set out to see how the terra cotta warriors are faring. Last time we just drove up the covered pit and stared. A no-photos rule was strictly enforced. Next to the pit a small building displayed two bronze chariots. Now the site is at the center of a tourist megapolis. A huge parking lot and manifold entry gates suggest that the place is operating at maybe 15% of capacity, yet there are PLENTY of visitors already here. It's about a half-mile walk from the admission gate to the displays. The main pit has a new entry building, and permanent buildings have been erected over two other pits. There is a big marble museum that contains the same two chariots, plus some self-congratulatory displays.

There has been a lot more building, but not a lot more warrior assembly. (When they are unearthed, the figures are mostly broken into bits and need to be pieced together.) Less than 10% has been dug up thus far. At least now you can snap away to your camera's content. On the way out you take a different path that routes everyone through a half-mile gauntlet of souvenir vendors.
In the afternoon I try some sightseeing, although the purpose is largely defeated by the fifty yard visibility: the Big Wild Goose Pagoda is barely discernable through the smog. The Shaanxi History Museum is big and modern. More bronze pots. (Actually, I shouldn't be so disparaging because they have some nice stuff on display.)
The hotel cable system has 70 TV channels, all in Chinese. At least infomercials are understandable in any language. I like the magic underwear for women that shifts fat from one's belly and butt up into the bust line.
For unexciting reasons, I sleep in until checkout time at noon. It's a short walk to the Grand Mosque, which I don't recall visiting last time. It's pretty good. Then it starts to rain. Good thing I have already located an internet place.
The Z trains are the newest and most luxurious in China. There is one Z train from Xian, which I am taking to Beijing. The overnight journey takes eleven hours. Everything is top of the line, from individual video screens for each berth to complementary copies of the People's Railway Daily. The English-language logo indicates that this class of service is call the "Komi."


I have arrived at the right time of year. The persistent pollution haze has temporarily been washed away, and it is a cool, bright, clear, Fall day. The only item on my agenda today is the group meeting/pre-trip briefing for tomorrow's departure into The Land of The Eternal Kim.



PYONGYANG INTERMEZZO


Back in Beijing, 600 miles and seemingly 100 years apart. My train isn't until evening, so I have the day to kill. Because of the holiday and concomitant crowds, I eschew all tourist sites. Instead, I give the day to the ultimate time-waster, the internet. Also, I can't resist buying the complete box sets of The Sopranos (seasons 1-6) and Curb Your Enthusiasm (Seasons 1-5) for $40.


It's also eleven hours overnight to Shanghai. I'm on another Z train, so no complaints. If only my trans-Pacific flight could be so comfortable.


This time I stay at the Shanghai Astronautic Hotel. No capsules for rooms or Tang for breakfast -- it's adjacent to the Astronautic Building, a slightly-futuristic-looking high-rise. The only thing astronautic about the hotel is the photomural of a "Long March" rocket ship at liftoff. Also, this seems to be the bridal district -- lots of wedding shops nearby. (Not for me -- I'm buying a Kyrgyz wife.)


The day is so nice and the Bund and Nanjing Road so close that I wander down. Big mistake. It seems all of China is on vacation and in those venues. Now I am really glad that I didn't go to Suzhou today -- that is supposed to be a REALLY popular holiday destination. However, this is the first clear day I have ever experienced here, and get some nice photos of the skyline.

Flight home: long, boring, uncomfortable, uneventful.



Trip date Sep-Oct 2007.