Hong Kong to Shanghai

To get to Asia, there is no escaping the transpacific jaunt (unless you go around the other way). It's my fifth time in the past four years, and I think I'm getting used to it.
We arrive in Hong Kong late at night, and hop on the Airport Express, probably the best integrated airport to city mass transit system going.
Day 1 is a day of old favorites. Hong Kong is still hopping and happening, one of my favorite cities. I never cease to be amazed how millions of people are crammed into a tiny area yet everything is so efficient, orderly, and convenient, particular when you contrast it with other world megacities.
First stop, Victoria Peak. It's a pretty clear day, for Hong Kong, and we can see all the way to Kowloon. Usually, you are lucky to see as far as the Mid-Levels, much less Central and the Harbor. It's my fourth time there, and I've still yet to see it as clear as in the postcards. (They probably do it with Photoshop.) A visit to Aberdeen and Stanley rounds out the island tour and the day.
Day 2, time for something new. We head to Shantin in the New Territories to the monastery of 10,000 Buddhas. The guidebooks say that's an understatement, and there really are more than 13,000. I take their word for it.

Continuing the same theme, I decide it's time for a return visit to Lantau Island and the Big Buddha at Po Lin. He's still fine. What's new are signs warning that "fraudulent Buddhists," i.e., Falun Gong, will be arrested.
The monastery sits atop a mountain. As part of the complete experience we elect to do the "fun walk," which the signs show to be a 2.5 km loop returning to the monastery. It's a trick! There is no loop! After about 45 minutes going straight downhill we realize this, but at that point the choice is either to climb back the way we came or to keep going. Voting on the side of gravity, we choose the latter. We are descending the back side of the mountain, the side with no road. The path becomes considerably less defined. After another 45 minutes we come to a road and a bus stop. A couple of local buses later we end up at a large bus terminal near the airport and catch one directly back to Kowloon. Later on, we meet others who were similarly tricked, except they had started their "fun walk" BEFORE they had visited the monastery.
The consolation prize in all of this was that, by taking local buses instead of ones plying the tourist route, the cost of coming back was only half the price of going over.
Day 3, I declare to be culture day. We start out at the art museum which is featuring an exhibition of newly discovered Buddhist sculptures from the mainland. Very nice, but they remind me of Lenin statutes in the Soviet Union: all basically the same with only the most subtle variations. That's the morning. In the afternoon, it's the zoo and the botanical gardens. Their speciality: a comprehensive collection of gibbons and tamarinds.
It's Sunday, which means that the Filipino maids all have the day off. By the tens of thousands they gather in Central (downtown), visiting, shopping, picnicking and just hanging. Every street, square, plaza, park and sidewalk is covered with them. A stage has been erected on which some singer, who appears to be the Madonna of Manila, is performing. Truly a bizarre sight in that there is not a man or boy to be seen.
Hong Kong is still a shoppers paradise.

Shopping is everywhere as far as the eye can see.

When you turn on the TV, there are home shopping channels.

(Do they import their cheap crap from

the United States?)

To my untrained eye, there still appears to be more upscale shopping venues than upscale purchasers utilizing them.
Something new (or previously unnoticed): Okashi Land, a chain offering the full variety of Japanese snack foods and drinks. They have to be seen to be believed: tortoise jellies; grass carp skin congee; buffalo milk pudding; pig organ congee, squid balls; and Hello Kitty flavored everything -- there are hundreds of items, each more disgusting than the next.
That night we meet up with the group. Our tour operator is Intrepid, an Australian-based outfit. We have a full group of twelve (the maximum for Intrepid): six Ozzies, two Kiwis, one Brit (or POM, as they say), one Dane and two of USAns. Our leader is a Kiwi and there are two leaders-in-training (Canada, Oz).

Day 4. (which counts as Day 2 of the official tour). The Kowloon Canton Railway has a fast train to Guangzhou (Canton) that takes 55 minutes, but it goes to the wrong station. Due to permanent gridlock in Guangzhou, there would be no net time savings over taking a bus, which takes 3.5 hours. Leaving Hong Kong and entering the mainland involves immigration, customs, currency exhange, and all the formalities of a regular border crossing.
The main rail station in Guangzhou is a sea of humanity. There must be 5,000 people in the plaza out front. You are not allowed into the station until your train is ready to depart, so that where the visiting and waiting takes place. Like the maids in Central, it looks like they are camped out for the day.
The suffering begins. We are booked in hard sleeper class or, as I call it, prisoner class. There are no compartments, the beds are racks three to a tier, and there are no lighting controls or reading lights. The bunks are hard, short, narrow. There is not even enough room to sit up. Meanwhile, Chinese are luxuriating in soft sleeper class! The indignity of it! Intrepid believes it's more authentic to ride with the proletarian masses. I could do with a little less authenticity and a bit more comfort.
It's an overnight train to Guilan, from whence most of the tour boats down the Li river depart. You've seen the pictures: green covered limestone outcroppings along the river and amidst the rice paddies. Because it is so popular for tourists foreign and domestic, Guilan is overdeveloped and rather ugly these days. We don't stay there at all, but take a 1.5 hour bus ride to Yangshuo, in the center of the scenic zone.
Yangshuo is where tourists from Guilan get off the boat, do a bit of shopping, and then take a bus back. It's a great place to stay, super friendly. All signs, menus, etc., are in English, and everyone has adopted an easy to pronounce English name. The food is super good, and super cheap. It is the very start of the season, so there are just a handful of round eyes, or, as they call us, Big Noses. Later on in the season, I understand, the entire valley will be crawling with Big Noses.
For all these reasons, tourism is booming in Yangshuo. It has become backpacker central. There are four hotels under construction on the main drag leading to the river landing. Our place, Lisa's Hotel, is frantically undergoing renovation. Lisa's husband is the local party leader, and she has a lock on the market for Mao badges and Little Red Books, which Big Noses like to buy from commie-weary Chinese.
We get some bad news. Because the train schedules have changed, we are going to miss the dam tour (Three Gorges).
That afternoon, we go for a bike ride. We get the Chinese equivalent of a mountain bike, meaning it has gears, some of which work. We bounce and rattle our way through the countryside on some of the bumpiest, rockiest roads imaginable. As we pass through villages and encounter people on the road they all shout "hello," which is probably the only word they know in English. Everyone is incredibly friendly. They are delighted to have their picture taken. And it's genuine goodwill; it's not like they are going to get any money from us.
Our guide tells us that electricity came to the villages just a few years ago. Good for them I suppose, but bad for us in terms of photo ops. The power lines run along the roads, ruining the photo vistas. The weather, cool and overcast, is perfect for bike riding if not for photography. In the summer, it gets HOT. I suspect when it's 100+ degrees bike rides aren't so much fun.
Our destination is Moon Hill, a mezzaluna-shaped hole in one of the peaks. The viewpoint is reached via a long staircase cut into the side of the hill. Little old ladies selling bottled water follow us up all 826 steps. It works: we feel guilty enough to buy one each. Interestingly, the number of water ladies always equals the number of travelers.
They've got another racket going. Several of the water ladies have small notebooks, the first page of which bears neatly-printed handwriting: "I am collecting foreign notes and coins. Do you have any to add to my collection?" Within the notebook are pasted all sorts of worthless currency from completely obscure places, but conspicuously missing are a dollar bill, or Deutsche marks, or French francs, or Australian dollars, or any banknote of value. SURELY, we are to think, we can fill help the holes in her collection. The scam is clever, and probably works more often than you think.
Tired and bone shaken, we vote to return to Yangshuo via the paved road. There is very little motorized traffic, mostly odd little tractors which have tiny two-stroke engines connected by a rubber belt to the drive shaft. The kids are walking home from school, wearing uniforms and picture ID badges. What for? It's not like pictures will help you tell them apart.
That evening is cormorant fishing. We board a motorboat. Alongside us is a slender bamboo raft with a lantern mounted in front (to attract fish) and four black waterfowl. The birds are leashed to the raft and have a cord tied around their throats so they can't swallow the fish they catch. As the "fisherman" glides along encouraging the birds, they dive looking for fish. When they get one, he makes them cough it up into a basket. It's a traditional way of life, but I suspect they make their living performing for tourists. My suspicions are confirmed when I look in his basket at the end of the evening: eight tiny fish.
The next day, Day 6, is our boat trip down the Li. It has been raining all night, but stops before by breakfast. We get bicycles and load them on the boat. It resumes raining. We head down river through the scenic karst limestone formations. We don't see any other cruise boats running, but there are plenty docked at Yangshuo waiting for high season.
Along the way, we stop at a village. On the main street a man is preparing a canine carcass for butchering. Some people are upset. As for me, I figure that the chickens and cows we eat didn't commit suicide.
The boat ride ends about 12 miles downstream. It has stopped raining, so we bike back. The water buffalo and the kids we pass look suspiciously familiar. And I swear it's the same old man with the same pig as yesterday. I'm beginning to think they all come from central casting.
We get some good news: the dam tour is back on. Our transport will meet us at the train and take us directly to the dam site. That Lisa can get things done!
The third day in Yangshuo is a free day. I spend it wandering around, checking things out, and shopping. I drop into the Internet cafe. The N.Y. Times and Washington Post web sites are blocked. Luckily, I can still get through to the Drudge Report. The connection is slow, so I don't try to access the Naked News (www.nakednews.com "the only news worth watching").
The best action is happening in the market. Most of the food is still alive. In the back are caged dogs awaiting their culinary fate. Stick around and you can see how doggie dinners are prepared. (I hear that yellow ones taste best.) There is no dog pound in Yangshuo; if there were, all occupants would be immediately "adopted." It's on the restaurant menus, but no one in the group is willing to split a plate with me. I want to TRY it, not eat a whole pooch.
We take the sleeper train to Wuhan. It's another prison train. At least Dr. Zhivago got to stand up and walk around in his box car on the way to Siberia.
Wuhan is a mid-sized city (for China), 4 million. It's on the Yangtze, is the site of the first bridge spanning the river, and was a favorite hangout of Mao. They have built a modern four-lane divided, limited access highway to Yichang, site of the Three Gorges Dam project. Because we have to crawl through the Wuhan traffic to get to the highway, it still takes four hours. In Yichang, we transfer to a mini-bus.
The road to the dam site consists of tunnels and trestles cut through previously impassible terrain. The guide tells us that it cost three billion yuan, or about the price of the Gator Bowl improvement and the new federal courthouse, or the 9A extension and the I-95 interchange upgrade. They have got a LONG way to go before they can impress us with tales of extravagant public works spending.
The dam site is the largest construction project in the world. The water level will rise 70 meters when the coffer dam is complete in 2003 and an additional 40 meters when the project is complete in 2008. There will be a set of 5 enormous navigation locks. What's really cool is the boat elevator, which will take a 120 meter, 3,000 ton boat ride straight up, bypassing the locks and traversing the dam in 40 minutes rather than 3 hours.
The worldwide eco-wackos have been complaining bitterly about the dam project for years, but there are no dissenting words heard here. Everyone (that is, everyone who is allowed is speak) is predictably rhapsodic about it. A little "1984" newspeak: the small planted patch of greenery in front of the visitors center has been dubbed "Environmental Park."
Unfortunately, by the time we arrive at the dam site dusk is fast approaching. We are forced to spend 30 minutes in the visitors center looking at the model before being allowed to proceed to the observation point. Light or dark, it's hard to see anything anyway. The Yangtze valley is incredibly polluted. Nonetheless, VERY impressive.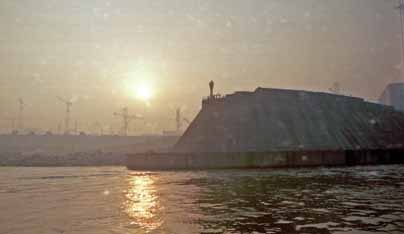 Yichang is a small city (for China), 700,000. It is just an overnight stop for us. The hotel is very nice. Two good things about China: foreigners are forbidden to stay in less than 3-star hotels (so Intrepid is stymied in its desire to have us live like peasants); and tipping is forbidden. It is nice to have people eager to offer a helping hand without an extended palm.

Day 9. Early departure to catch the 7:00 AM hydrofoil. Except for the new road to the dam site, there is no road along the Yangtze. The terrain is too rugged. The river is the road. The hydrofoil is Russian model of the same type used in Moscow and St. Petersburg. It's 2 hours upriver through the first gorge to Badong. There, we take a bus to a launch point for a ride down the Shennong River in "peapod boats," small, shallow wooden boats propelled by human power.
The Shennong is a pristine mountain stream which runs through a deep gorge with cliffs towering 1,500 ft. on either side. When we get stuck, as we frequently do, the help gets out and pushes. At the bottom, we see how the boats get back: they get out and tow them with ropes. Moreover, they bring passengers on the return route, so they are pulling like canal mules. But, as we have seen and will see further, in China human power is cheaper than animal power or machines.
Then, it's another hydrofoil for another 2 hours to the town of Fengjie, just outside the entrance to the third gorge. It's a moderate sized town (for China), 70,000. No other western tourists stop there, so people stare, and children point at us. Still, they all know the word "hello." The town is so unspoiled they don't even realize that they are supposed to overcharge tourists for everything. As provincial as it is, Fengjie is up to date in one respect: the video shops are selling pirated VCDs of movies that opened in the US just days ago.
It's a real Chinese/Third World city. It is filthy, and the streets are jammed. One thing noticeably different: very few kids. In poor countries there are normally zillions of kids everywhere. Fengjie is 3,000 years old. The city walls date from the Ming dynasty. The hotel looks like it was last cleaned about then. The restaurant looks like an orgy/food fight just ended. Not to worry?the river will be rising and wash it all away.
Fengjie is a doomed city. The reservoir created by the dam will flood 400 miles of shoreline and displace 1.5 million people. The riverbank towns are being dismantled and new ones being built higher up. The guides drone on and on about how benevolent and generous the government is in providing relocation assistance. And they have a point: the new towns may look drab and sterile, but the ones they replace are hideous wrecks lacking sewers, modern utilities, etc.
Day 10: we have a free morning in Fengjie. In the afternoon, we board a large, slow boat to go back down the river. The hydrofoil goes so fast and throws up so much spray that you can't really see anything. The point of the slow boat is to enjoy the scenery. We actually have cabins, so it's quite nice. It's a 10-hour journey through the gorges, passing doomed towns along the way.
The second and third gorges are spectacular. The shapes of the cliff tops are supposed to be various animals, but like gazing at celestial constellations, it takes a lot of imagination to see one.
The boat brings us back to Yichang. The big tourist cruise boats usually start in Chongquing (Chungking) and spend 3 days going to Yichang. By starting in Fengjie we see the good stuff all in one day.
Day 11 we head back to Wuhan. The countryside is in perpetual fog from the pollution. Strange sight: every mile or so along the highway a solitary figure in an orange vest is sweeping the roadbed with a straw broom.

Wuhan has a shiny new airport. Waiting on our flight, I lunch on "Oh!" brand "charcoal steak flavored peanut crackers" bought in the terminal; the taste is as described. We are booked on Wuhan Airlines. So what if it uses prop planes and has no frequent flyer program, they serve "Tasty Food" biscuits and give out "Welcome to Fly Wuhan Airline" CDs. When was the last time Delta or United gave you a CD?

We fly to Huangshan, one of the top five tourist destinations (for Chinese). At the airport, as usual, we are greeted by a mini-bus. We drive 1.5 hours up to the mountain and our resort hotel. As usual, the route is very scenic with postage stamp farms and terraced fields. But there is a difference: here the air is clear so you can actually see the scenery.

Huangshan means "yellow mountain," but it is not a single single mountain; it is actually a compact range of 72 peaks. I think they all have names, as do many of the rock formations. It, along with Guilan, is frequently depicted in Chinese landscape art.



There are three ways to the top: the long, hard way; the longer, harder way; and the cable car. Eleven of us prove to be wienies and ride the cable car. I am one of the four stalwarts who hoof it. Ten thousand steps (although I didn't count) cut into the side of the mountain. It's 7.5 km, which is supposed to take 3 hours. I do it in 2:08, which is 10 minutes behind the other three. For those whose flesh or spirit proves weak, sedan chairs are available for hire.



There is a steady stream of Chinese hikers too. In the summer it is mobbed. There are also many porters. There are hotels at the top, which have been built by and are serviced entirely with ant power. All along the path we pass porters carrying enormous loads of steel, cement and other materials for another hotel under construction.. One gang of about twenty is toting a heavy steel dynamo while chanting like Volga boatmen. What about the cable car? It's for paying customers only.

The weather is glorious. Crisp and cool, with blue skies, the first (and only) that we see in China. I start out wearing four layers, but with all that exercise I am down to a T-shirt well before the top, even though there is still ice about. There are great views and vistas. Too bad that there are loudspeakers mounted on trees blaring out the rules, one of which is "no smoking outside; smoking allowed indoors only."

| | |
| --- | --- |
| Once at the top, it is another 1.5 hour hike brings us to "Monkey Gazing at the Sea," a rock actually looks like its moniker. So does "The Tortoise." Recognition of the rest of the named formations escapes me. From the Monkey, it's 2.5 hours back to the other cable car (different route). After 8 straight hours of walking up and down, my legs are burning so I skip the 2+ hour walk down the mountain and avail myself of the Swiss technology. | |

China has abandoned the two-tier pricing system. Foreigners pay the same as locals for admissions. That makes prices reasonable to us, but astronomically expensive for them. It costs $10 to get on to the mountain and $7 each way on the cable car. When you compare that with their lower wage rates, it's worse than even Disney World. My guess is that the government is using the market to ration by price. All one billion Chinese would visit if they could, and since the mountain can't hold all of them they charge what the market will bear. Very capitalistic.

That night dinner is in the post office. Well, during the day it's the post office. At night, it's a restaurant.

We get chance to watch some Chinese TV. The English language programs are all propaganda. The news is all good news from China, bad news from anywhere else. Stories such as Communist party using modern technology to better serve all the people and resolve discrepancies. A Learn-to-Speak-English program has a subtext of horrors of life in U.S. (Irony: the background music for a "touring around Yunnan" travel promotion video is Neil Diamond's "America.") The commercials are a hoot: lots of transparent human figures showing the effect of various magic pills on different organs. My favorite is a kid taking a pill, his brain starts pulsing, then we see him a graduation cap and gown; the spot closes with a shot of the product in front of a bust of Einstein.


The next day, day 13, we go to visit the snow monkey sanctuary. They are uncaged, and come down to the visitors station for handouts. At $2.50 admission, only us Big Noses are inside. We walk through a small village (for China), 2,000. A fabulous lunch is served at a prix fixe of $1.25.




Day 14: it's time to leave. The weather has given up. It is cold and wet with visibility near zero. We spend all day crawling along on winding mountain roads or bouncing on terrible flatland roads. After a few hours there is a terrific clunking noise from beneath the bus. A shock absorber has broken. Not to worry. The driver crawls under the bus with a wrench, removes the offending part, and we continue our journey, only bouncier. Along most of the route we are paralleling a dual carriage motorway under construction. There is very little heavy equipment in evidence, and what there is has been imported. I conclude that there is no domestic construction equipment industry. It takes us all day to get to Hangzhou, just 191 km as the crow flies.

Along the way, we stop at some Ming Dynasty concrete arches, though they are really stone and only look like concrete. Singularly unimpressive, and, at $4.00 admission, they attract no Chinese visitors.



Day 15: a free day in Hangzhou. The city is built around a large artificial lake constructed 1,100 years ago during the Soong Dynasty when Hangzhou was the capital of China. Nowdays it is a popular destination for Chinese tourists and a convenient getaway from Shanghai. Most of the attractions are around the lake. Lots of parks and gardens. The first stop is the tomb of Yu Fei. Sucks. Then a BIG temple. Pretty good. At the aviary, called "Bird Paradise," there is a cockfighting stage.

The weather is overcast. A walk around the lake takes most of the day. In the afternoon, it starts to drizzle. The kids are getting out of school, and they are eager to practice their English on/with us, have their pictures taken, and take our pictures. Late in the afternoon, it starts raining for real, ending the day.



Day 16: we take the morning express train to Shanghai. Boy, has it changed in the last 12 years! It used to be big, crowded and decaying. Now it is bigger, somewhat less crowded, and new. After forty years of deliberate neglect, Shanghai has resumed its role as China's economic powerhouse. In terms of glitzy new buildings, high rises, and neon, it's looking like New York and Hong Kong. The Bund (waterfront) and the old city are still the same, but not quite as congested due to the enormous amount of new housing constructed. An entire new skyline has arisen across the river in the Pudong district. Lots of tourists, including the first Big Noses we have seen since Hong Kong (except for a couple of backpackers in Yangshuo). Unwelcome addition: beggars, lots of them. Formerly, there was nothing to buy, now it's shopping, shopping, and shopping. I make my purchase: a Chairman Mao watch on which his waving arm marks the seconds.



We are staying in the Nanjing Hotel. Its brochure, entitled "Promote Elegance of Old Restaurant Display Metropolitan Feelings," tells us that Shanghai is "infested with foreign adventurers stirring up charms and spangled with stars" where "you can hear majestic tune of Huangpu River in morning and enjoy cheerful amorous feelings of metropolis at night." In the hotel you can "enjoy delicious dainties and tender feeling or you can drink to your hearts content family get together are satisfied fully. The Multifunction Hall is a colorful world where you can sing songs or dance trippingly while you enjoy the delicious dainties." In the meeting room, "unlimited business opportunities are revealed to the fullest." In the guestrooms you can "nourish your spirit and store up vigor for getaway or several friends enjoy romantic fancy by the light of a candle." And I just thought that it was an ordinary hotel!


Day 17: time to go home. Shanghai has built a gigantic new international airport some 30 miles out of the city. Good thing taxis are cheap. Unexpected boon: if you can find the sole bank in the cavernous terminal and which doesn't open until AFTER the plane begins boarding, they will buy back your Chinese currency at a differential of only three-tenths of one percent from the buying rate.

Because we cross the Date Line, we get back the afternoon of the same day we leave.

For my next China trip I want to visit the west.