Bulgaria


It's frequent flier redemption time. Delta has two evening flights from Atlanta, so I can leave that evening to connect, right? Nope. Proving that there is no such thing a free ticket, I have to leave at 6 AM and fly to Boston by way of Atlanta. Once in Atlanta, I am supposed to wait for four and a half hours for the next flight, but I beat the system by hopping on one leaving in half an hour.
In Boston there is time for sightseeing so I head for Faneuil Hall and the Freedom Trail. Then I meet up with my playmate from nursery school, and we visit the Gardner Museum. Across the road, large banners at Boston Museum of Fine Arts announce their current exhibition, Treasures From The Bulgarian National Museum. How timely! I admire the exquisitely worked golden decorative objects dug up in Thrace.
Back to the airport for the overnight flight to Zurich on Swiss Air. Their great reputation can't come from the treatment of the proles in steerage.
Zurich has a small, shabby, overcrowded airport. Like the rest of Europe, it's all smokers all the time. Due to air traffic control problems,
i.e.,
the air war over the Balkans, all flights are running late. It's hard to find out one's flight status because code-sharing means that every flight is listed two or three times so the departure board can't display more than 50 minutes of flights.
Swissair is using regional jets for its Sofia service -- WAY too cramped for a two and a half hour flight. Another miserable experience.
Bulgaria requires visas for US citizens, supposedly obtainable at the airport. At arrivals there is a sign "visitor visa $71US." but here are only two windows open: "Bulgarian Nationals" (written in Cyrillic) and "EU only." I go through the EU line. Europeans don't have to pay for a visa, and neither do I. I still can't decide whether I saved $71 or merely avoided a $71 ripoff.
I am on an Explore tour. The meeting point is in the western suburbs of Sofia. As everyone who sees the address immediately notes, that's where the errant NATO missile landed a few weeks ago.
The hotel was built as a sanitarium for lung patients. Perhaps to ensure a larger customer base, the lobby shop offers a large selection of cigarettes. My room is enormous, with 20' ceilings from which hangs a wire terminating in a naked light bulb. The bathroom is big enough to play squash in and has marble fixtures but no towels. The doors to the balcony are double -- inner and outer -- both hinged inwards so neither can open. The TV does have a remote control, which lets me flip back and forth between BOTH channels on offer: a Mexican soap opera and a Bulgarian version ofWheel of Fortune (grand prize: vacuum cleaner).
Dinner is good, and cheap. Veal $2.50. Afterwards the other nine members of the group arrive.
In the morning we head south on the main highway to Macedonia, which is jammed with supply convoys on their way to the refugee camps. We're going to Melnik, the smallest town in Bulgaria. It's wasn't always that way: a hundred years ago it had 30,000 inhabitants, mostly Greek. Ethnic cleansing took care of that. Now 400 people live in a virtual ghost town.
This is a hiking tour. Our first is an afternoon jaunt over the hills to a monastery. Overhead, we watch the jets flying to bomb Serbia and Kosovo. It's hot, and the trail is steep and narrow. A retired couple from Wales decide that for the rest of the trip they will stay with the bus and meet us at the destinations. .
Melnik is the center of the Bulgarian wine industry. That evening, we have a "tasting," which means first we taste, then down seven bottles. Overnight is at a village inn.
The next day we head back north to the Pirin Mountains for our first hike at altitude. We stop at a village to pick up our mountain guide and his rescue dog. It's afternoon by the time we get there, so we get a head start by taking the chairlift up the ski slope to the starting point. Although it's May, there's still snow, and I'm in my sneakers with ankle socks!
The hike is supposed to last 9 hours, but the pass is blocked by snow so we take a shorter version and get done in eight. Along the way we enjoy the beautiful alpine scenery, with vast carpets of purple crocuses (croci?) blooming in the wake of the receding snow. We cross snowfields to reach a lake for lunch, then it's five long hours back. Most of the day is at altitude above the treeline, and we all get nice sunburns. We spend the night in a village house.
Another day, another mountain range. This time, it's the Rila Mountains. We drive all morning and pick up a new mountain guide, this one a dead ringer for Charles Manson. We've been told to put our overnight gear in our knapsacks because we won't see our luggage until the following night. We arrive in early afternoon, say goodbye to the bus, and start uphill.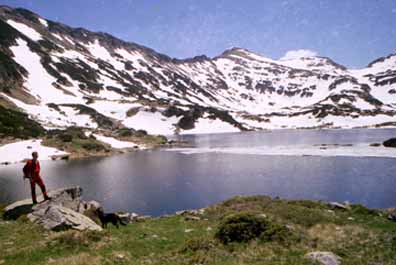 It takes about two hours reach the mountain shelter/ There is still plenty of daylight so we take a 2 1/2 hour hike to a waterfall and practice our rock climbing skills.
By dinner hour it's freezing! My thermometer reads 45° indoors! The shelter has plumbing and electricity, but no heat or hot water. There is no fireplace. My teeth are chattering! We are served food may once have been hot but is now room temperature,
i.e.
, 45°. After dinner, the caretaker fires up a wood stove in a nearby shed. We huddle around until bedtime, too cold to make conversation. Luckily, plenty of blankets are provided.
No one opts for a morning shower (big surprise). After a cold breakfast we resume our upward trek. After a short while we emerge above the treeline. The combination of a blazing sun and physical exertion makes it hot!
It's a long but scenic hike. The meadows are a carpet of flowers. Many alpine lakes. Right after lunch we crest the final ridge. After that, the next five hours is pretty much level or downhill. The path is, at times, treacherous. Every now and then as we pass memorials to climbers who fell to their deaths we are cautioned to be careful. No reminders necessary! After burning in the sun all day we look forward to entering the forest canopy. It's cooler, but the path along a steep, narrow ridge is covered slippery fallen leaves. After 10 hours we emerge at Rila monastery, where our driver is waiting for us with cold drinks. My altimeter watch tells me we have descended 4700 feet.
After a night in a hotel, we visit the monastery, built in the 9th century and spiritual center of the country during 500 years of Turkish occupation. As the overly long but devoted guide informs us, it is "the beating heart of Bulgaria."
That afternoon we drive to Borovets, also in the Rila Mountains, which a major ski resort. For a change, we get a nice hotel.

OK, this is It, The Big One. Mussala Peak, 9600 ft, is the highest mountain in the Balkan Peninsula. The itinerary calls for scaling it and going down other side to spend the night in another mountain hut, but the path is blocked by late-season snow so we will be spending a second night at the hotel. No complaints about that, but it means that we will have to do the full trip in one day.
We get a head start from a 6-wheel drive dump truck which takes us up the ski slope, saving us 3 hours. We ride in the cargo bed, bouncing around like loose gravel.
We hike for hours, crossing snow, meadows, and rocks, but the mountain doesn't seem to get any closer. Then, all of a sudden, it's right there! And straight up! We bundle up, 'cause now we are unprotected from the strong winds. And it is cold!
We begin on the summer path, but the snow is too deep and the sideslope too steep. We switch to the winter path, where strong winds keep the snow from accumulating on the boulders. With the aid of climbing ropes have helpfully been installed, we make it to the top. Out guide has brought a bottle of champagne to celebrate (well, so we can celebrate; he's been up there at least 50 times). The view is spectacular. It's cold and windy, yet a chocolate bar left in the sun melts immediately.
It's a LONG hike down. We have to keep changing our route to avoid water from melting snow. Eleven and a half hours after starting out, we're back. I think I'll have my sneakers bronzed.
That night I awake about 2 AM and see flashes out the window. The balcony faces west towards the nearby Serbian border. It sort of looks like an electrical storm, but the night is clear. I realize that I am watching the NATO bombing campaign.
As a consolation prize for not getting to spend the night on the mountain, we hike up to one of the former royal hunting lodges. The commies gave it to the writers union (and stopped maintaining it). It not open to the public, but the guards aren't't there so a caretaker lets us have a look around.
That was the final hike. It's straight tourism here on out.
That afternoon we visit anther royal hunting large. This was used by party officials, and now by the present government, so it's in good condition.
Afterwards, we drive to Plovdiv, the second largest city in Bulgaria. The first thing I notice is that all the girls are dressed like hookers. The fashion police are apparently enforcing rigid rules: no dresses more than 4" below the crotch (with an exception for pants applied with a spray gun), and no heels less than 3". Luckily, the girls are all as skinny as runway models so they look pretty good.
Plodiv dominates the Thracian plain. Philip of Macedon conquered its hilltop citadel and built a major city. The Romans followed. Extensive Roman ruins have been unearthed and reconstructed. But for an historical accident late last century Plovdiv would have been the capital, but was instead bypassed for Sofia, leaving it quaint for tourists. We have a day for sightseeing.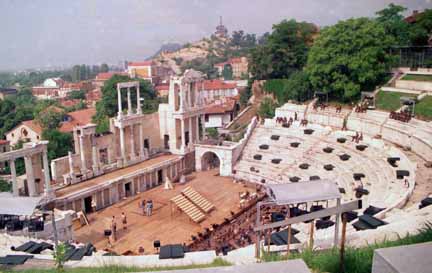 On our last day we drive straight to Sofia airport for the rest of the group to mek its flight. My plane isn't until the afternoon, so I have a look-round the city. Four hours is plenty. There are a couple of pretty churches, some cool commie leftover stuff, and an imposing, stalinesque party building. The museum kind of boring since the best stuff is back in Boston.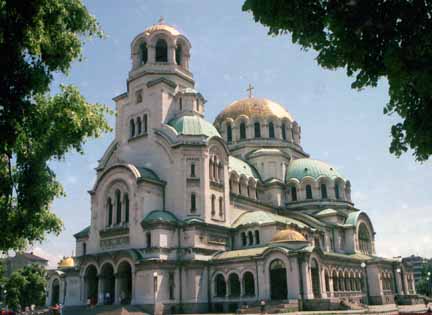 Back to Zurich, where I have to spend the night. I change $20 at the airport and get 24 francs. It costs 14 francs for the shuttle bus to my prepaid hotel. It's 8 PM and raining, so I nix evening sightseeing. It will cost me 5.40 francs for the public bus back to the airport so I have just enough to buy a coke and a chocolate bar.
I leave in the morning and don't get home 'til midnight.
OVERALL IMPRESSIONS
PEOPLE are super nice. They love us. And not just our money.
Due to regional unpleasantries, foreign tourism, never very big, has collapsed. We didn't see any other foreigners until Plovdiv. This was the first trip of the year for Explore (the British tour operator). It was some sort of holiday week (Whitsuntide), and our group had ten of sixteen places filled. The next four trips have been canceled. No good reason. Bulgaria's safe. Plus, they're on our side - they been to war with Serbia three times so far this century.
Our image of Bulgarians is stolid and unglamorous. Not true, they are nice looking, especially the girls. Didn't see one fat chick or fat kid. Strange in some respects: photography studio window displays have little kids all posed wearing sunglasses with a cell phone in one hand and a cigarette in the other. And they love their noise! Bulgo-Western pop blasting in all places at all hours.
FOOD is edible, but not much better. There is a reason that major cities around the globe don't all have Bulgarian restaurants.
PRICES. After a period of hyperinflation the currency has been pegged to the German mark. The printed price of 6/10th of lev on my museum ticket was crossed out and 5000 lev hand written.
There is a two-tier price system for foreigners and locals. The upper tier is reasonable, but the lower tier is dirt cheap. A typical wage is $150/mo. The bus ride from Sofia to the airport cost me 15¢. Food and accommodation is equivalent, except if you have to ask in English you pay 10 or 20 times as much.
BOTTOM LINE: Good trip. Friendly, scenic place. Unjustifiedly overlooked by tourists. I'd recommend it.
Trip date: June 1999