There are two countries left in Asia (excluding Arabia) that I have yet to visit. With this trip, it's a wrap. Have I saved the best for last? You be the judge.
Part I – Bangladesh
As you might guess, there are no direct flights from North America (or Europe, for that matter). The first leg is courtesy of Etihad and their $79 flash/mistake fare last Christmas Day. That gets me to Abu Dhabi. The second leg is from Dubai (where I need to connect next week), so I share a taxi to for the 80 mile trip and an overnight stay.
Air service from the Gulf States to Bangladesh is limited to budget carriers since the passenger traffic is almost exclusively contract laborers. I am on Fly Dubai, which operates out of the old, crummy terminal at DXB. If you've ever flown into Dubai and been impressed, you haven't been to Terminal 2 (Terminal 3 is Emirates and Terminal 1 serves the other major airlines). Luckily, it's only 15 minutes from my hotel and I have no need to arrive early.
The flight to Dhaka is packed. There appears to be no women pax aboard, and I am definitely the only white guy. It's a 5 hour flight, but tolerable – better than, say, Delta from Atlanta to Denver.
Even the low-cost carriers offer a 40 kg checked baggage allowance, which the Banglas returning laden with gifts utilize to full extent plus giant shopping bags of carry-on duty-free items. (In contrast, those in line in Dhaka for the return flight are carrying nothing except perhaps a snack.)
I don't have a visa; visas on arrival are available for US tourists (should there be any besides me) at the discretion of the duty officer. The US State Dept website strongly urges obtaining one in advance but, c'mon, this is adventure travel. I was right and they were wrong: at the airport I get the full sahib treatment and am ushered through the VIP line.
No VIP treatment outside though: it's a typical turd-world madhouse with everyone grabbing at me and trying to get some business or money. I look around for a taxi, but there is nothing so formal. I finally find guy in uniform who speaks English (sort of), who gives the word to someone else, who calls someone else, and a few minutes later a decrepit vehicle is allowed through the security cordon. After negotiations over price, I agree to pay almost $4 for what turns out to be about a 1 mile ride.
One thing in favor of this country is that it's CHEAP. A very nice room in a new, three-star hotel is less than $40/night. Downstairs is the George's Cafe, boasting "New York styled cooking" ("from the kitchens of New York to the bamboozle of Dhaka") where they serve a passable imitation of a hamburger.
I arrive Thursday evening. I arrange with the hotel to hire a car and driver for the next day for a tour of the city.
We start out bright and early. It's Friday morning, and, this being a Muslim country, the streets are almost free of traffic: it takes barely 20 minutes to cover the five miles to the heart of the city.
The first stop is the Sadarghat, the ferry port on the Buriganaga ("Old Ganges") River. It's normally teeming, but right now is quiet. A small crowd is gathered in front of a television cheering lustily as the national cricket team is playing on some foreign field. I hire a boat to row me across the river to the ship repair and shipbreaking yards. No safety Nazis here: you are free to wend your way around piles of machinery and roam through the showers of welders' sparks.
Sights in the city are not exactly thick on the ground. There is a still-active 18th century Armenian church with an interesting graveyard – one tough old codger made it to 108, a sharp contrast to the typical premature demise of Europeans in this tropical clime. At Lalibagh Fort, a 17th century Mughal relic. I encounter a couple of Americans working in Dhaka who are amazed to meet an American tourist, the first they've seen.
The Liberation War Museum is a disappointment: clippings and photos from the 1971 secession from Pakistan, but few artifacts. The only thing I find interesting is their spin on the military conflict: the way they tell it, a spontaneous uprising drove out the overlords and their occupying army, with a minor assist from the Indian army; in reality, the armed resistance was ineffectual until India declared war, invaded, and overran the Pakistani military in a matter of days.
A bit of history: Dacca (old spelling of Dhaka) was the principal city of the Bengal region. In the 18th century a British East India Company force defeated the local rulers. The British established a new city at Calcutta and Dacca, although populous, faded to secondary status. Along with the rest of India, Bengal was partitioned in 1947: Hindu West Bengal remained with India and Muslim East Bengal became East Pakistan with Dacca as its the capital. The arrangement did not work at all, with the eastern half entirely subordinate to the larger West Pakistan. East Pakistan declared independence in 1971 and became Bangladesh. (West Pakistan continued as "Pakistan.")
Ahsan Manzil, a/k/a "The Pink Palace", is the former residence of the Nawab of Dacca. It is now restored and open as a museum. The building is quite impressive; the contents, not so much. All representational art is obviously Hindu in origin (Muslim consider it idolatry), yet not labeled as such. Other tags are laughable: a terracotta man on a motorcycle is dated "19th century". And how's this for spelling: "toeing" (toe ring), coatch? Beyond the labeling, the items exhibit a low level of skill and craftsmanship, stuff you would expect to find in a flea-market.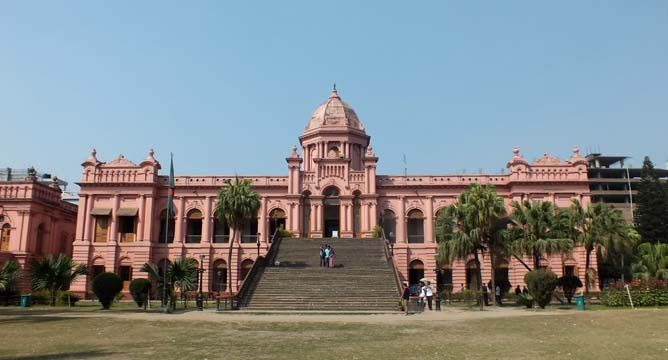 There are a few nice buildings dating from the Raj, notably the former mansion of the governor of East Bengal and Assam (now part of the High Court) and Curzon Hall at the University
.
I take dinner again at the hotel. There are several restaurant offering Chinese/Thai cuisine nearby, but they are closed on Fridays (something real Chinese would never do). I find that odd because the largest contingent in my hotel seems to be Chinese businessmen.
The next day I hire a car, driver, and guide to take me to Sonargaon about 15 miles, and, traffic being back to normal, almost two hours away. One of the oldest capitals of the former Bengal Sultanate, it has a variety of ruins from the 12th to the 20th centuries. The older stuff is mostly gone, but the town abandoned after partition when its Hindu residents fled to India looks and feels like a post-apocalyptic movie set.
Much of the area is a park. Within are various concessions that remind me of ruble shops in the Soviet Union: my pockets are bursting with takkas to spend but there is nothing to eat and nothing to buy in the shops but a slim selection of dreck.
The drive back to Dhaka takes even longer. Traffic is horrific and completely chaotic. It's like bumper cars: trucks and buses are completely banged up from constant sideswiping and scraping – when it happens, no one stops or even looks. In addition, Dhaka has a half-million tricycle rickshaws and tens of thousands of "CNGs", caged, motorized tricycle scooter-taxis fueled by compressed natural gas.
I've got two more days. I inquire about visiting Siliguri in the hill country but am advised the security situation (i.e., political turmoil and roadblocks) makes the attempt inadvisable. I investigate flying to Cox's Bazaar, a resort area boasting the longest beach in the world, but inconvenient airline schedules render that option undesirable. The guide who took me to Sonargaon offers to accompany me gratis for a ferry jaunt– he is doing it just for the experience of working with a western tourist (in the unlikely event that he gets another) – so I take him up on that.
The trip to Sadarghat during regular workday traffic takes well over an hour. The ferry terminal is a beehive of activity as dozens of huge ferries load and discharge tens of thousands of passengers daily. The schedules and signs are all in Bengali (a squiggle-script language) with not a bit of English seen or heard. The ferries go everywhere in this riverine country, but we are not going far and the one we board is quite modest in size.
As we head downriver, there is plenty to see on the near bank, the far bank, and the river in between. The shipyards and shipbreakers are going full tilt, and there is a constrant stream of boat traffic of every size and type and in every direction.
Beyond the city the skyline is dominated by the tall chimneys of brickyards. An antlike stream of workers carry the finished bricks from the kilns to waiting boats. Where human labor is in limitless supply, it makes no sense to invest in machinery.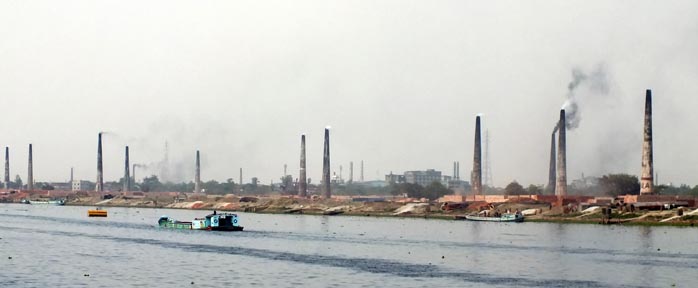 After about and hour and a half we disembark at a small village with rows of small workshops reusing wood salvaged by the shipbreakers. Loose planks are carefully planed and joined into wooden slabs that are then hand carved into furniture.
How to get back? There will not be another ferry for hours, yet people gather on the dock for no apparent purpose. Then an elongated rowboat with a car engine mounted on a frame and a long-shaft propeller (like a Thai long-tail) appears. We board and head out into the river. Surely we are not taking this contraption all the way back to Dhaka! We speed up. Soon, the plan is apparent: we are on an intercept course with a giant, overnight ferry heading upstream at full cruising speed. We pull along side mid-river, ropes are thrown to lash us to the ferry, and we leap aboard; the moment the last passenger alights the ropes come off and the smaller boat disappears like a cigarette butt tossed from a speeding car.
On board there are multiple decks but no seats, only open spaces packed with passengers camped out on blankets. Most have been traveling since yesterday. As the only white guy on board, I am offered a cabin, but decline. It takes but thirty minutes to get back to Sadarghat.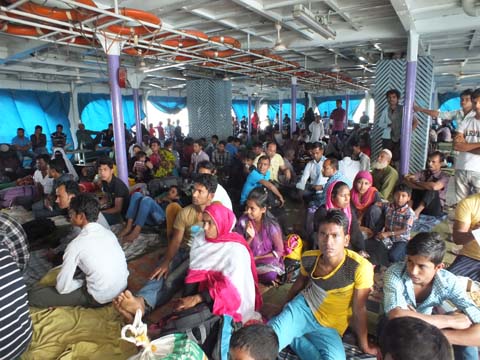 On the last day I decide to just chill – quite literally: this a blistering hot climate so I mostly hunker down and enjoy the AC in my hotel room. At the airport I again enjoy the Sahib treatment, bypassing the long lines and documents checks. On the plane back to Dubai, I am seated next to the other white guy, an American starting a food products company about a hundred miles from Dhaka. (It took him five hours to get to the airport.) It's an uneventful flight discharging to the scrum of Dubai Terminal 2 where I have a four-hour wait for my next flight.
To be continued . . .