| | | | |
| --- | --- | --- | --- |
| | | | |

On the way back we visit the crocodile farm.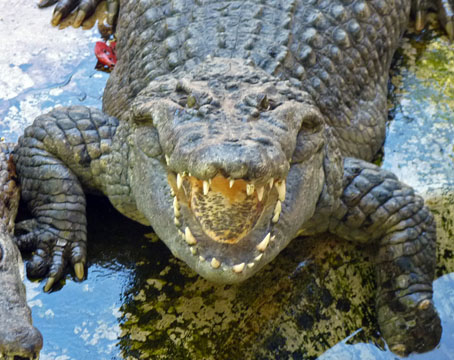 During the Japanese occupation the old Spanish fort was the site of the infamous Palawan Massacre: in December 1944 about 150 American survivors from the Bataan Death March were burned alive to prevent them from being liberated by the advancing American forces. The event precipitated raids on POW camps across the Pacific to prevent a recurrence. The Japs responsible were tried as war criminals and sentenced to death, but later released as part of a general amnesty.

The next day is a day of swimming and snorkeling, island hopping in Honda Bay. This is what the tourist board wants you to think of when you think Philippines.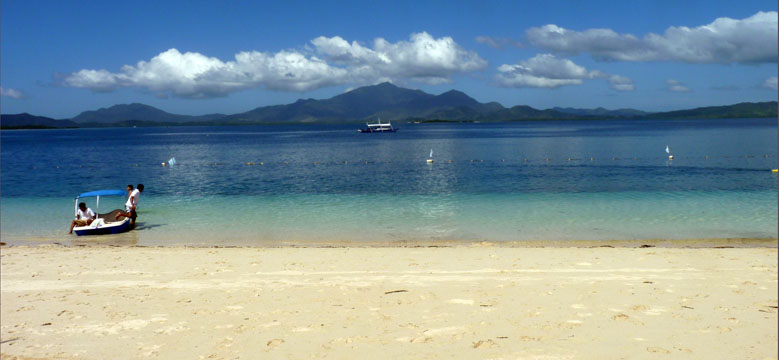 That's it, it's been eight days. We are out of time. It's back to Manila: I'm off to Vietnam and Lorne's heading to Palau in Micronesia. The verdict: as a tourist destination, the Philippines pale in comparison to the rest of Southeast Asia. It's fairly homogenous in geography and culture; the neighboring countries are more varied and exotic. It's not that it's bad here, but it's better elsewhere.
Part 2, back by popular demand: Vietnam
Well, enough touristic trailblazing; the second part of this December trip is a return to the beaten path. Just two years ago I was in Vietnam for the third time, but the living is comfortable, easy, and cheap, and the food is good.

A direct flight from Manila lands me in Hanoi late at night, where I find the hotel I reserved closed. No worry, this is the tourist district and another similar hostelry is right next door. After a delicious breakfast (in the Philippines, one is lucky to encounter even one type for fruit at the breakfast buffet) I have the day to kill before Linda arrives tonight.
| | |
| --- | --- |
| I'm always keeping an eye out for art deco relics | or maybe a wedding |
One thing I do is cruise shopping. As I learned on my previous two trips there, December is not the best weather for visiting Ha Long Bay, but it's still a nice excursion. There are many, many boats and operators, each with an attractive brochure, and a zillion travel agencies. I finally select one at what seems to be a favorable price for a two night luxury cruise.

Having fetched Linda, we spend the day walking around. Old news to me, but a first for her. The city is festooned with banners, posters, and displays marking the 40th anniversary of the 1972 bombing campaign in which around-the-clock raid by B-52s and the mining of Haiphong harbor forced North Vietnam back to the negotiating table and led to the end of the American phase of the war. Except here it is celebrated as a great victory, the "Dien Ben Phu of the Air." I realize that I was first here exactly fifteen years ago when the 25th anniversary was commemorated. Except back then it was not ancient history and people cared: two-thirds of the population was born since "reunification" (i.e., conquest of the South by the North). It is now clear who won: apart from the corrupt mafia government which hides behind a veneer of communist ideology, capitalism rules and the people want to be like us; the hoardings are an ossified regime's claim to legitimacy.

The fruits of the supposedly-defeated ideology have permitted the preservation of many handsome French colonial-era buildings, often now repurposed as embassies. The commie stuff is still around, but Lenin is looking lonely and the pickled-in-glass Ho Chi Minh has very limited visiting hours.

For the Ha Long Bay trip we are supposed to get picked up at our hotel. Van after van bearing the names of various tour companies come by, but not for us. Finally, after everyone else waiting has gone, a lone guy shows up. He takes us in a taxi to an aged bus full of backpackers and Vietnamese tourists. Not a good sign, but I figure a budget transfer is part of the deal.

The road to the coast has improved but the traffic makes up for it, so the ride still takes three hours. When we arrive, we are escorted to a decrepit scow. Based on past experience, I thought it was merely a transfer vessel to the boat I booked. It was only after we are under way and served a miserable lunch do I realize that they have no intention of taking us to another boat: we are supposed to spend two days on this wreck! No way! Good thing I have a phone, because I am letting the tour agency know my displeasure and demanding the situation be rectified; they tell me that I can change itinerary and spend the night in a three star hotel on Cat Ba island.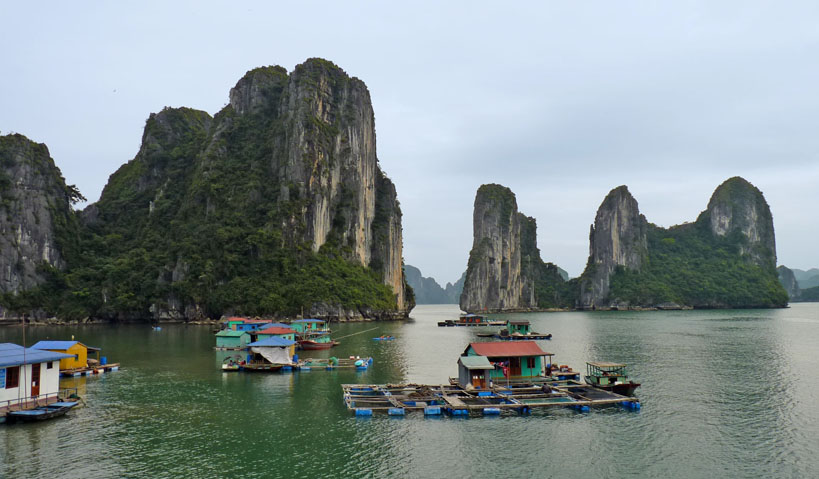 To make a long story short, we do not reach the hotel until well after dark, and it turns out to be a $5/night dive. No way! We walk out and find a nice hotel (a real three star place) on the seafront in Cat Ba town.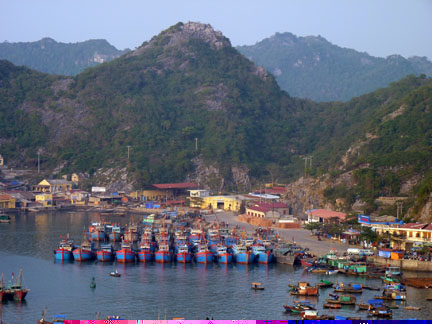 The next day we hire a small boat to take us around the very scenic islets in a part of the bay outside the tourist route. At one we rent bicycles and ride into a small village for lunch. Making lemons out of lemonade.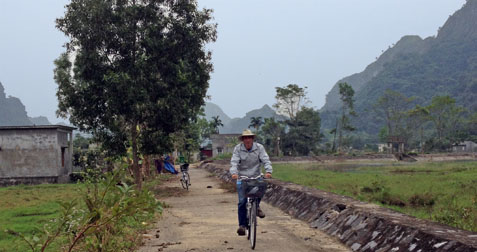 This is my third time in Ha Long, each time in December. The postcard photos you see are taken in the Fall when the weather is clear; this time of year tends to be cloudy, foggy and hazy. Atmospheric, but less than photogenic.

Instead of two nights on a boat we spend two nights in the hotel on Cat Ba. On the last morning, the skies clear for a moment and I get a good shot of Cat Bar harbor and beyond.

A hydrofoil only takes 45 minutes to bring us to Haiphong, from where we catch a bus back to Hanoi. I have booked a sleeper train to Hue, but first stop at the tour company to demand a refund for the undelivered cruise. They knew I was coming, and were so cowed that the girl I booked with was afraid to come in to work: the guy there said the manager told him to man the desk and that when I come in to give me back my money.

The train ride was as expected: the kyup/soft sleeper/4-berth compartment common to soviet-modeled railways. The trip to Hue takes a manageable 14 hours, less than half the time for required for the full ride to Saigon. We arrive mid-morning.

Hue is the former capital. At its heart is a walled complex (2.5 miles around) containing the imperial city. It's much less grandiose than, say, China's, and much of it was wrecked in the 1968 Tet offensive. I am surprised that the degree of restoration and reconstruction is not significantly greater than when I was last here fifteen years ago. What hasn't changed at all is the cosplay photo op. I replicate the identical shot taken in 1997, this time with consort.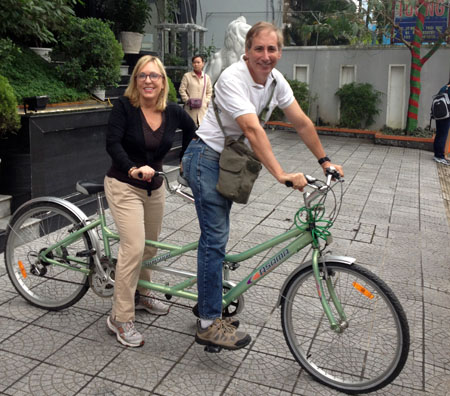 In the nearby environs are clusters of ancient royal tombs. The conventional way to reach them is by boat on the Perfume River or on an organized tour. To be different, we rent a tandem bicycle and pedal out. The excursion ends prematurely by torrential and unceasing rain.

Next stop, Hoi An. It was a charming small town settled by Chinese merchants; now it's a major tourist destination. A bus takes us from our Hue hotel directly to Hoi An. Boy, has this place grown up! The original core has been pedestrianized and the buildings converted to upscale shops and restaurant. New construction to accommodate the tourist hordes surrounds: on the streambank opposite is a parallel fake town cum shopping mall.

Though touristic, Hoi An is still photogenic.

We take a day room to allow a freshen-up before our late-evening flight to Saigon.

Saigon is the showcase of modern Vietnam. Modern skyscrapers and glitzy malls complement the restored French-built landmarks such as the post office, cathedral, opera house, and city hall. New hotels open daily. There is much new infrastructure, but traffic has grown commensurately. This is the city of a million motorbikes (actually, the current estimate is closer to four million). And, by the way, although Saigon was renamed Ho Chi Minh City in 1975, nobody calls it that.

This is my third time here, so this is all repeat stuff.
| | |
| --- | --- |
| | |
| post office | interior ironwork by Gustav Eiffel |
| | |
| --- | --- |
| | |
| opera house | Uncle Ho in front of City Hall |
A day trip to Tay Ninh and the Cao Dai temple and the by now very tired Cu Chi tunnels.

Another day trip to the Mekong Delta.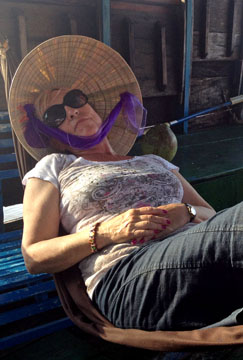 Also accomplished, lots of shopping.

Our last night is New Year's Eve, which is a street party for millions (literally), who cram into the central district for concerts, laser shows, and fireworks. Early morning New Year's Day is our first of several flights homeward, which, through the magic of the International Date Line, are completed before the sun sets.