So far this year I don't have a single paid mile of air travel (it's all been award redemptions), which means that to requalify my frequent flier status had better get hopping. Solution: an impromptu return to China spurred by a semi-cheap fare to Shanghai. In the past dozen visits I have been to every major region save one: the "middle Silk Road," the stretch between Xian and Urumqi, which I have only traversed by air. I aim to fill in the map.

The long haul is a non-stop from Detroit on a 777. Delta has introduced a sub-section of cattle class which they oxymoronically call "economy comfort" – it features a critical extra few inches of legroom, greater recline, and free booze. Same prison food, though. The new, larger-screen screen seatback video with something like 100 movie choices further increases tolerability.

I take the cheapskate route into the city (subway fare = $1), where I stay at the same hotel as last year but at half the price (Expo's over). In the morning I tend to various errands (update phone plan, buy new eyeglasses frame, etc.) and pop over to the railway station where, to my pleasant surprise, I am able to buy a soft-sleeper ticket to Lanzhou departing that afternoon.

The express train takes 23 hours to cover the 1000+ miles, considerably faster than the 36 hours it took to get to the intermediate point of Xian a few years back. Going north means a big temperature drop: Shanghai's weather is over 80°; when I get off in Lanzhou it's 50° and raining. So much for my afternoon sightseeing.

The next day is still cold and wet. The only indoor attraction, the museum, is closed Mondays. The forecast for the next two days is more of the same. So, being the ever-flexible traveler, I re-route.

Lanzhou is the transport hub of northwest China, but that doesn't mean it's easy to get a train ticket. As usual, long queues fill the ticket hall at the station. The first seat I am able to book is on a Tuesday morning train to Jiayuguan, where the weather looks to be more promising.

Jiayuguan is the westernmost limit of the Great Wall. On arrival in mid afternoon I jump in a cab and head for it. Unlike the segments near Beijing, here the Wall is not overrun by tourists. It easily conveys a sense of the remoteness of this far outpost of civilization. Beyond, the barbarians lie. It is the end of China.
Then to the big tourist draw: a restored fort guarding a crucial pass. It is late afternoon by the time I get there: the tour buses are leaving and the light is favorable. The place used to house an entire garrison, so takes a while to cover.

I have a train onwards early in the morning. I was planning to stay across from the station, but, to my surprise, there's no room at the inn. It's the same story at the next six places I try. This a problem I have not previously encountered and one I attribute to China's new prosperity. I finally end up a place catering to foreign tour groups and have to pay way too much and it's just for the few hours before I gotta get up and resume my westward trek.

Even on the fast train it takes all day to get to Turpan. The terrain is arid, desolute. Out there is Lop Nor, China nuclear test site. This is Uighur country, the Muslim ethnic minority quite resentful of being economically and culturally drowned by Han (Chinese) immigrants. (Officially, this is the Xinjiang Autonomous Region, which is about a meaningful as the same designation given to Tibet, now dubbed the Tibet Autonomous Region.) The natives here are restless; whenever protests or violence erupts foreigners are excluded. But compared to Urumqi and Kashgar, Turpan is tranquil.

The town itself is full hour's drive from the train station. I heard that it is a quiet, charming place much beloved by western tourists. Well, that place has been bulldozed and replaced by a modern, hectic Chinese city. A single marble-paved pedestrian street stands for the arcades coverned by grape vines that formerly provided shade throughout the old town.

This far west, the sun sets a full two hours later than in Shanghai. Good thing, because I need the time to find a room. Same problem. (I did not book ahead online for these last two cities; lesson learned)

I hire a cab for the day to see the surrounding sights. First stop is the Astana Graves, underground painted tombs from the Tang dynasty. Most of the mummies found therein are now in museums.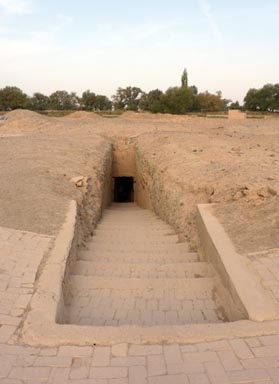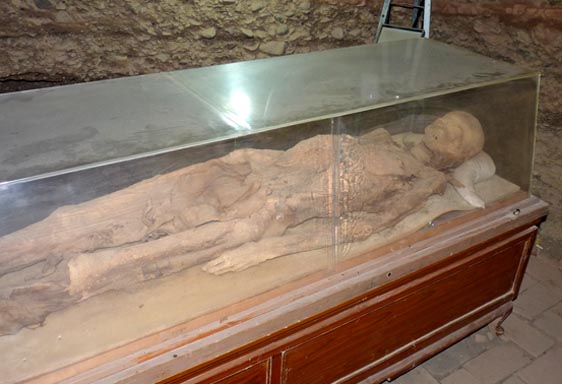 Then, the ruins of the Gaochang a wealthy and powerful silk road city destroyed in the 13th century. Like in other ghost cities of central Asia, one cannot help recalling of the boast of Ozymandias.

We pass by Flaming Mountain – it's considered a major attraction here but would hardly draw a second glace in in Arizona or Utah. A bit further on is Iding Lake, the second lowest spot on earth. During the summer the entire region is a furnace, but now the desert weather is clear and pleasant.
Nearer the town is Grape Valley. Modern Turpan is famous for its grapes (fresh or dried but not wine, forbidden by Islam), and it's the harvest season. Delicious, fresh grapes are for sale everywhere, as are great heaps of raisins. The countryside is dotted which brick-lattice drying houses where the clusters are hung to desiccate not by direct sun, but in the shade and arid air.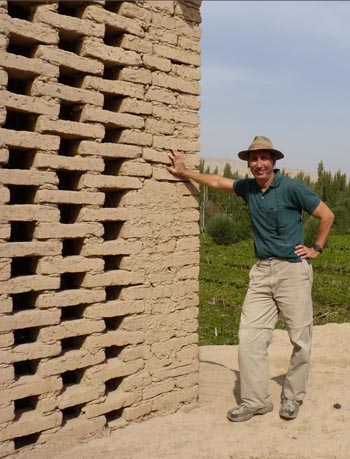 After lunch is Jiaohe, another silk road city in ruins. It's in much better condition than Goachang – the street plan is clearly evident – though it's been five centuries since any resident trod these streets.
Other sights include the Emin minaret, and a demonstration site of an ingenious, ancient underground irrigation system that feeds the vineyards.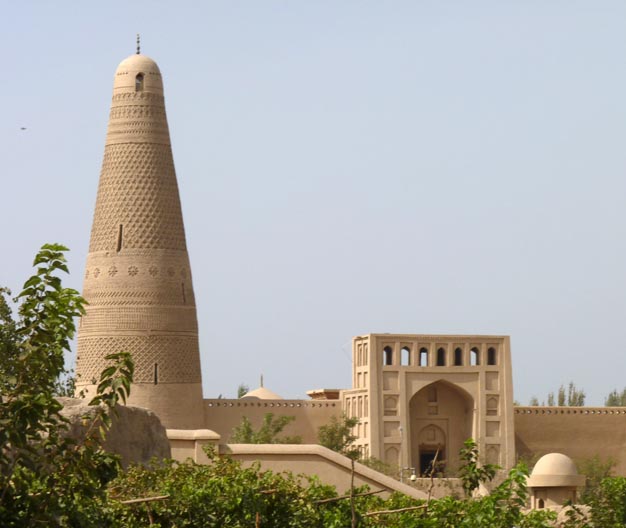 In town there is the shiny, expansive new museum. Georgeous building, but not much in it. A proper museum needs two things: dinosaurs and mummies (though shrunken heads are acceptable in lieu). Turpan's has dinos galore, but its broken pots, bronze vases, and scrolls are no substitute for dried humans. Good thing entry is free. (All museums in China are now free, a sharp contrast to the steep admission price to anything else worth visiting.)

Next stop is Dunhuang, which I bypassed coming west. More frustration in the travel-planning department: I try to buy a Lanzhou to Shanghai ticket as soon as they go on sale five days prior, but am still too late. Nor can I get the Dunhuang to Lanzhou sleeper. The best I can do is Turpan to Liyuan, on the main line but 85 miles from Dunhuang, then Liyuan to Lanzhou. To Liyuan takes six hours, after which comes a ninety minute cab ride (a shared taxi is only $4). I reach my hotel late in the evening.

In the morning I visit the main attraction, the Mogao Caves. These are artificial grottoes carved out of a cliffside over a thousand year span, then sealed and abandoned in the fourteenth century. They may be very important to an historian of Buddhist art, but a major disappointment to this seeker of cheap thrills. First, they aren't cheap: admission is almost $30. Second, they suck. Similar Buddha caves are at Longmen (I visited last year) and near Datong (a few years earlier). At those, you can wander around as you like. There are hundreds of cave here, but the important and accessible ones are walled off and locked up except for the few which you can enter as part of a guided tour. Third, they are dark, the only illumination coming from the guides' flashlights. Fourth, they are repetitive: a Buddha statue surround by subornidate figures and and painted walls. Fifth, and worst of all, no photography is allowed. (At these prices at least I ought to be able to carve my name and perhaps pry off a souvenir Buddha.) Judging from the tremendous number of visitors the place draws, my impressions are not widely shared.


A minor consolation prize is the visitors center built by the Japanese and containing exact full-size replicas of six of the most important caves. No only can one take pictures at will, it's outside the admission gate and completely free of charge.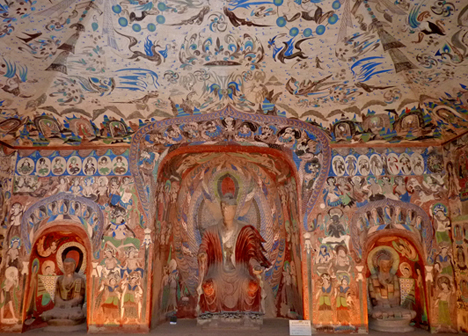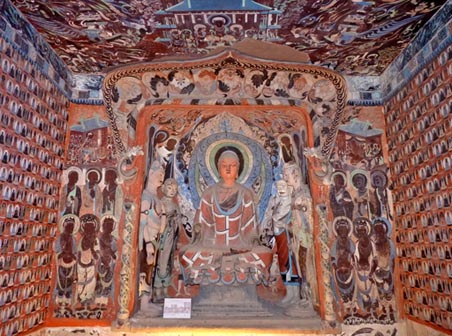 There's other stuff to see in the area, but I am committed to a train leaving that afternoon, so it's adios Dunhuang.

We arrive in Lanzhou at 5 AM, which gives me plenty of time to get to the south bus station and the first departure for Xiahe. The guidebook says the ride takes six hours, but a new highway has reduced the journey time by almost half.

Xiahe lies two miles high on the edge of the Tibetan plateau, so it's a mite chilly when I arrive. It is home to Labrang Monastery, the most important center of Tibetan Buddhism outside Tibet proper. Unlike Lhasa, the tense capital of an occupied and oppressed country, Xiahe is a very laid-back place, full of monks, pilgrims, and western visitors (and the first menus in English I have seen since Shanghai). This difference is that this is undisputedly part of China. (There is a limit to their docility: two months ago all foreigners were cleared out when the government tried to transplant the Panchen Lama pretender from Beijing; he left after a week.)
;The monastery is in the middle of town and home to thousands of monks. You simply wander about and among them as they carry out their daily routine. A steady line of pilgrims in traditional dress makes a clockwise circuit of the hundreds of prayer wheels that ring the monastery complex. For some reason, it does not seem to attract many Chinese tourists so there is a noticeable absence of the tour buses that one comes to expect.
The shops in town sell Tibetan souvenirs, artifacts, and more prosaic items. At one of the several monk supply stores I pick up a genuine crested ceremonial yellow helmet (in Lhasa the only one I could find was a facsimile). Already in possession of a set of maroon and saffron monk's robes, I outfit myself with a Tibetan "civilian" robe that is their national costume.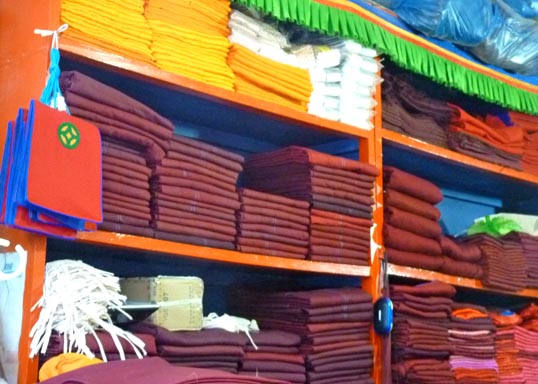 I only have one day here. The next morning I am on the bus back to Lanzhou. This time the weather is cooperating: the usually filthy sky is now clear and blue. Sunday afternoon strollers fill the promenade along the waterfront near the historic first bridge to span the Yellow River.

I make it to the museum. It has two good dinosaurs, but no mummies. Pride of place goes to the Flying Horse of Wuwei, 2nd century sculpture. It came from a tomb and is emblazoned everywhere as a symbol of the region.

It's time to start back. I've had little luck in the a rail ticket dept; the best I can do is to Xian, from where I will fly the final leg. Ironically, the train I board is going all the way to Shanghai but sold out beyond Xian. After 8 hours I alight, spend the night in a hotel, and, in the morning, catch an airport bus. I reach Shanghai about the same time as I would have had I remained on the train.

I still have the evening and the next morning to pick up the latest DVDs and other shopping, then to the airport for the non-stop to Atlanta. China: done and done.

Trip date: September, 2011