I constantly keep a watch on bargains in airfares, and after certain untoward events in Bombay, prices dropped. I don't have a plan, but guess three weeks should be about right. February is the end of the Indian tourist season (it begins in November), between the end of the monsoon and before the blistering heat of summer (which peaks April-May).
As my departure date approaches, I notice a number of topical items in the news: an man in India has entered the Guinness Book for having the world's longest ear hair; and an Indian company has announced that they will be introducing a soft drink made from cow urine.
One of the factors that influenced my decision is the non-stop 777 service from Atlanta to Bombay (yeah, yeah, the
au currant
crowd call it Mumbai). When I bought my ticket the plane was pretty much empty; between then and now Delta has managed to fill up the plane – not with bargain-hunting tourists, but almost 100% Indian-Americans returning for a visit. The meal selection consists of three types of Indian cuisine, but, to drink, only Coca-Cola products, no cow urine soda (yet).
By not having to stopover in Europe the plane lands in the evening instead of the middle of the night. Last time, the process was an ordeal: a decrepit building, long lines, and general chaos. In contrast, there is now a modern terminal. Passport control takes less than a minute. The bags come off the conveyor at a reasonable rate (instead of one bag every few minutes). The flight lasted fifteen hours and we left two hours late, so it is almost midnight, a convenient hour for sleeping.
I have a morning flight so I stay near the airport. A $3 taxi ride takes me to my $10 hotel room -- not lavish but adequate for eight hours of shuteye.
The ride back to the domestic terminal costs well less than $1. The facility has been improved but it still chaotic. There are no proper lounges, no real shopping. At least there are free newspapers, so I catch up on local events. One front-page story reports that tourist arrivals have plummeted and operators are encountering mass cancellations by foreigners (good news for me). Another one was that the cow urine cola announcement sparked a debate on US TV over whether it can cure cancer as claimed by one of the developers and the question of whether one of the potential marketing problems will be its taste.
I am flying to Bhubaneswar, capital of the Indian state of Orissa. It's a large state on the east coast that used to comprise the southern part of Bengal (but they speak Oriya, not Bengali). My intention is to hire a car and driver and tour the tribal hinterlands in the south. I was going to make my way to Orissa overland but found that would take several days, a problem solved when I found an on-line fare of $61 for a direct flight.
The hotel I choose is not cheap ($36), but has the two modern essentials: air-con and wifi. The cable TV has over a hundred channels, of which approximately 96 are devoted to singing and dancing Bollywood clips. Breakfast is included but it sucks: there are no Froot Loops or waffles; and they need to work on their cornflakes technology – they are like the crumbs at bottom of the box except not as tasty.
I had figured on having a half-day, but, this being India, the plane is late and the first afternoon is lost. (But I don't miss out on much since everything closes for siesta). In the evening I go to a recommend tour company and strike a deal for a car and driver for six days. The driver is already in the south and will be dropping off passengers, so I will take the overnight train to meet him
Bhubaneswar is known as "The City of Temples." There sure are a bunch of them, in distinctive Orissa style. In the morning I start a walking tour and, during the day, manage to hit most of the major ones.
There are ATMs everywhere but they not wired to the international networks, so I go to State Bank of India, which offers best exchange rate. Now I know where the Soviet bureaucracy has gone. The bank occupies a giant crumbling building with inoperative elevators. Everywhere there are lethargic clerks and hordes of supplicants (customers) meekly waiting. At the foreign exchange department the scene is much the same -- I can't even get anyone to acknowledge my presence much less help me. They are too busy reading the paper, chatting on personal cell phones, or visiting each other. I plop myself down in front of someone apparently doing nothing; eventually, he looks up. After I state my business he spends twenty-five minutes filling out multiple carbon forms, making entries in a huge "gold ledger book," and tapping away at his computer. At the culmination, he hands me a slip of paper and directs me to someone else, who opens a drawer full of loose bills and bundles of cash, grabs a handful, and counts out the correct sum.
I get another dose of Indian bureaucracy when I go buy a train ticket to get to Calcutta in a week. Tickets for the "ordinary quota" on the train I need are sold out, so I apply under the tourist quota. At the station there are multiple window, including one labeled "Ladies, Physically-challenged, Senior Citizens, VIPs, MPs, ex-MPs, Journalists, and Foreign Tourists"; I join the queue. Most most of the others in line are women fronting for their husbands, who periodically run up with instructions. I am the only foreigner. And you can't just tell 'em what you want: you have to fill out a form that looks like a college-application with shortened essay portion. A sign states that a complaints book is available. (My guess is that you have to fill out a form to get it, and even then if they are not out of them you probably have to get the form from the person you are complaining about.) After forty minutes in line I reach the window, where it takes less than a minute to complete the transaction.
The next day I hire a cab to take me on a tour of the surrounding attractions. The first stop is the Sun Temple at Konark. Built in the 13th century, it was sacked in the 15th century and abandoned. Drifting beach sand from the adjacent Bay of Bengal covered and preserved it until it was dug and restored by the British in the 19th century. It's in the shape of a giant sun chariot with a tower over 200 ft high. At my drivers suggestion I hire a guide, who is proved to be very knowledgeable although his English was incomprehensible. He does a very good job at pointing out the erotic carvings within the amazingly detailed facades.
The Jagganath Temple at Puri is one of the four major pilgrimage temples in India and attracts the faithful from all over. I think the cult (from which our word "juggernaut" is derived) is local – I can't recall seeing or hearing of Jagganath worship anywhere else. The usual depictions of Jagganath are highly distinctive: always in a trio with his brother and sister, they huge heads and tiny limbs that look like a cross between troll dolls, animated tribal masks, and characters from
Southpark
.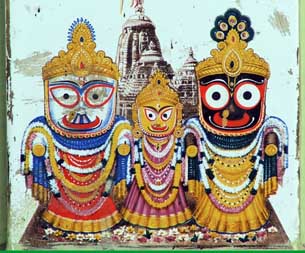 The temple is in the center of the city, but to reach it you must park in a remote lot, take a shuttle, and then run a gauntlet of beggars and hawkers. There are crowds of arriving pilgrims, and everybody is in a festive mood. On the shuttle bus a guy introduces himself as Indian soldier from a place unrecognizable and unpronounceable. He elaborates by telling me that so-and-so hails from his state.
"Who?" I respond.
"You don't know so-and-so, the railway minister?" he asks incredulously.
Some people ignore the beggars and instead balance coins on the heads of the cows sleeping in the street.
But it all proves to be a bust. Admittance to Jaggernath temple is prohibited for non-Hindus, and a nearby rooftop where one can glimpse over the wall into the courtyard is closed for a three-hour siesta. A high wall surrounds the temple complex. I circumambulate the wall, but at only one point can I even get a glimpse of the central tower.
The final stop is Dhauli, the battlefield where in 260 B.C. Emperor Ashoka, the "founder" of India, won a great victory but then had a revelation of non-violence and resolved to create an empire-of-the-spirit. His inscription to this effect was carved into a rockface and later found by the British and preserved. Atop a nearby hill Japanese peaceniks have built huge stupa (monument), which is surround by cashew nut stands, a connection that escapes me.
That night I board the overnight train to Rayagada, where I will meet my driver. There is no first-class car; the best available is 2-tier air-con 2nd class. There is one of those, one three-tier air-con 2nd class, a couple of non- air-con 2nd class, and a long line of third class sleeper cars. My top-grade berth is comparable to hard-sleeper in China only far less organized. Good thing the journey is only for eight hours.
My driver, Abhi, is waiting at the platform. His English isn't the best, but he is very conscientious and well-acquainted with the tribal villages we will be visiting. For budgetary and other reasons, I have eschewed hiring a formal guide.
We drive off into the hills of Orissa. For the next six days I will be ensconced in the back seat of a white Ambassador, the doughty and ubiquitous Indian motorcar based on the 1948 Morris Minor and underpowered by a tiny but noisy diesel engine. (Until Indian perestroika, there were no imported cars; without competition there was no incentive to change or improve.) After a couple of hours we arrive at a tribal village, where the children run out to greet us and grab one of the cookies Abhi has brought.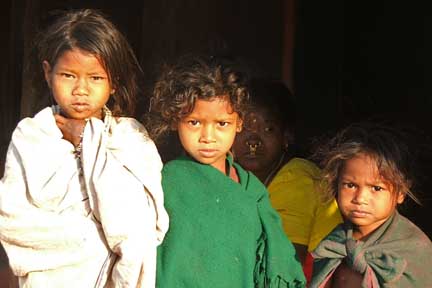 There are about 60 different tribes in Orissa. When first so designated, they were isolated physically, culturally, and religiously from the Hindu mainstream. Nowadays, for the most part, they wear clothes and live much like other people. Government services such a schools, electricity, and bored wells have blurred many of the distinctions, though not all tribes and villages have been equally affected. Some areas are still restricted to outsiders, and some people still look very different. Abhi informs me of the names of the various tribes we visit but it's all a taxonomic blur. (One of the reasons I declined a guide is I didn't want to have to pretend to be interested in an unending stream of ethnographic minutia.)
The people are photogenic but not camera-friendly. They hardly ever smile. If not scowling, they usually have a flat expression. People who want their picture taken (so you will send them a copy) are stiff and poker-faced. As might be expected, the kids are somewhat more open.
As we drive around we encounter numerous ad hoc "toll gates" set up to raise "transit taxes" from outsiders to raise money for an upcoming religious festival. The big Shiva festival is in a couple of days and the revenooers are hard at work. Of course, Abhi handles all this (the line item for this on my cost estimate was labeled "parking fees."
In the late afternoon we reach Jeypore where we will spend the next three nights. Construction of a semi-decent hotel has made this the epicenter of tribal tourism, although it not as busy as the identically-pronounced Jaipur, the tourist destination in Rajasthan -- one night I am the only guest. The motto of the Hello Hotel is "beyond luxury," which would be accurate of if "beyond" means something other than "more than." A glance at the rate card reveals a failure to exploit their monopoly market position so I spend an extra $4 to upgrade to an "executive room."
I have brought with me the batik cloth I bought in December in Malaysia to be made into shirts, so I ask Abhi to find the best tailor in town. Not far from the derelict palace of the Maharajah of Jeypore is the small shop of M. Giri, proud holder of an entry in the Guinness Book of Records. His achievement is having made the world's largest pair of underpants – I hope he doesn't make my shirts to match – but he has plenty of other certificates attesting to his mastery of the needle arts. He takes my measurements and quotes me a price: 90 rupees ($1.80)! Obviously, this guy doesn't have much experience in tourist pricing!
One of the places we visit is Gupteswar, site of a shrine to Shiva. Enroute we pass streams of orange-clad barefoot pilgrims on a multi-day walk to the shrine. (They walk only in the early morning hours; in the afternoon the temperature and the asphalt are too hot.) They will reach the holy spot in time for the festival two days hence, so the bulk are still ten to fifteen miles out.
When we reach the site it is like a Hindu Woodstock in the making. Vendors of every sort are just setting up. The festival draws half a million people. Right now is a good time to visit: when the full crowd arrives it will be unbearable, and the rest of the year it is a big nothing.
I join the line of pilgrims ascending a long flight of stairs. The shrine itself consists of a rounded rock in a cave. (You are not supposed to take pictures but, since numerous souvenirs with photographic depictions are for sale, I figure the restriction has a commercial rather than religious basis and sneak a shot.). In front of the rock sit three priests. People hand them bags of offerings which are quickly and efficiently processed: cash goes into a dish; rice into a container; coconuts are cracked and the juice poured into another container; and flowers get tossed at the rock. The priests must be sick of eating coconuts by now because they return the shell with the coconut meat along with the empty bag.
On the steps back down there is a long line of beggars seeking money and rice. Usually at these place some entrepreneur will have set up a station selling small coins at a premium; not so here, so from me they get only disappointment.
Over the days we visit several small villages inhabited by different tribes. Abhi is friends with several, and through him I am asked questions such as "Do American women wear saris?" and "Do we use rupees?" We also stop by weekly markets where various tribal members come down from even more remote villages to sell their produce and buy from itinerant vendors. Some vignettes:
• A wandering minstrel walks through the village singing songs from the
Ramayama
(the great Hindu epic) and people come out and give him a handful of rice which he places in a pot he is carrying.
• It is ration distribution day at another village. They have the thoroughly westernized view that government exists to give out stuff. This being India, there are lots of steps: first a long line to get your ration book stamped and then another next is to get rice (BYO sack)
• One village has a new road through its middle even though the road to it is a disaster and no one in the village has a car. As of two months ago electricity has reached the village, but the only thing electrified is the government office.
• Another village has a large signboard trumpeting various government projects and the number of man-days of work generated. Under this theory of labor, they should just build pyramids.
• In one market, a guy comes up to me and tells me how much he likes Obama and his policies toward India (Huh? What would those be?) Is he concerned that the big O might favor Muslims? "No, just the opposite!" A triumph of hope and hype over evidence.
• In one potters' village they have to dig the clay, throw a large pot on a wheel, finish it, glaze it, fire it, and take it to market, all for ten rupees. When I show up I am shown primitive little figurines that look like they were made by second-graders (and the slow-learners class at that). Asking price? Fifty rupees.
The highlight of the hills visit is the market where the Bonda people come. These are easily the most exotic of the tribes. Although the men now wear clothes (they used to be naked), the women still wear multiple large metal hoops and heaps of beaded necklaces and not much else.
On the last evening in Jeypore I pick up my shirts. Beautiful! I happily give the man 500 rupees ($10), almost double the amount agreed.
The next day we drive back to Rayagada, stopping
inter alia
at a market where the tribal women are distinguishable by a multiplicity of metal hair clips.
Although the roads are generally in good condition, travel is slow. As in most of India, a single lane is shared by traffic in both directions, pedestrians, animals, and animal-powered carts, plus cows sitting in the middle of the road oblivious to car horns. There are no bypasses, so we drive through the center of every town where the conduct of commerce spills into the road. It takes two days (with stops) to cover the distance back from Rayagada to Bhubaneswar.
The last night on the road is at Taptapani, a resort area built around hot mineral springs in the Orissa hills, where the government runs the tourism facilities. I take a regular bungalow (sleeps four), but you can get a suite where the smelly sulphur water is piped into a private bath. There are only twelve guest bungalows in the whole complex, and I am the only paying customer. It is not hard to see why: although the setting is very nice, the guest experience is completely Soviet. You have to pay in advance (exact amount, no change), order dinner at check-in (forget about the menu, they don'thave anything that's on it), and endure frequent power outages. Don't look for soap or shampoo (the staff probably already sold them), and just try to roust one of the dozens of dozing staff to get you a towel or carry your bag. But it serves its purpose: it creates employment and votes.
Another dose of Orissa Tourist Development Corporation hospitality comes the next day at the restaurant at Chilka Lake, the largest saltwater lake in Asia and our last stop before Bhubaneswar. To my surprise, they are not out of fish – they have one kind available.
After I bought my ticket to Bombay I thought about visiting Bhutan. Some quick email exchanges resulted in a four-day tour beginning with a flight from Calcutta. The plane leaves tomorrow at 8:40 AM. I have a ticket on the "super fast" Puri Express leaving Bhubaneswar at 9:30 PM and due to arrive in Calcutta at 4:40 AM. Four hours to get to the airport should be plenty.
The train arrives only fifteen minutes late. I have a first class ticket, which entire section consists of one-half of one car. It's comfortable enough. The trouble is that due to fog we are WAY behind schedule. Accompanied by much fretting on my part, we arrive at Calcutta at 7:15. The airport is a forty minute drive, minimum.
I race to a cab. Good thing there is not much traffic at that hour. And good thing that there are no other international flights leaving at that time. When I arrive at the terminal at 8:00 it is as if everyone is expecting me. They rush me through security and to check-in. Made it!
Bhutan is the last remaining Himalayan kingdom. The country, founded in the 17th century and unified in the early 20th, was one of the buffer states for British India. It was also the most hermetic – foreign visitors were not allowed until 1974, when the newly-crowned king decided to accept limited, high-dollar tourism. (He saw the hippies and backpackers that were overrunning nearby Nepal and wanted none of that.) To even buy an air ticket to Bhutan one must have purchased a complete package from a local tour operator at a minimum cost of $200/day. This actually is a pretty good value for the solo traveler (of which they don't get many), because you get the same services as a couple spending twice as much. The price includes a car and driver, hotels, all meals, and a guide.
The only airline serving Bhutan is Druk Air, the national carrier, which boasts two new Airbus 319s (with 32" pitch in coach) that fly as far as Delhi and Bangkok. The Bangkok flight stops in Calcutta and continues to Bhutan's sole airport in Paro. When I board, the flight is completely full.
The approach through the mountains into the Paro valley is considered the world's most difficult, and it certainly is scenic. The hills run run down to the sides of the runway.
The terminal is small but modern. Passport control takes forever, which is surprising because supposedly everyone already has a visa. I think the principal cause for slowness is that the workers ensure that the two flights a day provide them with full-time jobs.
I am met by my driver and guide, who have brought me a loaner jacket for the duration (I have no cool-weather clothing). Elevation is 8000 ft. The vehicle is a new Toyota Land Cruiser. We begin the one hour drive to Thimphu, the capital.
Bhutan is, as expected, mountainous, but it is also very green and heavily forested. This is the wet side of the mountains. On the other side is Tibet, in the "moisture shadow" of the Himalayas and bone-dry.
To the hotel for check-in and lunch. Hotel is nice (I rate at 3 stars), and food palatable and plentiful. There is cable TV (TV was not introduced in 1999) and wifi. No Gideon Bible at bedside but instead a copy of
Teachings of the Buddha
. Everyone speaks English, and very good English at that. Much as in India, the dialect of the capital area is the national language but English is the
lingua franca
. The national TV station (there's only one) broadcasts mostly in English. Moreover, most signs, printing, and reading material are also in English. My guide explains that their written language uses an alphabet similar to Tibetan but is very difficult; English is considered easier.
In the afternoon, a quick tour of some of the sights of Thimphu. There's not a ton of stuff to see, but the town is scenic, pleasant, and very clean. The official policy of the king is not a singular pursuit of economic advancement but promotion of the "Gross National Happiness." In most countries this would be a propagandistic sham to cover for widespread poverty and repressive government, but it really seems to work here. The people are very friendly, and there is a relaxed atmosphere. They say that their time zone, BST, really means "Bhutan Stretchable Time."
The monarchy dates to 1907. The fourth king assumed office as a teenager in 1974. In 2006 he decided he had had his fill of the king business and abdicated in favor of his son. The fifth king has recently voluntarily ceded some of his power to an assembly elected by popular vote.
We stop by the stupa erected in memorial to the third king who met an untimely demise. (He visited India, got sick, and died.) Then up the hill for a view over the Thimphu valley and to see the national animal, the takin. It is an ungulate but unrelated to any other species: it looks like a cross between a gnu and a bison.
In the evening I wander around. I am glad I have a jacket. It is claimed that Thimphu is the world's only capital city without traffic lights, though I suspect that there are some South Pacific islands that also meet this criterion.
In the morning we visit Thimphu Dzong, a combined fortress, monastery, temple, and seat of government. To enter, my guide must first don a white-fringed sash to indicate his status as a commoner. (There are different colors for different ranks in society,
e.g.,
military, lawyers, government ministers, etc. The rest of the time he and the driver are required to dress in the national costume while on duty. Everyone associated with tourism or who works for government has to wear the national costume, as do schoolchildren; those not under compulsion tend to favor western clothes.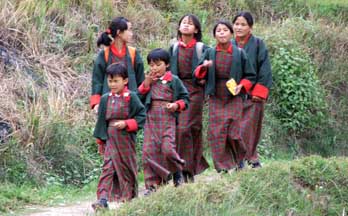 A 200 year-old house has been converted to museum of traditional life. Then the textile museum, where one can see how much work goes into making those costumes and I learn that the sponsor, the present queen, is a babe.
On to Punakha, three hours to the east, which lies in a subtropical valley a mile lower in altitude than Thimphu. To get there we transit a high pass which affords a view of the peaks of the eastern Himalayas, but it is fogged-in when we arrive. After lunch, we continue down into the valley and hike to a monastery founded by a mad monk in 1499. It is reputed to bring fertility, so couples desiring a child come here to stand before the altar and be dubbed with a stone phallus. The decorations on the houses nearby echo the theme.
We arrive at the hotel (3 stars), where it turns out I am the only guest. The tourist season may be ending in India, but it is beginning here. At lunch at the high pass, I was the only one in the restaurant. During my four days I see only a handful of other westerners.
Punakha is the site of the largest dzong in Bhutan, guarding the strategic valley. There is a really cool drum ceremony being conducted by orange-robed monks in the monastery, but no photos allowed inside. In the courtyard, locals are practicing their dance steps for an upcoming festival.
We stop at a local market. Two subgroups stand out: the ethnic Nepalese with their nose jewelry and the ethnic Tibetans with their little conical hats.
Back to Paro. For the last two nights of the trip I am staying at the oldest hotel in the country, built in the hills above town to house foreign dignitaries for the coronation in 1974. (I give it four stars.) In addition to the main lodge, there are large cottages scattered in the surrounding woods. I am assigned one. By the number of places set for dinner and breakfast, it looks like I am one of four guests.
The last day is the highlight of the trip: a visit to the Tiger's Nest Monastery, dramatically perched on the side of a cliff. To get there, you gotta walk. We begin the ascent at 8000 ft and climb to 10,000 ft. The morning is overcast and cool. The path is well-maintained and uncrowded (at least now). Periodically we get a view of our destination. The climb is supposed to take 2-3 hours, but I am the first of the day to sign in at the entry gate 1 hr 53 minutes after starting out.
The monastery was founded in the 8th century and has been an important pilgrimage site since. Locals are required to wear the national costume, foreigners to dress respectfully. There are great views of the surrounding mountains and over the valley, but unfortunately you have to leave your camera at the gate. Heaped in the offering bowls in the chapels are packages of potato chips and cookies. I guess "Tiger's Nest Monastery" sounds better than "Junk Food Monastery."
Due to my geriatric knees, it takes me longer to walk back down than it did to come up. At the bottom, we take lunch at a place called Yak Herder's Camp (but I think it was beef they served).
Also in the Paro Valley is a fortress built in 1647 to commemorate a victory over a combined army of Tibetans and Mongols. It burned in 1951 and is now in ruins.
Finally, a visit to Rinpung Dzong. This is where
Little Buddha
was filmed in 1993. (Directed by Bernardo Bertolucci and starring Keanu Reeves; I thought it was a pretty good minor movie.)
Well, my four days is up. Most people come for a week or longer. What you get for that is travel further east, which is more of the same except the valleys are higher and narrower.
For the flight back I have let loose the extra shekels for business class (it was sold out on the inbound). Only a fifty minute flight but very nice.
We land at Calcutta midday. It is hot and humid. Traffic is terrible. I am staying in the heart of the tourist district, such as it is. My $20 hotel room is one of the cheapest with air-conditioning. (Most of the guest houses and cheap hotels are without. Ugh!)
It's Monday and everything touristic is closed so I take a walk to get the lay of the city. The beggars are ubiquitous and persistent, although once away from the tourist area the hassle factor diminishes greatly. In the rest of the city the beggars and sidewalk denizens sit silently with their hands limply extended; in the zone, they have honed their hustle. A women holding a baby (probably rented) and an empty baby bottle comes up and pleads in perfect English (remember, even the cab drivers here can barely speak English) "Please, no money. Please buy some milk powder for my baby. Right here," pointing to a store, which, undoubtedly, lets her turn in any purchases for cash (less commission) as soon as you're gone.
I am also near the New Market. As you approach a tout will latch on you and insist on showing you around. Officially they are licensed as coolies to help you carry your purchases, and theoretically they could help you navigate the huge and confusing maze, but they are really there to steer you to merchants who will pay them a commission on whatever you buy (added to the price you pay, of course). Even if you finally get rid of him another one immediately takes his place and attaches himself like a lamprey. He will demand a cut from any merchant you buy from;
ergo
, I buy nothing.
Calcutta was founded by the the East India Company on the right bank of the Hoogly River near the Bay of Bengal. As the seat of the viceroy until 1911, when the capital was moved to Delhi, it was laid out on an imperial scale as the Second City of the Empire. ; Its streets are lined with huge, now mostly-crumbling buildings built in the days of the glory; the atmosphere now is of decayed grandeur.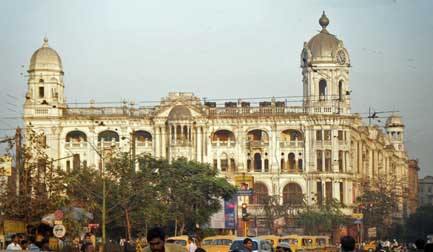 It's still an important city and the capital of West Bengal. Street navigation can be confusing because most streets have been renamed by the communist local government yet are still generally known by their old, proper names. Thus, Wellesley street is officially Rafi Ahmed Kidwai Street, and in a bit of nose-tweaking, the U.S. Consulate now sits on Ho Chi Minh Street.
Tuesday I set off for the Victoria Memorial, the most impressive legacy of the Raj. Inside are various displays on the history of Calcutta, photographs and prints of days gone by, and monuments to great persons and events. Too my surprise, it has not been made over to cast the British in a bad light.

The other biggie is the India Museum, the oldest and largest in the country. It is a Victorian timepiece with a single concession to modernity: the Egyptian room holding a mummy is air-conditioned. The rest of the museum consists of huge halls containing endless dusty mahogany display cases of comprehensive collections of hand-labeled specimens. The stuffed animals are moth-eaten and in need of a decent burial. Rows of pickled fish and reptiles have faded to a monocolor. Near one entrance is a cabinet of jars containing fetuses of human and animal freaks. There is a whole annex devoted to industrial botany that I don't think has been touched since the 1920's. The highlight of the collection is supposed to be the collection of carvings from archeological sites all over India, but I can't decide whether they are inherently boring or it's just the dull displays.
More interesting is just walking around the city looking at its faded glory and current vibrancy. Near one temple the vendors are selling necklaces made of cow dung, although I don't see anyone wearing one. The streets are teeming with vendors, deliverymen, tea sellers, and every manner of traffic. Barefoot rickshaw pullers either haul their passengers through the crowded streets or wait patiently for their next fare.
I take a break from Empire to visit the Kali temple. In the Hindu pantheon, Kali is associated with death and destruction. I probably wasn't supposed to be allowed into the temple precincts, but I had paid a local to be my guide and we walk right in. Hindus are vegetarians and revere life, right? So you don't expect to see animal sacrifice. Thus, I am taken aback to see a headless goat furiously kicking while blood spurts from its neck. Standing over it is a priest holding the severed head aloft. This gruesome spectacle lasts for what seems like several minutes. As the tourist bureau likes to say, India is a land of surprises.
I have four more days until my flight back home from Bombay. I could make it to the hill station of Darjeeling, but that would involve continuous travel without respite. Checking online, I decide that Goa will be next and last. I buy a ticket for Thursday morning.
Unlike the sorry excuse for an international terminal, the domestic terminal at the felicitously-named Dum-Dum Airport (yeah, they recently changed the name, but who doesn't like the old name better?) is modern. The lounge, operated by Oberoi, offers decent cornflakes (for a change). Ah, to be a big Sahib (actually, in Bengali it's
Babu
) again, if just for a short while.
Goa was a Portuguese colony from 1510 until 1961, when it was forcibly absorbed by India in the greatest (and onliest) victory of the Indian Navy. By far the tiniest state in India, there is no single place called "Goa" (anymore); when people say they are going to Goa they mean one of the dozens of small seafront towns.
Goa was discovered by hippies in the 1960's and 1970's, attracted by the miles of white sand beaches fringed by coconut palms. They are largely been evicted and replaced by middle class Indians and Europeans who flock to second homes, guesthouses and resorts.
From the guidebook I have selected Bernaulim as my destination. I find a nice room at a small beachfront resort for $20/night. (I could have had a lesser room for half that amount.)
The next day I take the bus (actually, a series of buses) to Old Goa. Once larger than London or Paris, the city was abandoned in the mid-19th century when its port silted up. All that's left are the churches, which remain active. The cathedral is larger than any in Portugal, and across the road is another church holding the desiccated remains (in a glass coffin) of St. Francis Xavier. It's strange to see so many big churches in a parkland setting; the city that surrounded them is gone.
That was Friday. Saturday I take off and laze around on my balcony, enjoy the seabreeze, dine on fresh seafood, and work on this report.
Sunday, more of the same. Afternoon checkout for a flight to Bombay, where I have a six-hour layover and then a seventeen-hour flight to Atlanta. Chasing the sun, I am home the afternoon the same day.
Postscript
: I have brought home an unexpected souvenir – malaria (from Goa). No fun at all. Of course, I am much too disorganized to remember to begin taking malaria pills two weeks prior to departure. All better now. Lesson learned.
Trip date: February – March 2009