I've been to Chile twice: the extreme North and the extreme South. My gf, Linda, hasn't been at all. The compromise: a trip to the middle.

Chile is long and skinny, 2700 miles from top to bottom, about the distance from New York to Los Angeles, with a land area slightly smaller than Montana. The top is in the tropics and the bottom is almost to the Antarctic Circle. The temperate and fertile valleys in between are home to the country's agricultural production and most of its people. About midway is the capital, Santiago, our starting point.

The funky charm-ridden old place I stayed at last time is still there and even more run-down but inexplicably has tripled its prices. A much better deal is a modern, comfortable furnished apartment nearby. Santiago doesn't have that much to offer, but the flat is so nice we stay five nights.

A day trip to Valparaiso proves disappointing: the place is even more run down than last time and the principal attraction, its ascensors are largely defunct. Earthquake damage has closed all but two the funicular transports, and the vertical one has been replaced with a modern elevator.

Chile is renowned for its wines. The warm, dry, sunny days and cool nights make for ideal microclimates for transplantation of the prized varietals of Europe. Several large estates were established in the 19th century. Just a few miles from the capital is the Maipo valley home of the Undurraga winery and vineyards.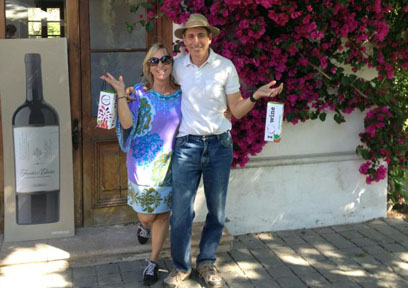 I hadn't done any trip research before departure, so I figure I had better get started: I learn that the vast stretch of land surrounding Santiago is a major agricultural region but holds little to see or do; tourist country begins in the Lakes Region. I decide on Pucon, 400 miles south.

An overnight bus ride brings us to a very pleasant little town nestled beside a lake and beneath a volcano. It's clean, prosperous, and very tourist-oriented. It's not yet peak season, so we are able to rent an entire three bedroom bungalow for under thirty dollars a night, a real steal in this not-so-cheap country.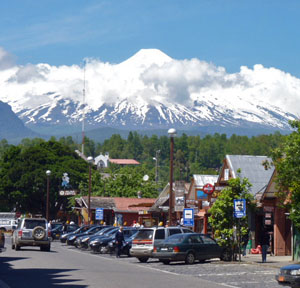 There are all sort of outdoorsy activities. The truly vigorous can depart before dawn to climb to the summit of the snow-capped volcano, Mt. Villarica. The truly hardy can swim in the freezing waters of Lake Villarica. Those somewhat more geriatric can opt for a horseback ride followed by a barbeque on one's patio. The ride could be improved were the trial more across open country and less along a rural road, but it did reach a very nice waterfall.
| | | | |
| --- | --- | --- | --- |
| | | | |
Another excursion is to the Termas Geometricas, hot springs. In a narrow cleft an ice-cold waterfall mixes with scalding hot springs to form a series of bathing pools of varied but precise temperatures– you pick the one(s) ideal for you and loll away the afternoon. The weather is quite cool, so once in you don't want to get out. The constant steam and lush foliage make for a primordial atmosphere.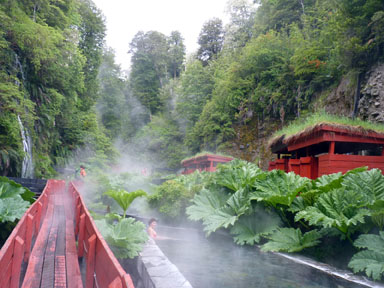 The area was formerly inhabited by the Mapuche Indians. A local museum displays their distinctive art and jewelry.


Black sand beach and lush gardens.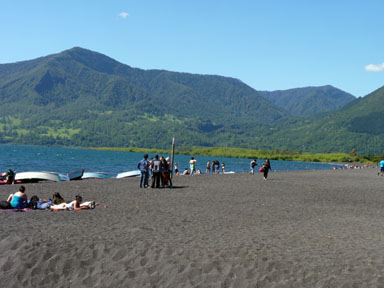 Three days in Pucon. Next place on the map is Valdivia, on the coast, an important city since its founding by the Spanish in 1544. It's considered a tourist magnet, but I can't see why. A boat ride reveals some very posh summer homes. Also along the river are a lively fish and farmers's market and the Submarino O'Brien. Built by the British in 1971for the Chilean Navy and retired in 2001, it is now open for tours.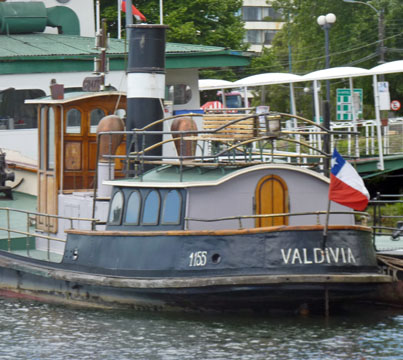 Moving on to Puerto Varas. Settled by German immigrants, it is pleasantly situated on a large lake in view of two snow-capped volcanos. We stay but one night – I have my sights set on Chiloe.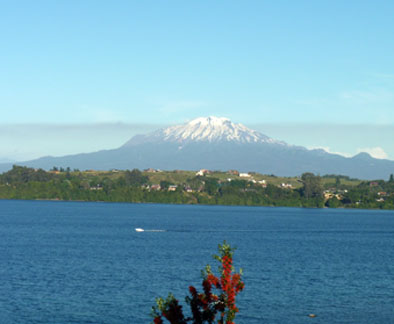 Chiloe is the largest island of the Chiloe Archipeligo. A Spanish colony from 1567-1810, it was the was the final redoubt and last possession of Spain in South America. There are no harbors for cruise ships and you got to take a ferry from the mainland, so, although tourism is a mainstay, most foreign tourists don't make it to here. We base ourselves in Ancud, the northernmost city, where we take a room with a view.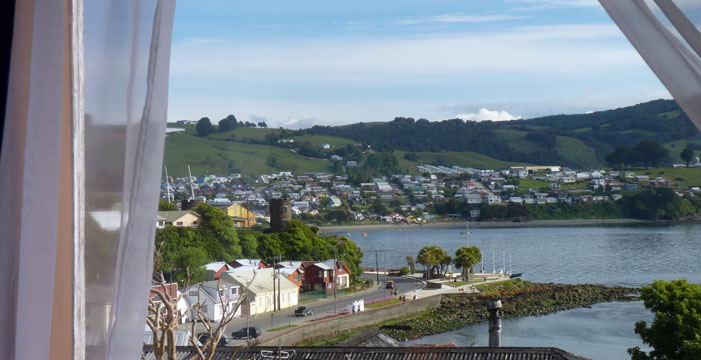 The last Spanish fort.
Seafood is plentiful and comparatively cheap. Our favorites are corvina, tastes similar to sea bass, and congrio, also very similar. The latter is only similar to sea bass when served on your restaurant plate; congrio is conger eel, which, to be fair, looks more fishy than eely when in the fishmarket. A vigorous fishing industry has been supplemented by aquaculture; much of the salmon you buy comes from the farms that surround the island.

The convenient way to get around is by car, so we rent one for a day and take a long scenic loop down the coast.

In small seaside towns are the wooden churches for which Chiloe is noted. Many were built by shipwrights so are framed like boats without interior beams.


| | | | |
| --- | --- | --- | --- |
| | | | |
| | | | |
| --- | --- | --- | --- |
| | | | |
The biggest and bestest church is the cathedral in Castro, the principal city of the island.
Castro is also noted for its palafitos, colorful shacks built on stilts over tidal flats. Not particularly comfortable or sanitary, they are fast disappearing.
Chiloe is considered part of Patagonia. Just south of Ancud is the Punihuil penguin colony.
| | | | |
| --- | --- | --- | --- |
| | | | |
There is not enough time remaining to go very far, so we start on our way back. We return to Puerto Varas for another night and a trip to Mt. Osorno and surrounding areas.
An overnight bus takes us back to Santiago. Our plane home isn't until tonight, so we have time for a visit to the Concha y Toro winery.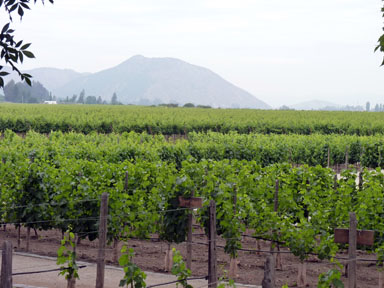 Trip date: November, 2012