China #8


I need another 30,000 paid miles this year to keep my airline status, China is cheap, and there are still places I haven't been. So this time it's Guangdong and Fujian provinces. My departure early morning on Election Day is timed to miss the evitable gloating and/or rioting by the Obamunists. I'll have plenty of time to work on my "Palin '12" signs when I get back.
I fly to Shanghai because I like the non-stop flight (from Atlanta) and the plane (777) even though Guangzhou would be closer. Arrival is mid-afternoon. There are no airport delays, and I take the 200+ mph maglev train into town so I am at my hotel in about an hour.
The only order of business for me this afternoon is a trip to the video store to load up for the trip. To my disappointment, the new James Bond film is not yet on the shelves. (So what that it hasn't opened in the U.S; it premiered in London last week!) But I do get the new
Futurama
movie that released yesterday (actually today with the time difference.)
Popular trains sell out early so in the morning I head to the train station to buy my tickets to Guangzhou and onwards to Xiamen. No problem with getting a soft sleeper berth for tonight, but Sunday night to Xiamen is sold out. (Trains from Guangzhou are notoriously difficult to book.) Luckily, soft sleeper (yes, I
am
soft) is available on a second, slightly slower train.
In the afternoon I go eyeglass-frame shopping. On the list of overpriced consumer items, those have to be near the top of the list. People here aren't so rich or stupid. Underneath the train station is an entire eyeglass mall with over a hundred shops. (For the really serious spectacle shopper, about a hundred miles north is an entire city devoted to the production and sale of eyeglasses.) I eschew all fashion and find what I can't in the U.S.: perfectly round glasses. I can't decide which so I end up buying three frames for a total of $30. Of course, I don't get the "benefit" of a designer name. Lenses are also a song, but unfortunately the high-refractive index polycarbonate ones I prefer are imported from Europe and thus no bargain.
This route is not yet served by the high-speed trains, so the journey takes 17 hours. No complaints from me: I have plenty of entertainment and I enjoy being gently rocked to sleep. The train is the Kowloon Express which goes to Hong Kong (all accessible panels have security seals on them), but I don't think anyone is going that far; it seems that everyone gets off when I do.
We arrive at 10:30 AM at the new East station, which is considerably easier to negotiate than the main station, one of the most crowded venues on earth. I splurge on a $5 very long taxi ride to my hotel.
Guangzhou used to be called Canton. Actually, it still is in Cantonese. I recently learned that all this stuff about Chinese "dialects" is nonsense – they are actually separate languages that share a common written form. Because the Chinese "alphabet" is non-phonetic, the same character is pronounced in completely different non-mutually comprehensible ways. Thus, Canton is Guangzhou in Mandarin, as Kowloon is Jiu Long.
The city splays along both banks of the Pearl River. It is located at the top of the delta, further down at the mouth are the former British and Portuguese colonies of Hong Kong and Macau. Until the Opium Wars (1839-43 & 1856-60) forced the opening of other ports, this was China's sole window on the west, and still is a major trade port. During the Mao regime the bi-annual Canton Trade Fair was the only access during, and it's still a big deal.
The city is a grittier version of Hong Kong: commerce of every sort everywhere but without the big banks and the glitz. For China it's an expensive city but I am able to get a very nice room in a hotel by the river at a weekend rate of $35, which is about half-price. The historic riverfront has been prettified by an esplanade, and many of the historic buildings are being fixed up. It's crowded, but newly-built elevated highways and a comprehensive subway system prevent total gridlock.
The most historic and prettiest area of the city is Shiaman Island, the former foreign concession. It is separated it from the mainland by only about ten feet of water, but bridges and iron gates kept out the Chinese. Only yards from the traffic, it is literally an island of tranquility marked by large villas and huge trees. There are still a few consulates located here (included the heavily-guarded U.S. consulate), but most of the buildings have been or are being converted to hotels, restaurants, galleries and boutiques. If you want to see white faces in Guangzhou, this is the place to be. (The city differs in that respect from Beijing, Shanghai, and other tourist cities that are crawling with big-noses.
On Saturday I take a walking tour. A front came through last night, and the temperature has dropped from kinda warm to kinda cool, but still shirtsleeves weather. Guangzhou has limited sites of touristic appeal. There is the Sun Yat Sen Memorial Hall on the site where he was sworn in as president of the new republic and where the Japanese surrendered in 1945, the former Whampoa Military Academy where Sun's protégé Chang Kai Shek was the director, and the site of its cross-town rival, the Peasant Movement Institute headed by Mao.
Most interesting is the 2100 year old Tomb of the Nanyue King, discovered 25 years ago in the middle of the modern city. The entire dig site has been preserved as a museum to display the thousands of artifact unearthed. The tomb had never been looted, but water intrusion caused all organic materials to disintegrate. What remains are gold, jade, bronze, ceramic and badly rusted iron objects. The king, who, like some recipient of junk mail, is always referred to as "the occupant," liked company: he was buried with fifteen concubines, servants, and guards. Restored and on display is his burial suit made of 2300 pieces of jade shown together with silk thread in a perfect anthropomorphic shroud. Also housed in the museum is a comprehensive collection of ceramic pillows, no doubt gathered from hotels across China. I suppose only space limitations prevent a similar display of hotel granite mattresses.
Mostly I soak up the ambiance and enjoy being the only big-nose on the street. The area inland from the waterfront are crowded with specialty shops. Around the corner from my hotel is the dried fish and nuts district. After a few blocks it morphs into the hardware district, storefront warehouses crammed with shelves piled high with plastic bags full of thousands of every imaginable geegaw, doodad and component. A whole row of shops sells nothing but buckles and fasteners, including logos of all the design houses (even counterfeiters need to get their supplies from somewhere). Others are devoted to magnets of every size, shape, and description. A manikin shop displays its wares, all very white, very blond, tall, and willowy with substantial cleavage, a marked contrast to the attributes of passers-by.
I spend two days here, which seems about right. I visit a pretty pagoda and the mosque (closed to infidels) with the oldest minaret outside of Mecca. The last afternoon, while waiting for my train, I visit the Guangzhou Museum, where my expectations are startled by the visage of a caveman with oriental features and I learn that the original inhabitants here were not Han (Chinese) but an ethnic minority.
My next destination is Fujian Province, about halfway back to Shanghai. I am on the express train but the journey still takes 15 hours. There is only one soft sleeper car, which is why tickets can be hard to get. Travel is slow because the terrain is mountainous and, after sunrise, scenic. Fujian is one of the last redoubts of wild tigers in China.
Xiamen, formerly called Amoy, is an island connected to the mainland by a causeway. It was a treaty port and the embarkation point for many of the overseas Chinese. It's a popular vacation spot for Chinese, but pretty much off the western tourist beat.
It is almost noon by the time I arrive at my hotel, an upscale (for me) establishment facing the waterfront. I spend the afternoon taking measure of the place and visiting the fort that guards the harbor. First built during the Ming dynasty, it was upgraded in 1893 by the installation of a pair of 12" Krupp cannon, which of which remains and ranks as the world's largest extant coastal defense gun. The battery of four guns repelled a Japanese naval assault in 1938, sinking the first (and only?) warship the Chinese could claim. That day of glory is recreated in a holographic movie presentation.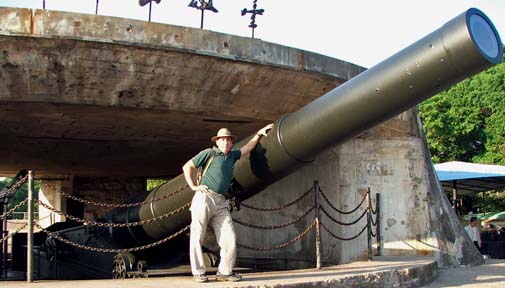 Xiamen and all of Fujian faces the Taiwan Strait. Visible just a few miles to the east is Jinjin Island, formerly known as Quemoy, which is in the hands of the bandit regime in Taipei.
On my second day I visit a thousand year old temple. It is a riot of color. At the entrance is a warning sign: "do not sit gossiping or speak in dispraise of triple jewels." And speaking of Chinglish, my hotel room has an incomprehensible placard that begins "East Asia will be a leisure center" and ends, ominously, "the company has the ultimate power to interpret."
Then, the Overseas Chinese Museum, built with the contributions of wealthy émigrés. There are two main themes: achievement abroad and devotion to the motherland. A map shows the distribution of the Chinese diaspora: I am surprised to see that there are almost as many Chinese in Peru as in Canada but that Chile has fewer than half as many as Ireland.
The main attraction of Xiamen is Gulangyu Islet, just a couple hundred yards from the downtown waterfront and reached by ferry. The former foreign concession that held thirteen consulates, it is a tranquil and car-free oasis from the urban. Along its hilly and wilding streets are huge European-style mansions, some of which have been converted to other uses but many are empty and neglected. A sealife park and other attractions have been built to entertain the hordes of Chinese tour groups, and dozens of wedding and commercial photo shoots are taking place on the street. I spend a quiet but tiring afternoon, the only transport being an absurdly-priced electric tram.
One of the highlights of Fujian province is the distinctive round communal housing built by the Hakka, an subgroup of the Han. They are in the remote interior; but modern highways bring them within reach of a day trip from Xiamen. I sign up for a tour. After years of bemusedly watching gaggles of Chinese tourists trooping behind a guide holding a colored pennant, I have become one of them. It's not so bad because since the commentary is only in Chinese I feel free to ignore the guide and wander about.
According the unhelpful sign, the buildings were constructed between the Ming dynasty and modern times, which narrows it down to the past 650 years. Three or four stories tall, with abode exterior walls and wooden interiors, the largest house 600 families. Most are perfectly round, but some are square. From the inside, it feels like I am standing in the atrium of a Hyatt. The ones designated for our visit have mostly been cleared of residents to make way for tourist shops.
The dearth of fat western tourists makes for low, low prices. One building is home to dozens of shops selling mass-produced, high-quality paintings in every style. If traditional landscapes don't appeal to you, you can select from a Mona Lisa or Napoleon astride his white charger. There is an advantage to being with a fast-moving group: when I express interest in a Girl with a Pearl Earring, Hakka version, the asking price drops 80% in less than 30 seconds as the seller watches my pennant move on to the next room. It takes him but a moment to pull it off the wall and wrap it for me.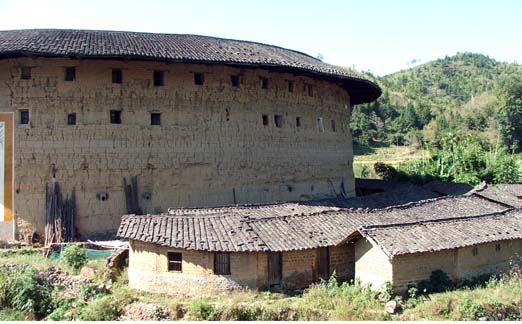 The drive to the village on a modern highway takes two and a half hours. We spend three hours there. We have time for another village, but that's a separate tour, The tour operator makes it a full day by not taking the toll road back. After passing miles of banana groves, we stop at a roadside fruit stand that is selling them at prices you would expect to find in Anchorage. (Bananas are plenty cheap in the supermarket.)
What has not been easy to find so far is street food. In big cities I look for modern shopping center with a food court. That way I can watch and fuss over the preparation of my food. In these Chinese tourist locales, I am not finding much. There is street food, but the seaside favorite tends to be tentacles-on-a-stick. There's also chicken, but it's chicken feet (no stick needed).
Before leaving Xiamen I try to buy a train ticket back to Shanghai. The rail lines all run inland and south, so I would need to take a bus to Fuzhou, the provincial capital, four hours north. From there a sleeper train makes the 17 hour run. But I strike out: no sleeper berths are available, not even hard sleeper. Seats are available, but that is too much suffering for me. I will have to come up with a Plan B.
I've decided to next visit Quanzhou, about 60 miles up the coast. There is a modern coastal highway connecting the various port cities, so I go to the long-distance bus station where my lousy pronunciation almost lands me back in Canton. I momentarily forget that "Q" is pronounced "ch" so "Quan" is "Chee-on." "Kwan" is how "Guang" is pronounced, so the ticket seller thinks I want to go to Guangzhou. Only when I balk at the price and pull out my sketch map of Fujian is my error revealed. Plus, I am at the wrong station. I buy the correct ticket that includes a free transfer to the correct bus station. For top dollar ($7) I have gotten the luxury bus: Dual aisles, three across.
We disembark in the middle of the city. Quanzhou is supposed to be a small town, but in China that means under a million people. A death of western tourists means a dearth of English signage. The hotel I want does not appear on the rudimentary map in my guidebook, so I pop into the McDonalds across the street and find someone to write the street name in Chinese. It turns out to be only a few blocks away, but the cab ride costs me less than a dollar. I can't find the hotel, and no one on the street can help me. Instead, I march into the four star Overseas Chinese Hotel and presbyterian them down to a rate of $44/night, breakfast included.
Quanzhou was the starting point of the Maritime Silk Route. Marco Polo visited and described it as the biggest commercial port in the world. The famous eunuch admiral Zheng Ho sailed from here and explored as far as Zanzibar. Arab and Indian traders called regularly. This was one of the last holdouts of the Mings from the Manchu onslaught, and, with Xiamen, the final disembarkation point of the Nationalists fleeing to Taiwan in 1949. But the glories of Quanzhou are not all in the past: earlier this month it was host to the Chinese Peasant Olympics, featuring such events as rice planting, water carrying, and harvesting.
Near the hotel is the Great Mosque, built around the year 1000 but now mostly ruins. It appears to be a mandatory stop for ambassadors and legations from Arab and other Muslim counties. There were once seven mosques in Quanzhou and three Muslim cemeteries. Next door is a very busy Buddhist temple. The temples seem to attract well-dressed people praying for prosperity; I guess the poor people are too busy working.
I need a place called the Overseas Chinese Hotel to find any recognizable breakfast food items at the morning buffet, but still no Froot Loops. And if they want to get modern, they need to serve seedless watermelons.
The next day I visit the Maritime Museum and its large collection of junk models. There's also the deadhead section featuring tombstones of Arabs, Persians, and Europeans, including the 14th century Italian Bishop of Quanzhou.. (The Indians left temples, but, since they cremate, no tombstones.) From the displays I learn that Christianity "cropped up in Palestan [sic] in Minor Asia"; how during the Ming dynasty Quanzhou suffered from "infestation of Japanese piracy"; and about the "recovery of Taiwan from greedy grasp of Dutch invaders."
Next to the museum a very large Islamic Friendship Association in under construction. (Probably Saudi-funded) Nearby is another overseas Chinese museum, but it's not as good as the one in Xiamen. Another Buddhist temple rounds out the afternoon.
I go to the long distance bus station and learn that there is a direct bus to Shanghai – 15 hours. I buy a ticket for tomorrow evening.
After checking out of the hotel the next day, I still have the afternoon to kill. I take a book over to the Kaiyan Temple, built in 686. Its twin pagodas are the symbol of the city. I say that you have a pagoda, you should paint it at least every 1200 years. Next to it is the world's oldest mulberry tree, as old as the temple and as crooked as an Illinois politician. The temple is peaceful and uncrowded, unlike the thronged shopping streets leading to it. I don't get much reading done as I am repeatedly recruited to critique students' oral presentations in English delivered by rote.
| | |
| --- | --- |
| | |
The bus is a sleeper bus filled with three columns of double-decker bunks with bedding. The individual berths are a bit like capsules; they would be very comfortable is they were a bit longer to accommodate western-length legs. After about two hours we pull into a rest stop and are handed vouchers for the cafeteria, where most of my fellow passengers eat like there's no tomorrow. Twelve hours after departure we pull into a terminal and everyone gets out. We are in Shanghai, three hours ahead of schedule.
Even though it's still early morning, my hotel room is ready. I have allowed a full day before my flight back, but that gives me time to write this report.
Before returning to the airport, I stop at the maglev museum, where I learn that the top speed of a train on wheels is 350kph – after that the wheels lose friction with the tracks – hence, the magic of magnetic levitation. The prelude portion informs the visitor that the automobile was introduced in the early nineteenth century and has a top speed of 160kph.
Thanks to the International Date Line, I land in Atlanta two hours, by the clock, after taking off.

Trip date: November 2008