This time, Bolivia, "The Tibet of the Americas": high, remote, big, dry, sparsely populated and little visited.
There are no great airfare deals to Bolivia, and the only tolerable fares are from Miami. I have learned the drill -- the fastest and cheapest way to get there is to rent a car one-way each direction. Departure time is 11:00 PM for a six hour, 3000 mile flight.
Arrival is at 7:00 AM (one hour time difference). The airport for La Paz is on the Altiplano at 14,000 feet, meaning jumbo jets cannot land there. It is a crisp, cool morning -- even though we are in the tropics the thin air keeps the temperature way down.
The taxi descends into the city, which sprawls across a valley. In a reversal of the norm, here the poor get the rooms with a view. The best neighborhoods are at down at 10,000 feet, where the air is thicker. The poorer you are, the higher you live. La Paz is not a walker's delight: there is no flat land; all streets are uphill. And at that altitude you run short of breath very quickly.
It is not a particularly attractive city, but neither is it a third-world urban hellhole. The streets are narrow and congested. The last thing La Paz needs is more people able to afford cars.
Bolivia may hold the world's record for number of short-lived governments. Just a few weeks ago civil unrest shut the country down and drove the recently elected president into exile. The protests were over a deal to build a pipeline to sell natural gas to Chile. This was especially galling to the national dignity since Bolivia lost its coastline to Chile in the War of the Pacific in 1888. Apparently, the populists believe that Bolivians should inhale the natural gas while waiting for foreign money to fall down as rain. Anyway, The People are feeling their oats, ex-El Presidente resides in Washington, and things are calm for the moment.
There is a red carpet and a military band and honor guard in front of the presidential palace. The uniforms look like an assemblage from the wardrobe department of a light opera company: bright tunics, plumes, shakos, and Prussian spiked helmets. (There are also plenty of troops and riot police with mace, tear gas, shotguns, automatic rifles, and fragmentation grenades.) We hang around awhile to see who the visiting dignitary might be -- I'm hoping it's Miss Nude World.
Travel fatigue and altitude combine to suggest a bus tour for the afternoon. Four hours looping around town and suburbs. The recorded narration gives all sorts of insights, such as Bolviians have learned to cope with the thin air "by avoiding unnecessary expenditure of energy, such as work."
This place has my kind of prices: three star hotel, $25 for a double; a lavish lunch with wine $10 for two; a slightly less lavish but nice restaurant meal, $5 for two; internet access 25?/hour. Package tour operators fleece the gullible for upwards of $100 a day plus airfare.
The people are friendly and there is very little tourist hassle or attempted price gouging. Shopkeepers will bargain on price, but not very much since the inital quote is reasonable. There are very few beggars Taxi drivers charge the real fare. And a pleasant surprise: the population may be Indian, but, unlike the US, Canada, Europe, and beyond, there are NOT Inca flute players on every corner.
We're taking the train to Uyuni in the southeast. The rail line to La Paz is no longer in operation, so we take the bus to Oruno. It's scheduled for 3 hours but ends up taking more than 4. At Oruno the taxi drivers have gathered, offering a ride to the train station. They must be psychic. (Or know that's where the tourists want to go.)
The train is the Gringo Express. It is operated by the Chilean railway company, and uses comfortable Fiat rail cars. This train goes all the the way to the Argentinian border, a 16 hour ride. To Uyuni only takes Uyuni seven hours, which pass quickly. The initial scenery is salt marshes and flamingos. Unfortunately, sightseeing is limited as most of the journey is after dark.
We reserved a four day trip over the internet and are met at the train station by our operator. All the tour companies meet their pax to make certain that they are not hijacked by rivals. The company and the hotel are run by a guy from Massachusetts and his Bolivian wife (she's from Uyuni), who are delightful people. Resident at the hotel are a couple of American geologists brimming with colorful stories of prospecting in South America.
In the morning we embark. The Toyota Land Cruiser has a driver/guide, a cook, and six passengers: us, an English couple and a Dutch couple.
We are heading into the Salar de Uyuni, the largest and highest salt flat in the world. The first stop is Colchani, which is billed as a salt gathering town where we can see the salt being processed. All I see is souvenir stands. There are llamas carved from salt (I bought one), salt crystals, and bags of salt. (What a great present: "I brought you a bag of Bolivian salt.") Then we enter the Salar. It's big, it's white, and it's flat.
We stop at the Salt Hotel, built entirely from salt, including the furniture. It's closed now due to concerns that its effluent was polluting the water. So you can't stay there anymore, but the toilets are still open for public use.
Lunch is at the Isla del Pescado, an high spot in the middle of the Salar covered by cactus. That night we stay in a simple hostel in a deserted village at the edge of the Salar.
| | | | |
| --- | --- | --- | --- |
| We are close to the Chilean border, and pass through several military checkpoints. The loss much of Bolivian territory over the years to Chile, Brazil, Argentina, and Paraguay in successive wars does not seem to have diminished the standing of the army. There are plenty of heroic statues though. "Move on out men, we got a war to lose!" | | | |
The landscape is stunning. Many volcanoes, some of which are still smoking. The end of the second day brings us to Laguna Colorado, whose water is red due to minerals and algae, and its flamingo colonies. It's a wildlife reserve, and we see vicunas, rabbit-like viscachas, and the elusive Andean fox.
We spent the night in the park refugio, It is pretty dire, though it might have looked better if we had spent the day hiking to it. It's windy and it's COLD. At night the temperature plummets as low as minus 20. No heat. At night I ran outside to peek at the stars and came back and shivered under the blanket for an hour. I know just how Ted Williams must feel.
We get a 4:30 AM start and start driving uphill. We pass geysers and boiling mudpots (at 16,000) feet. Breakfast is at a hot springs. We are invited to take a dip but there are no takers -- the water is a toasty 100 degrees but the air is subfreezing. Sooner or later you would have to get out.
By 6:30 AM we are at Lago Verde, so named because minerals tint the water green. (Looks better than it sounds, particularly with the brilliant blue sky and volcanic backdrop.) We are at the extreme southeastern corner of Bolivia at the intersection of Chile, and Argentina. Many travelers continue on into Chile, but we head back to Uyuni, and day and a half away. We take a different route, admiring the scenery and odd rock formations. Looks like Utah with llamas.
The final night is spent in a remote town in the desert. It's all adobe and thatched roofs, but looks like it was planned by a budding Albert Speer. Workers at the gate are busy constructing a triumphal entryway. Others are in the square building a pyramid. The main street is grand boulevard wide enough for a panzer brigade. No traffic, no townsfolk. Very curious.
Day four brings us back to Uyuni. The final stop is the Cemetario des Trenes, containing the hulks of a century of discard rail stock in the desert. Train buffs from around the world visit it. The cemetario is silentio.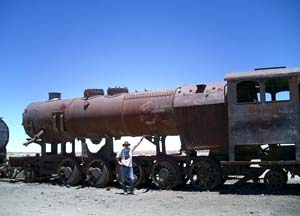 There are 8 buses a day to Potosi: four at 10 AM and four at 7 PM. The evening bus would save a day's traveling, but it arrives at 2 AM. So we spend another night in Uyuni. For dinner I have Crispy Orange Llama.
Bolivia is the size of France and Spain combined but with a population of 9 million, most of whom live in the cities. Most of the roads, including the one to Potosi, are unpaved. But this road is not too bad, nor is the bus. And the scenery is nice.
A six hour journey brings us to Potosi, once the largest and richest city in the Americas. The problem, from a touristic aspect, is limited photo opportunities: opulent churches are on narrow streets and further obscured by power lines. The only good shots are aerial. Many buildings are undergoing restoration financed by Spain, which paid to build them the first time and now paying to fix them up again.
A quick walking tour before dark. At dinner I order llama steak, which is what they will be serving soon at Neverland Ranch if Michael doesn't curb his spending.
The source of the wealth was the Cerro Rico, a mountain of silver above the city. There are still some 120 working mines. For $10, masochistic tourists can experience the medieval working conditions. Of course, I sign up.
The first stop on the mine tour is to get kitted up: boots, jacket, pants, helmet and headlamp. Then, to the market for supplies: dynamite, blasting cord, and coca leaves. (Presents for the workers, which is why they don't mind visitors.) I buy a few sticks and a bag of coca. I try the latter, but chew and chew but to no effect. Good thing they don't have explosive and drug sniffing machines at the airport.
After a visit to a crusher where the ore is concentrated for export (there are no smelters still operating in Bolivia), it's up to the mine. The one we visit has been in operation for over 400 years. The main shaft was built by the Spanish and is stand-up high and faced with stone. We are going much, much further in.
The mine visit is 3 hours in hell. We go in 900 meters and descend four levels (about 100 meters) to where the miners are working. The tunnels are so low that you can't stand up. The vertical passages are like rabbitholes. It's a 100 degrees and sopping wet. And at 14,000 feet oxygen is sparse. There is no mechanization, and no forced ventilation. Everything is done by hand. It takes 3 hours of hammering to chisel a hole in the rockface into which the dynamite is inserted. After it is blown, the ore is carried out on the miners' backs to the upper levels and dumped into cart, which also pushed/pulled by hand. No one eats; they chew coca leaves to stave off hunger and fatigue. The workers don't get paid except as a share of the value of the silver produced. If they are lucky enough to strike a rich vein they work around the clock to exploit it before another team reaches it from another direction. The working life of a miner is usually about 15 years before succumbing to silicosis. The lure is the relatively high income -- about $100/month -- and the remote chance of striking it rich. Some might say that it is an even a worse way to make a living than listening to people complaining all day.
| | | |
| --- | --- | --- |
| | | |
It's been a week. The trip is running short. No time to dally in Potosi. We're off to Sucre, a two hour drive by taxi (at twice the speed limit) on a real highway.
Sucre is known as The White City. Very pretty, very European-looking. It's the official capital of Bolivia, even though most all the government has moved to La Paz. It's down at 9000 feet, so the climate is better, too.
We have only got a day in Sucre, but that is enough to see most of it. In the afternoon I take the Dino Truck to see the dino tracks, recently discovered dinosaur footprints at a cement quarry on the edge of town. It is a cliff in which numerous tracks have been petrified and uplifted to the vertical. There is not much to say about dinosaur footprints except "big."
Our flight back from La Paz is early Sunday morning, so we need to be back on Saturday. Even though Sucre is the capital, there is only one flight at day to La Paz, and it is sold out. We have to take the overnight bus (all of which leave at 5 PM) -- a 15 hour journey on an unpaved road. Luckily, we snag the last 2 seats on a sleeper bus, It's a big bus with only 8 rows of seats which recline almost horizontal. We break down a few times during the night, but they manage to make repairs and get going again. A potential travel disaster turns out to be not so bad after all.
No trip to Bolivia is complete without a visit to Lake Titicaca, the world's highest navigable lake. I thought there wouldn't be time, but the overnight bus has given us an extra day in La Paz. The regular day tours have already left, so we arrange for a private tour, which turns out to be a regular taxi. It's sort of scenic, but I don't know what great sights one is supposed to see -- it's a lake surrounded by mountains with towns and hotels on the shore. I search diligently for the famous reed boats but spot only one real one (as opposed to the ones in front of tourist shops). The trip is a big yawn, although had I not gone I would think that I missed something. We get back in time for shopping.
At the witches market I buy a dried llama fetus -- never know when I might need to cast a spell. There is also time for the Coca Museum, which is a museum with a message: "coca good, cocaine bad." (Like's there's a difference.) Coca candy is for sale, It would be a great gift, but I am such a lawful citizen I decline.
On that topic, the flight back stops at Santa Cruz (also Bolivia), where the interior of the plane is practically disassembled. The crew inspect every nook and cranny and even remove the seat cushions. They aren't worried about smuggling by the passengers, they are checking to be sure the ground crew didn't secret anything aboard.
I must be looking old and boring. At Miami customs didn't even seem slightly interested in what I brought back. Should have loaded up on the coca candy.
Trip date: November 2003